Are you ready to pop the big question with a sustainability twist? We've put together a list of eco-friendly engagement ring brands to take a look at before the big day!
Choosing the right engagement ring is no easy feat, especially if you're looking for thoughtful pieces that have been made with both the wearer and the planet in mind. These special pieces serve as reminders of the love you hold for your partner, but they also need to reflect their style and personality. There are multiple elements to consider when shopping for engagement rings, and the wide range of options can sometimes feel overwhelming. And things can get even more complex if you want to purchase a sustainably-made piece for your significant other.
But don't worry, we have curated a selection of brands that meet the highest standards of quality, sustainability and social performance.
Jump directly to one of the sustainable engagement ring brands
Explore Our Curated List of Sustainable Engagement Rings Brands
Aurate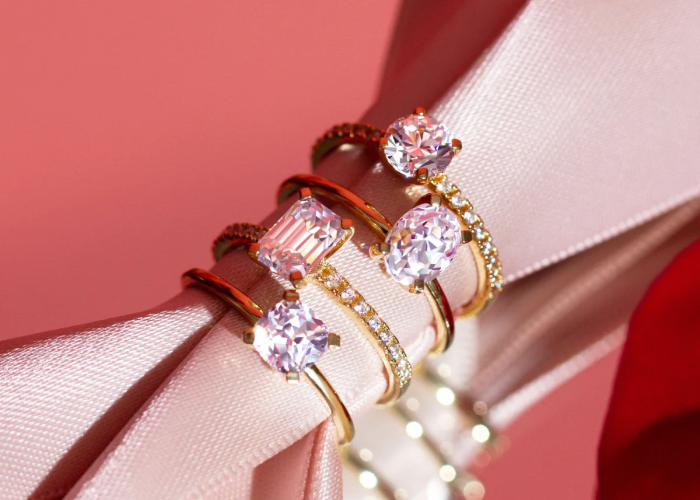 Aurate Engagement Rings
Image credit: Aurate
Sustainability | 100% sustainable, only uses recycled gold and sustainably sourced gems
Best for | eco-friendly fine jewelry
Product range | rings, engagement rings, wedding bands, earrings, necklaces, bracelets
Our top pick | take a look at Aurate's lab-grown and natural engagement rings to find a wide range of exquisitely crafted pieces that rise to the occasion
Customer reviews | "I love the high quality of the rings. I purchased the infinity ring and infinity cigar band and love them both! They are going to be great staple pieces for me for a really long time. Definitely recommend any of Aurate's jewelry pieces."
Aurate is a small, fine jewelry brand founded by two long-time friends and grad school colleagues, Sophie Kahn and Bouchra Ezzahraoui, who struggled to find high-quality pieces with a contemporary design and reasonable price tag. However, in 2015, during one of their weekly brunches, the duo decided to launch Aurate and give people the opportunity to look good and do good through their jewelry. Knowing that the jewelry industry isn't the most ethical out there, Aurate aims to be 100% sustainable and only uses recycled gold, ethically-sourced diamonds and sustainably harvested pearls.
Catherine Weitzman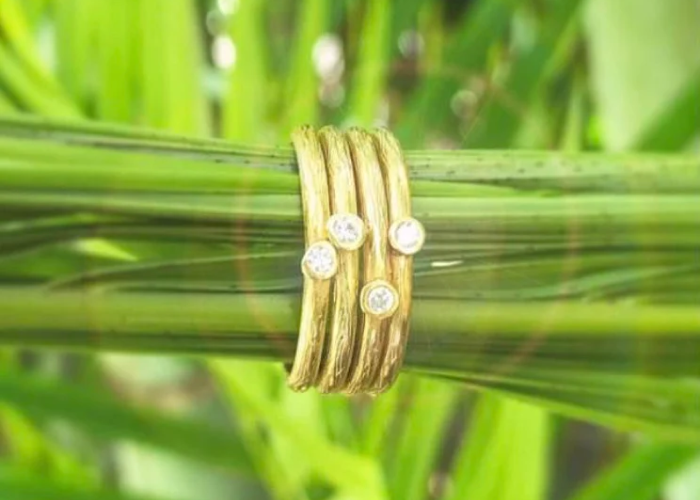 Weitzman Handmade Rings
Image credit: Weitzman
Sustainability | pieces are handmade in Hawaii using recycled metals sourced through responsible suppliers
Best for | sustainably-made, handcrafted jewelry
Product range | bracelets, rings, necklaces
Our top pick | take a look at the eco-conscious rings made of recycled silver or 18k gold vermeil, which we think would work perfectly as engagement rings
Customer reviews | "I found you through GMA a while back and have been so happy with my flower necklace! Your work is so beautiful! I ordered 2 more yesterday!"
Catherine Weitzman worked under various American designers before she decided to launch her signature brand of jewelry, in 2000. She drew inspiration for her designs from the places she and her partner visited during a five-year adventure around the world. Throughout the years, the company grew organically and, in 2004, Catherine moved to Hawaii and set up a studio, where all the jewelry is still handmade to this day. Weitzman likes to use found objects and recycled materials in her designs and only collaborates with responsible suppliers.
Shop now at Catherine Weitzman
Catbird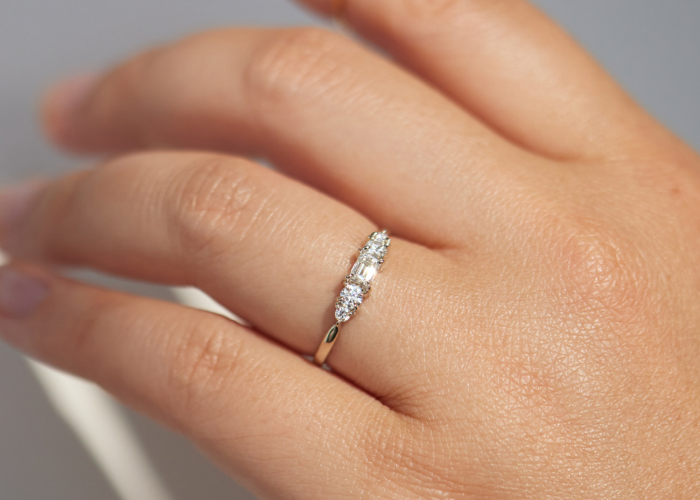 Catbird Engagement Rings
Image credit: Catbird
Sustainability | this brand works with over 95% recycled 14k gold and diamonds
Best for | ethically created jewelry, made with recycled materials
Product range | rings, necklaces, earrings, bracelets and anklets, charms, chains and personalized jewelry
Our top pick | Catbird Wedding and Engagement collection that offers you an extensive selection of pieces made to last a lifetime
Customer reviews | "My fiancé and I stumbled across Catbird on Pinterest somehow while searching for engagement rings 8 months ago and now we've just purchased our wedding bands from them! Our style is very minimalistic and Catbird offers our kind of jewelry that is so affordable. Such amazing customer service; they really go above and beyond to give their customers a great experience in the store and online. I can't recommend them enough."
Since 2004, Catbird has been making real efforts to reach a clear goal: making beautiful jewelry that stands the test of time and has the lowest environmental impact. Every piece is made in Catbird's Brooklyn studio, with a minimum carbon footprint. All the diamonds are either recycled or lab-grown and Catbird is willing to go the extra mile to meet all standard industry regulations to ensure it can stand behind every piece of stone it uses. Similarly, this brand only sources gold from vendors that are committed to limiting the environmental impact of their operations and uses gems sourced from mines that respect the highest environmental and human rights standards.
Clementine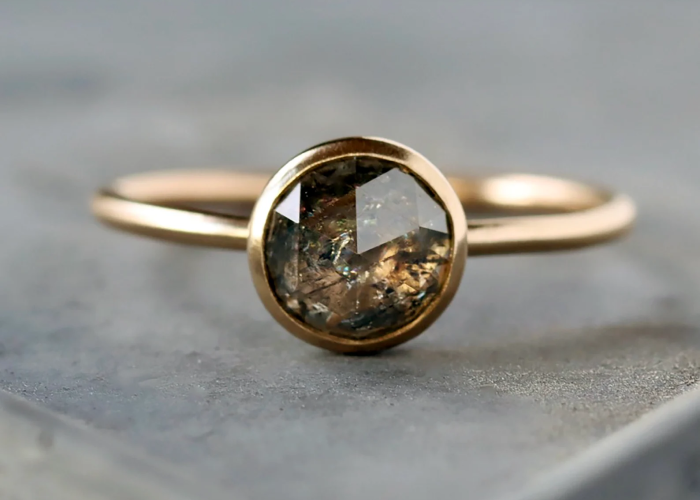 Clementine Engagement Rings
Image credit: Clementine
Sustainability | pieces made of recycled silver, reclaimed 14k gold, conflict-free diamonds and gemstones
Best for | handmade jewelry with a boho-hippie twist
Product range | bracelets, necklaces, earrings, wedding bands, engagement rings, men's rings
Our top pick | check out the engagement rings collection to find handmade pieces adorned with 100% conflict-free diamonds
Customer reviews | "Absolutely beautiful, custom-made ring for our engagement"
When shopping at Clementine, expect to find unique, handmade jewelry pieces, created with conflict-free diamonds and gemstones, as well as recycled metals. It is worth mentioning that black diamonds are Clementine's specialty, so it is worth checking this brand out if you and your partner are interested in minimal pieces with maximum effect.
Holden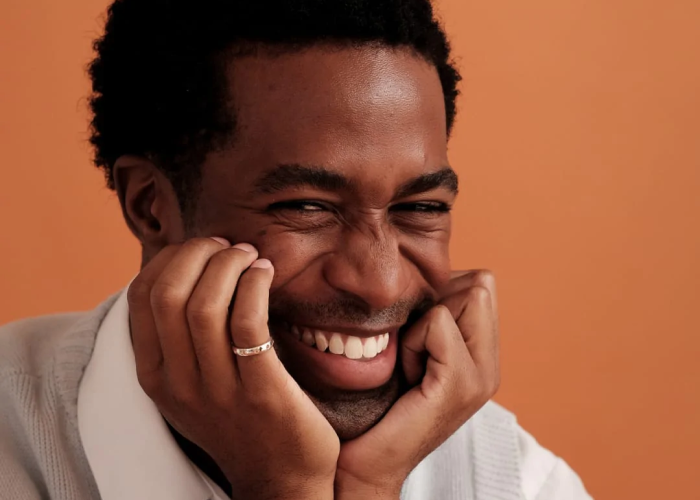 Holden Engagement Rings
Image credit: Holden
Sustainability | Custom-made pieces created in a family-owned studio in New York City, using recycled gold and silver and lab-grown diamonds
Best for | more affordable engagement rings and wedding bands made by top-tier designers
Product range | wedding bands, engagement rings
Our top pick | take a glance at The Gem Collection made in support of the Trevor Project - an American non-profit organization focused on suicide prevention efforts among the LGBTQ+ community
Customer reviews | "This ring is beautiful! I've had my eye on it for over a year and it exceeds expectations. The very easy shopping experience, good communication about shipping/delivery times. I would definitely recommend this company and will purchase from them again!"
Holden launched in 2018 as a new way for couples to shop for wedding rings. This company wants to take the pressure, judgment and the feeling of exclusion that usually come with the experience of shopping for wedding and engagement rings. Instead, Holden is making personalized pieces that are both accessible and affordable. By partnering up with local workshops and designers that worked with top brands, like Tiffany & Co. and Harry Winston, Holden delivers the rings directly to customers' doorsteps at a fraction of the price of designer jewelry. This company is also committed to lowering its carbon footprint at every step along the ring-making process. The pieces are made in a family-owned workshop in New York City using recycled metals and lab-grown diamonds.
Taylor & Hart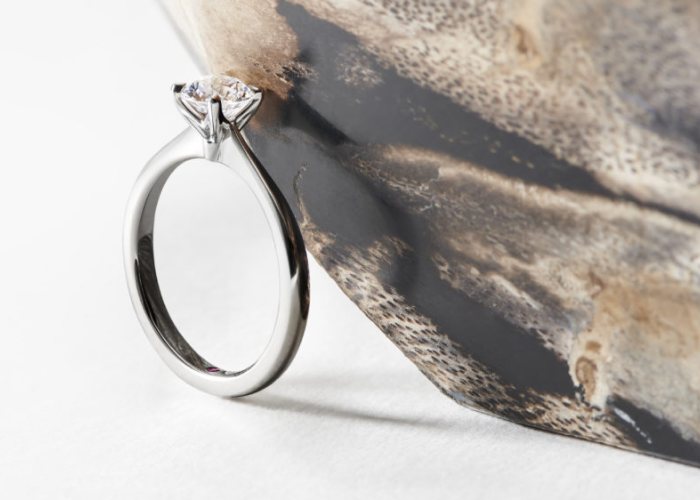 Taylor&Hart Engagement Rings
Image credit: Taylor & Hart
Sustainability | sustainably made high-quality jewelry
Best for | sustainable, custom-made engagement rings
Product range | engagement rings, wedding rings, diamonds and other gems
Our top pick | The Ethical Engagement Ring collection, where you can find suitable pieces for every personality. Also, Taylor & Hart offers you the possibility to create your own engagement ring design. Check its website for extensive information on the whole custom process.
This brand takes pride in offering customers ethically-made jewelry for which only gemstones and metals coming from conflict-free countries have been made. Taylor & Hart's pieces are thought to have a minimal impact on the environment and have been crafted by people working in fair and safe conditions.
Customer reviews | Best place for custom design of engagement rings. Simei was amazing to work with. The final product is exceptional. Will be working with them again on a wedding band! (not sharing an image of the ring as I am proud of the design and want to be the only one with it haha)"
Taylor&Hart started out as a personal project of the founders, who wanted to design a ring for their friend's partners. Over the years, the brand grew consistently and expanded into a devoted team of creative thinkers and designers. Because of its pristine reputation, this brand uses diamonds certified by the Gemological Institute of America (GIA), which is a non-profit organization dedicated to research in the field of gemology and the jewelry arts. Diamonds graded by the GIA are the industry's most sought-after and respected stones. Each diamond is graded by two different graders to ensure they both arrive at the same grading report.
Monica Vinader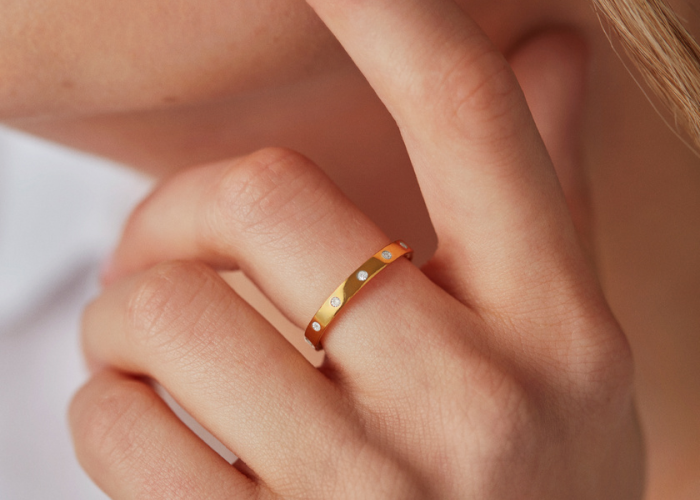 Monica Vinader Eternity Rings
Image credit: Monica Vinader
Sustainability | eco-conscious jewelry for everyday wear that is Butterfly Mark certified, which is one of the world's most respected trust mark awarded to luxury brands that meet the highest standards of environmental, social and governance performance
Best for | high-quality everyday pieces at more affordable prices
Product range | earrings, necklaces, rings, pendants, jewelry boxes, homeware
Our top pick | Take a look at the Eternity Rings collection, which we think makes the perfect option for engagement rings
Customer reviews | "Absolutely amazing customer service and quality jewelry. Highly recommended and shipping to the U.S. is incredibly fast and beautifully wrapped."
Monica Vinader is a British jewelry brand that's on a mission to change the way people shop and interact with jewelry. This brand creates versatile and high-quality pieces that can be worn every day and that customers can enjoy and buy for themselves. The Monica Vinader brand is backed by award-winning sustainability practices and all the jewelry is created using 100% recycled gold and sterling silver with conflict-free diamonds and gemstones. It is also important to note that some of Moinica Vinader's pieces can be traced online, starting with the source of the materials, the brand's factory in Norfolk, UK, the design process, as well as blockchain details, such as the item's current location and sustainable development goals.
Ring Bear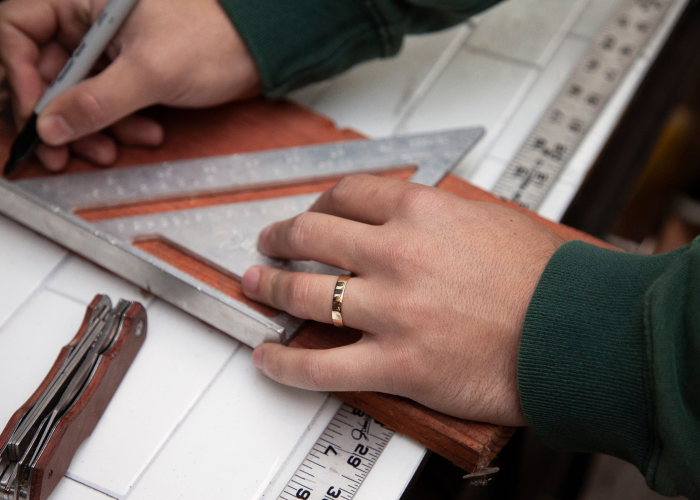 Ring Bear Engagement Rings
Image credit: Ring Bear
Sustainability | ethically-sourced recycled gold, recyclable packaging, CarbonFree-certified company
Best for | eco-friendly men's engagement rings and wedding bands
Product range | men's wedding bands, engagement rings and gifts
Our top pick | the carbon-neutral men's engagement ring collection
Customer reviews | "You have the BEST men's wedding bands that I've found; I've been looking for a little over a year now."
Ring Bear is the first carbon-neutral men's brand that aims to remind couples of one crucial aspect of their relationship: the man. Even though Ring Bear does not deny the importance of the dress, the flowers and wedding invitations, this brand offers engagement rings and wedding bands for men who are passionate about the future of our planet and their relationships. Ring Bear uses ethically-sourced recycled metals, recyclable packaging and is CarbonFree certified - a product certification label given to companies that are compensated for their carbon footprint. Also, Ring Bear plants a tree for every purchase made to support the benefits of reforestation.
Clean Origin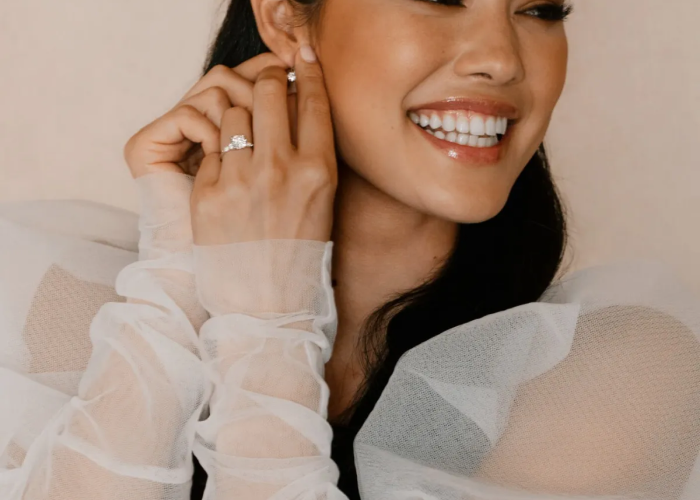 Clean Origin Engagement Rings
Image credit: Clean Origin
Sustainability | this brand uses only recycled metals and lab-grown diamonds
Best for | lab-grown diamond engagement rings
Product range | engagement rings, wedding bands, earrings, necklaces, bracelets
Our top pick | check out the Non-binary engagement rings collection and find stunning designs that celebrate self-care, self-expression and love in all its forms
Customer reviews | Perfect ring! It looked better in person than I was expecting! Founded in 2017 by a team of jewelry experts, Clean Origin is on a mission to enhance people's diamond shopping experience. As a 100% ethical company, Clean Origin only provides customers with lab-grown diamonds that are conflict-free and hand-picked to meet the minimum standards of quality in terms of cut, color, clarity, and carat.
Vrai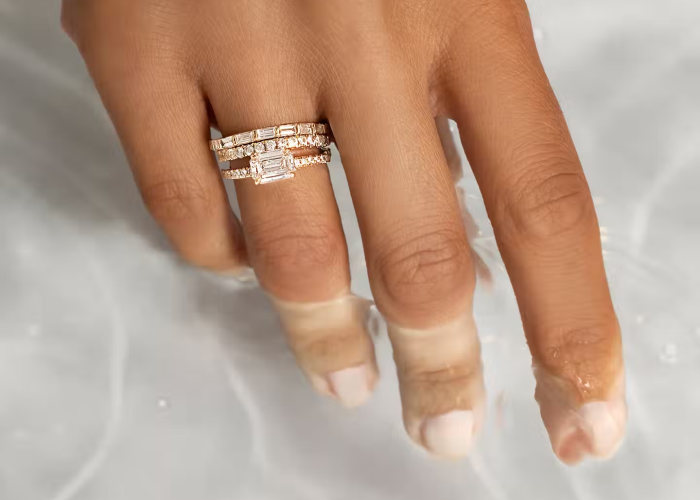 Vrai Engagement Rings
Image credit: Vrai
Sustainability | Vrai's diamonds are the only diamonds in the world produced with zero carbon footprint: Certified Carbon Neutral(R).
Best for | zero-greenhouse emissions engagement rings, made with 100% conflict-free diamonds
Product range | engagement rings, wedding rings, necklaces, bracelets, earrings
Our top pick | when shopping at Vrai, customers have the possibility to create their own engagement rings and choose from a collection of different diamond cuts, precious metals and finishings
Customer reviews | "The ring is perfect, she loves it. Thanks for making ring shopping smooth. Loved the packaging, and the ring itself is a piece of art. Thank you!"
Vrai's workshop crystallizes greenhouse gas into diamonds. Once crystallized, greenhouses can no longer make the sky reflect heat and warm the planet. Gently grown over hundreds of hours in a zero-emissions foundry in the Pacific West, Vrai diamonds are then cut and polished by expert craftspeople to the highest cut standards. It is worth mentioning that Vrai's commitment to producing zero-carbon emissions jewelry drew the attention of a few important names, such as Leonardo DiCaprio, who became an investor and advisor to the company in 2006, after starring in the Blood Diamond thriller.
Brilliant Earth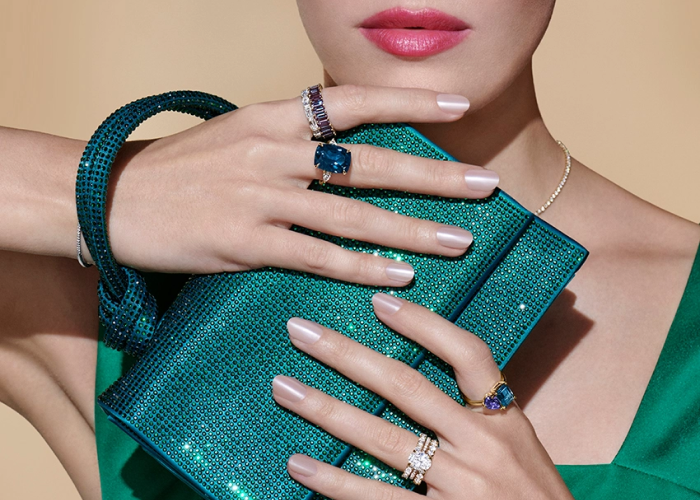 Brilliant Earth Engagement Rings
Image credit: Brilliant Earth
Sustainability | designed in San Francisco, Brilliant Earth offers pieces made with natural or lab-grown diamonds. Metals are created from existing gold jewelry and excess production of metal
Best for | 100% conflict-free diamonds engagement rings
Product range | engagement rings, wedding bands, necklaces, earrings, bracelets, men's jewelry
Our top pick | discover the Tacori Collection of engagement rings designed by master artisans in California
Customer reviews | "Absolutely love my ring and the process was so easy, especially when I had to have it resized. Would absolutely recommend Brilliant Earth to anyone who is looking for an engagement ring or for jewelry!"
Brilliant Earth aims to make the jewelry industry a better, more transparent place by offering pieces that make no compromise on quality and conscience. This is one of the first companies to offer blockchain-enabled diamonds at scale, to deliver traceability of a diamond's origin and ownership. When shopping at Brilliant Earth, customers can expect full transparency regarding the provenance of their diamonds. Additionally, this company is taking steps to use 100% recycled precious metals to limit its carbon footprint and minimize the negative impacts of metal mining.
Mejuri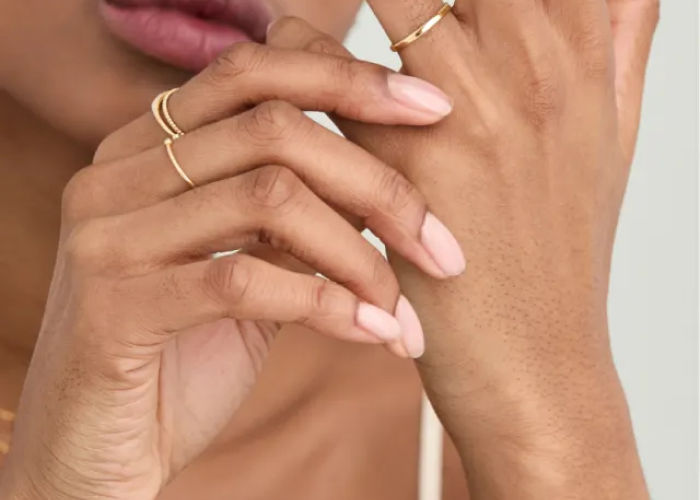 Mejuri Engagement Rings
Image credit: Mejuri
Sustainability | diamonds are responsibly sourced from suppliers who follow conflict-free and socially responsible practices
Best for | eco-conscious jewelry that doesn't compromise on style and quality
Product range | wedding bands, engagement rings, bracelets, earrings, necklaces, men's jewelry, home accessories, jewelry care kits, pet tags
Our top pick | check out The Wedding Shop section on Mejuri to find irresistible jewelry for the big day
Customer reviews | "I got this for my wedding band and love it, the sparkle is beautiful and it's so simple for my lifestyle. I had originally gotten a size 6 since that's what I was on a different jewelry website, but it was a bit lose. Their help page said that they only do online exchanges at an actual store but I don't live near one (the closest is around 5 hours away). Mejuri customer service was really helpful and nice as they sent me a return label to send back the ring and give me in-store credit to order a 5.5 size. Super nice and easy considering this was an extra step in getting my wedding ring! 😍✨"
Mejuri aims to reach the straightforward goal of providing 100% traceability of all its products. While "fine jewelry for my damn self" is the company's mantra, Mejuri is taking steps to ensure that customers feel about the provenance of its pieces. Mejuri's production ecosystem, which includes sourcing, manufacturing, and branding, aims to reduce its impact on the environment, support its partners, and give back to communities. This brand takes great pride in knowing how the materials are sourced and processed, and the working conditions they were made in.
Bario Neal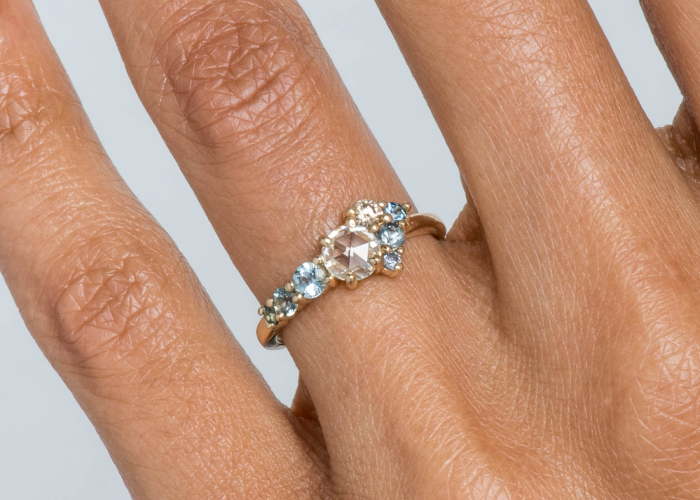 Bario Neal Engagement Rings
Image credit: Bario Neal
Sustainability | Ethically-made in the USA, Fairmined Certified gold; sustainable & traceable materials, eco-friendly packaging
Best for | special occasion jewelry, handmade with the wore and the planet in mind
Product range | engagement rings, wedding bands, fine jewelry, custom jewelry
Our top pick | The Engagement Rings selection is made of either natural diamonds that are primarily of recycled Canadian and Australian origin, or lab-grown. All pieces are handmade using responsibly sourced precious metals
Customer reviews | "So glad we found the Bario Neal showroom in NYC! The team made the process much less daunting. My now husband had never worn jewelry before and they made him feel comfortable and even excited about the process! They made his band and a custom band to compliment my heirloom engagement ring. We both love our rings and the fact that we feel good about supporting this company. Definitely recommend it!"
Launched in 2008, Bario Neal was founded on the shared idea that the most precious things in life come with a story. Almost two decades later, this company is proud to create pieces that represent some of the most intense human emotions, such as love, gratitude and loss. From the very beginning, Bario Neal committed to creating designs of ethical origins, from mines to the market and made a reputation for its sustainable sourcing and mindful production.
Poppy Finch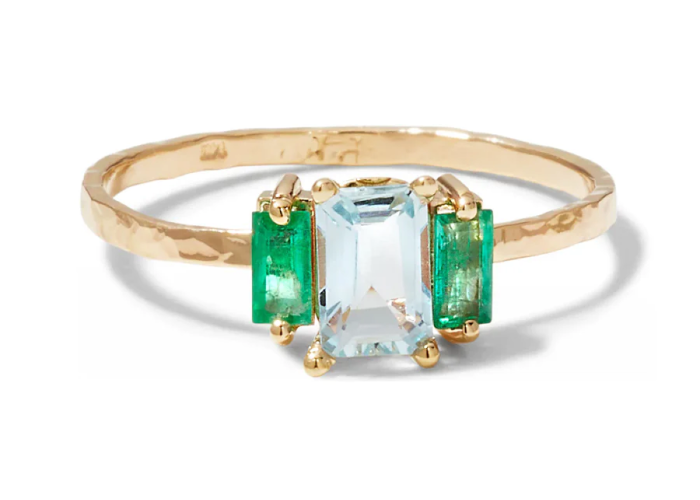 Poppy Finch Ring
Image credit: Poppy Finch
Sustainability | More affordable jewelry made using recycled gold, ethically-sourced gemstones, pearls, and conflict-free diamonds. All pieces are handcrafted in Vancouver, Canada
Best for | certified recycled 14k gold and conflict-free diamonds pieces
Product range | rings, bracelets, necklaces, earrings and brooches made with natural pearls, recycled gold and diamonds
Our top pick | when shopping for engagement rings, you do not want to miss Poppy Finch's selection of diamond rings, handcrafted 14-karat recycled gold and ethically sourced gems
Customer reviews | "I am so in love with this line, I can't stop buying these amazing delicate pieces! Don't delay, you won't be disappointed!
Poppy Finch was established to redesign the concept of everyday luxury. From its very beginning, this jewelry brand decided to place sustainability at the core of its operations by building an environmentally-friendly production system, from only sourcing recycled 14 and 18-karat gold and ethical gemstones to working with master jewelers. Poppy Finch mostly uses gold, diamonds, pearls and colored gemstones in its collections, most of which have been sourced from reliable suppliers, part of the Responsible Jewelry Council.
In terms of precious gems, this brand only uses conflict-free diamonds from suppliers who adhere to the Kimberley Process and pearls sourced directly from reputable sellers.
Noémie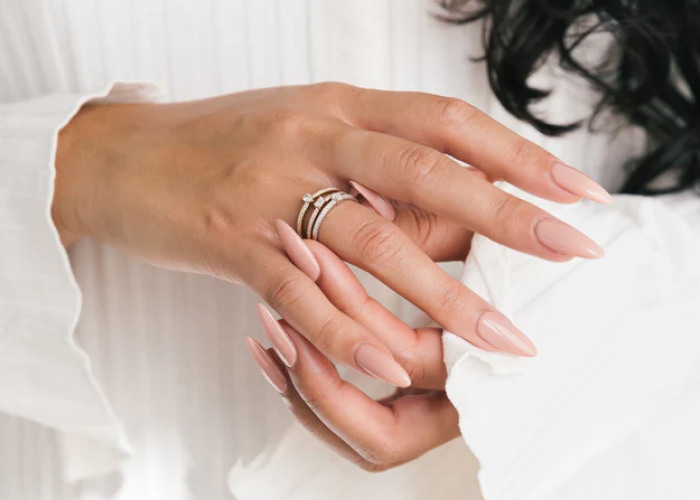 Noémie Engagement Rings
Image credit: Noémie
Sustainability | family-owned factories in Los Angeles and Thailand. This brand uses recycled metals and conflict-free, lab-grown diamonds
Best for | sustainable engagement rings made with recycled 18-karat gold, ethically-sourced stones and lab-grown diamonds
Product range | rings, earrings, necklaces and bracelets
Our top pick | check out the White Diamonds collection to discover dainty pieces made with 18-karat gold and diamonds
Customer reviews | "From browsing to visiting NYC stores, to ordering, communicating with staff via email, to giving to my now fiancé. All a tremendously smooth process and amazing product!"
Noémie strives to handcraft jewelry that lasts a lifetime. Unlike other brands that use middlemen when selling the pieces, Noémie pioneered its model to design, source, create, and sell directly to its customers. Noémie shapes every step of the process and manufactures the pieces in its own production house.
This brand only uses 18-karat gold for an excellent balance between purity and strength. However, customers can place custom orders if they need 14k gold pieces. Knowing that jewelry is personal, Noémie aims to offer pieces that will become the heart of your collection. By mixing exquisite craftsmanship with modern materials, such as reclaimed gold, conflict-free gems and lab-grown diamonds, Noémie pieces are thought to stand the test of time.
Aether Diamonds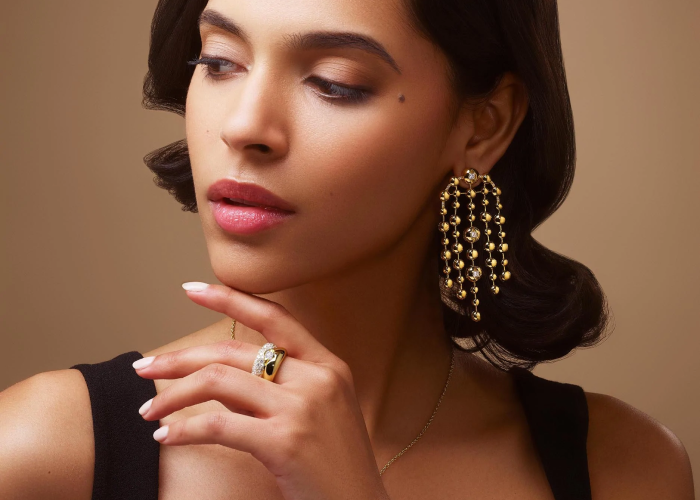 Aether Diamonds Engagement Rings
Image credit: Aether Diamonds
Sustainability | aether diamonds are thought to be the most sustainable type of diamond out there. These lab-grown diamonds are crafted using carbon extracted from the atmosphere
Best for | positive-impact diamond jewelry
Product range | engagement and wedding rings, earrings, necklaces and bracelets
Our top pick | The Love and Engagement rings collection caught our attention through its uniquely-made pieces and eco-friendly materials
Customer reviews | "Exquisite! And good for the planet!"
Aether Diamonds are created with 100% atmospheric carbon and are the world's first positive-impact diamonds. For every carat sold, this brand reinvests 10% of its revenue into the direct air capture technology to preserve the earth's future, one gemstone at a time. Aether's process saves up to 127 gallons of freshwater that are normally used per mine carat. In addition, this company's diamonds need only half the energy use of mined diamonds and are sourced from sustainable energy providers instead of fossil fuels.
Furthermore, as a B-Certified corporation, Aether Diamonds ensures its clients that each purchase made will never support any form of child labor or unfair and unhealthy working conditions.
MiaDonna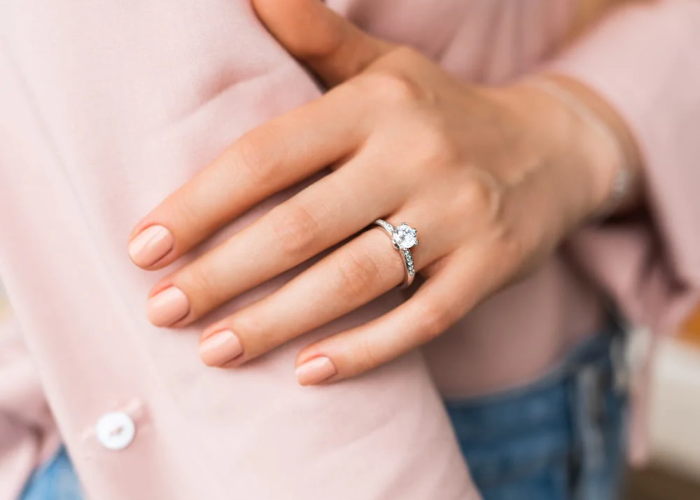 MiaDonna Engagement Rings
Image credit: MiaDonna
Sustainability | this brand uses ethical, lab-grown diamonds to create jewelry that protects the environment and makes customers happy
Best for | more affordable and ethical fine jewelry, handcrafted in the USA with conflict-free diamonds and recycled metals
Product range | engagement rings, wedding bands, earrings, bracelets, necklaces and pendants
Our top pick | take a look at the Conflict-Free Engagement Rings selection created with lab-grown diamonds and gemstones. All pieces are handcrafted in the USA using 100% recycled precious metals.
MiaDonna is the world's first retailer exclusively selling lab-grown diamonds and has the largest selection of American-grown diamonds that are affordable and conflict-free. In terms of engagement rings, MiaDonna's line of ethical pieces aims to limit child labor, protect the environment and give back to local communities. This brand strives to give customers the ring of their dreams at a reasonable price and also the chance to support a cause they believe in. Whenever you place an order at MiaDonna, the company makes a donation to its charity foundation, called The Greener Diamond, to improve mining communities and plant a tree to counteract the shipping carbon emissions.
Ella Stein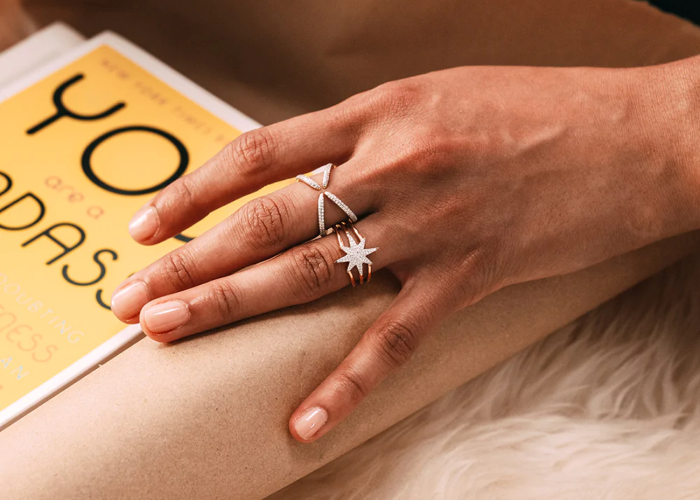 Ella Stein Engagement Rings
Image credit: Ella Stein
Sustainability | Ella Stein offers affordable and ethical engagement rings made with 100% recycled sterling silver and natural diamonds that are conflict-free, Kimberley Process-compliant, and Responsible Jewelry Council Certified
Best for | demi-fine eco-conscious jewelry at more affordable prices
Product range | rings, bracelets, necklaces and earrings
Our top pick | be sure not to miss Ella Stein's rings as you might find the perfect engagement ring for your significant other
Customer reviews | "I've been a fan of theirs for a couple of years. I even added one of their rings to my engagement and wedding band."
As a brand set to empower both the customers and the people making the jewelry, Ella Stain only uses ethically-sourced, conflict-free diamonds that have been mined in accordance with environmental laws. All of the diamonds are compliant with Kimberly Process - a certification scheme established in 2003 to stop conflict diamonds from entering the mainstream diamond market, and certified by the Responsible Jewelry Council.
Gardens of the Sun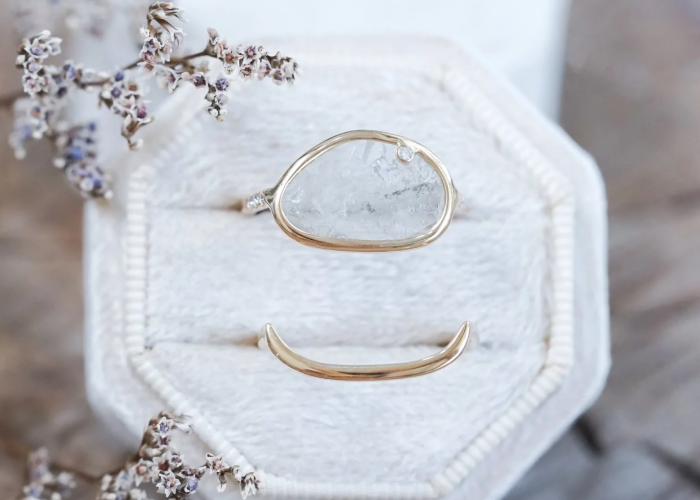 Gardens of the Sun Engagement Rings
Image credit: Gardens of the Sun
Sustainability | this brand only uses ethically sourced 18k gold, recycled silver, and conflict-free diamonds
Best for | unconventional engagement rings for the eco-conscious bride to be
Product range | rings, bracelets, necklaces, earrings, ring boxes and birthstone jewelry
Our top pick | Explore the Engagement Rings assortment and discover truly unique pieces made with eco-friendly materials
Customer reviews | I loved how I was updated along the way and the care they put into designing my ring. I expected it to take a lot longer and they got it done so quickly that I already have my ring. I've long wanted to purchase a Garden of the Sun ring, but haven't had an excuse until I found one that will look perfect with my engagement for my wedding coming up next month."
Long before launching Gardens of the Sun, Meri Geraldine worked to save forests and help local communities. After coming close to so much inequality and injustice, Geraldine decided to bring more beautiful things into the world on one condition: that they would not cost the earth. Ever since launching the jewelry brand, the founder has been on a mission to meet each person within the supply chain to see how she can make a difference in their lives, positively.
Gardens of the Sun uses low-impact, mercury-free gold that supports indigenous women miners, as well as conflict-free diamonds that are compliant with the United Nations regulations.
Shop now at Gardens Of The Sun
Meadowlark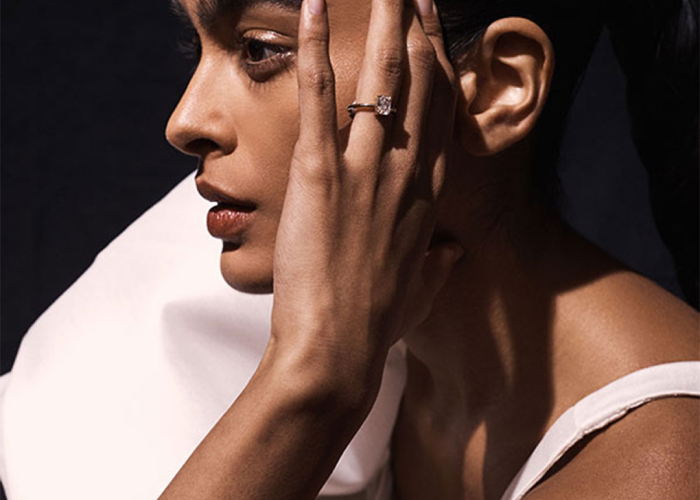 Meadowlark Engagement Rings
Image credit: Meadowlark
Sustainability | every piece has been recycled and can be turned into something else so that nothing ends up in a landfill
Best for | thoughtfully crafted fine jewelry
Product range | rings, necklaces, bracelets, earrings and men's jewelry
Our top pick | check the Engagement Rings collection for some delicate and timeless pieces to say I do to.
Customer reviews | "Love love loveee, you guys have such amazing jewelry"
Established in 2006, Meadowlark is a New-Zealand based independent jewelry brand that strives to make people express themselves freely through its jewelry pieces.
Most of this brand's products are made-to-order at the Auckland atelier by a team of talented jewelers that put earth's wellbeing at the forefront of their work.
Meadowlark is constantly looking for new responsible sources for its materials and has recently included traceable sapphires in its collection and introduced ethical and traceable citrine, garnet and tourmaline from Sri Lanka. This brand is also committed to ensuring that all the materials used meet the standards for environmental responsibility, fair work and human rights.
Omnēque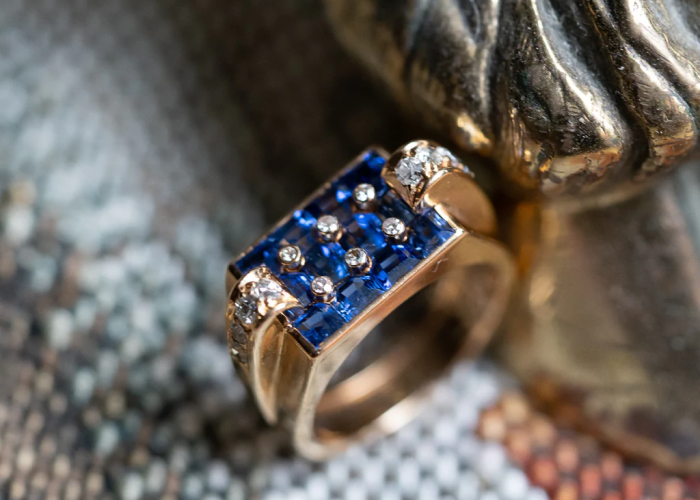 Omnēque Vintage Ring
Image credit: Omnēque
Sustainability | offers preloved jewelry from world-renowned brands like Bulgari, Elsa Peretti, Cartier, or Elizabeth Gage. Some of the pieces are over 100 years old and are made with precious metals, diamonds, and rare gemstones
Best for | pre-owned luxury jewelry pieces
Product range | rings, pendants and necklaces, earrings, bracelets, stone vault
Our top pick | We highly recommend the Antique and Fine Vintage Jewelry collection! There you're sure to find jewels made of precious metals and gemstones made by craftspeople from around the world. And the best thing is that these pieces are over 100 years old, meaning they've gracefully stood the test of time and are ready to meet their new owners.
Customer reviews | Wonderful array of Gold darling 💕 love it! Omnēque official superb collection also like Gold ring unique antique jewelry."
Omnēque is a high-end online marketplace that specializes in unique, pre-owned jewelry, founded by Amanda Zuydervelt. Because Zuydervelt has always been passionate about setting up a business that gives something back, Omnēque is the perfect place for luxury jewelry to continue its journey from one loving owner to the other.
Apart from being an online marketplace, Omnēque offers a few additional services, such as jewelry remodeling, help to navigate the minefield of auctions or support services that help customers find the perfect jewelry piece for a special occasion or a special someone.
The Sustainability of Jewelry
Now that we've walked you through some of the most sought-after jewelry brands that offer eco-friendly engagement rings, you might be wondering why opting for such a piece is important in the first place. Jewelry can be divided into two main categories: fine jewelry and fashion jewelry. While the latter describes a piece that is less expensive and usually made of plastic, copper, aluminum, glass, or crystals, the former is made of silver, gold, or platinum and is usually embellished with diamonds and other precious gems. Fine jewelry only contains genuine materials and natural stones and embodies all the visual, physical and chemical properties of mined gemstones. Also, fine jewelry is made to last and can be handed down throughout generations, while fashion jewelry is more likely to break or tarnish over the years.
According to the latest data, the jewelry industry is the largest consumer of gold. Even though the rate has declined over the last decades, gold jewelry still accounts for over 50% of global gold demand. And to add more numbers to the equation, the jewelry industry was valued at $278.5 billion in 2018 and is expected to reach over $480 billion by 2025.
Generally speaking, jewelry is made using at least one material, usually a precious metal, which started out in the ground. Decorating it with precious gemstones, such as diamonds, that also started out in the ground might leave you wondering if jewelry could ever be sustainable. We believe it can, but more work and research are necessary. And that is simply because most raw materials used to create jewelry come from the poorest countries on earth and go through multiple hands on their way to the market, which makes it nearly impossible to trace their journey.
However, deciding to stop using mined minerals to create jewelry is not a feasible option either. Why? Because artisanal mining feeds millions of families that might not eat otherwise, according to recent statistics.
Therefore, we need more ingenious ways to work around these issues, such as using lab-grown gemstones, fairtrade metals and blockchain technologies to trace the materials from the ground to the wearer.
The New Age Of Jewelry
Over recent years, technological advancements have been transforming the jewelry industry beyond recognition. Shifting from designing hundreds of physical models to cloud solutions, Computer-aided design (CAD), 3D printing, and augmented reality (AR), the jewelry industry is now taking active steps toward a more sustainable future. After all, why consume limited resources on developing physical pieces when AR can do so much more in less time and with less money? This approach benefits customers too, as they can try on different models from the comfort of their homes and make the right choice much faster.
And the list doesn't end here, as state-of-the-art technology has made it possible to create artificial diamonds that display all the physical and chemical properties of genuine diamonds. Lab-grown diamonds, also known as cultured diamonds, are optically identical to earth-mined diamonds, but are conflict-free and about 20-40% cheaper than genuine ones. Knowing that the mined diamond industry has long been associated with violence, labor abuses and a notorious lack of transparency, it is no surprise that cultured diamonds are a more feasible option for eco-conscious shoppers.
Even though creating synthetic diamonds is easier than mining for diamonds, which involves heavy machinery, explosives and transportation, lab-grown diamonds "are the Wild West right now," said diamond analyst Paul Zimnisky in an interview with Vogue Business. This type of diamond is relatively new on the market, which makes it challenging to fully assess its environmental impact just yet. However, the dark side of the genuine diamonds' coin is the lack of transparency inside the supply chain. There is no definitive way to know whether the genuine diamond we bought has been ethically sourced, no matter which company we might buy it from. But if there is one thing we know for sure about lab-grown diamonds is where they were made and how which is an important "green flag" for any conscious shopper. To make things as easy as possible for you, we've put together all the essential information on lab-grown diamonds and natural ones in a comparison table below.
Natural Diamonds
Lab-grown Diamonds

Chemical composition: carbon
Symmetry: excellent
Hardness: 10 on the Mohs scale
Expensive
Mining is necessary

Chemical composition: carbon
Symmetry: excellent
Hardness: 10 on the Mohs scale*
More affordable
Made in a lab
* This measures minerals' resistance to scratching, on a scale from 1 to 10. Lab-grown diamonds, just like natural ones, are some of the most durable materials on earth.
Eco Gold, Ethical Gold and Recycled Gold
When shopping for eco-friendly engagement rings, you will also most likely stumble upon various definitions of precious metals, such as recycled gold, ethical gold, or eco gold, which can sometimes be confusing. However, we break those down into bite-size pieces of information so that you can easily make the right choice for yourself and your significant other.
In simple terms, eco gold also referred to as eco-friendly gold, is usually mined and produced with limited environmental disruption and without the use of hazardous chemicals, such as cyanide or mercury. Even though this type of gold still needs mining, the extraction process is free from harmful chemicals, which makes it a more suitable option for environmentally-friendly customers.
Ethical gold is only sourced from local artisans and small-scale mining companies that meet international best practices for environmental and social standards. Ethical gold is associated with good labor conditions and is free from child labor, unfair pay and gender inequality. When it comes to ethical gold, supply chains tend to be more trustworthy and transparent.
Gold that was used in the past, but has been repurposed can be defined as recycled gold. Rather than digging up the earth for new gold, some brands like to recycle existing jewelry pieces and turn them into something new. Recycled gold comes from numerous sources, and sometimes gold that is unethically sourced from conflict lands can enter the same supply chain. Because of this, it is rather difficult to say whether recycled gold is 100% sustainable.
On more of a personal note, we always recommend opting for jewelry that was produced with the least amount of unrenewable resources, whether that's gemstones or precious metals. Even though the line between sustainable jewelry and ordinary jewelry can sometimes be blurry, we advise that you try and find the option that best fits your personal sustainability goals, needs and character. Are you now feeling confident about the engagement ring you're about to choose? We hope this article puts things into perspective for you and we have every confidence that no matter what you choose, it will be the most suitable option for you and your significant other. Good luck!
Good To Know About Sustainable Jewelry
Are sustainable engagement rings more expensive than regular engagement rings?
This is not a general rule and prices can vary depending on the metals and the gemstones used. However, it is important to note that lab-grown diamonds can be up to 40% cheaper than natural ones.
Is it more difficult to find sustainable engagement rings than regular ones?
Luckily, the concept of sustainability has spread to multiple industries nowadays and the jewelry industry is no exception! Finding beautiful pieces that have been made with both the people and the planet in mind is fairly easy right now.
How Do I Care For My Eco-Friendly Jewelry?
Just as with any other type of jewelry, you need to care for it in order to last. It is also best to remove any piece of jewelry before doing any activity that might damage it. Make sure to keep your jewelry away from chemicals that might stain it, excessive heat, or humidity.