Suit up! It's time to learn what you need to know about climate change and environmental sustainability. We've curated a list of the top 36 books on the subjects so that you not only know what they are but how you can take action for a better future.
We have included product links in this article that we think may be useful for our readers. If you click on one of the links and make a purchase, we may earn a small commission.
Climate change is not a myth, it is a fact. Luckily, many people not only have realized that this is true, but also want to change their habits, make more sustainable choices, and take action for the sake of their health and their environment.
A study by the consultancy GlobeScan shows that people all around the world are willing to adopt more sustainable and healthy behaviors. What holds them back is that they don't know where to start. The study was conducted in June 2020, covering 27 different markets. In total, 27,000 participants were asked about attitudes, opinions, and behaviors linked to more sustainable and healthier lifestyles.
The findings show that besides being concerned about the coronavirus and the spread of human disease, 60 percent of the participants see climate change and the depletion of natural resources as one of the four "very serious" global problems. 74 percent of people want to reduce their impact on the environment and nature by a large amount. They wish for more affordable products and services to live healthier and more sustainable. But they also feel put off by actions they believe are difficult. People are willing to do their bit to improve their own lives, the lives of others, and the environment, but there is currently a gap between aspiration and actual practice.
This is where our list of books comes in. To guide you and give you the resources to educate yourself on climate change and sustainable living, we have curated this list of must-read books. We've come up with a few categories to make it easier for you depending on what you'd like to learn more about. In general, the books are listed in no particular order or preference. Just pick whatever interests you.
Books on Climate Change
1. Falter: Has the Human Game Begun to Play Itself Out?
by Bill McKibben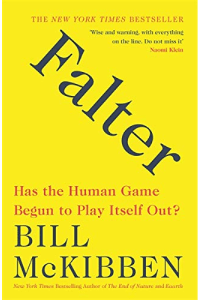 For more than 30 years, environmentalist, journalist and author Bill McKibben has been warning the world about the consequences of climate change. In his numerous bestselling books, he's, again and again, brought up urgent, scientific evidence, trying to convince nations' leaders and changemakers to admit the facts and take action. His latest book, however, does not only take into account the fundamental changes in our climate but also the potential threat that artificial intelligence and robotics pose to our society.
Editors' pick!
2. A Life on Our Planet: My Witness Statement and a Vision for the Future
by Sir David Attenborough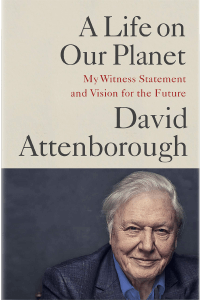 British award-winning broadcaster and natural historian Sir David Attenborough, has not only put his thoughts on climate change into this book but shows the reader a hopeful vision for our future. Scientifically informed, sharply observed, and with the wisdom of a man who has witnessed the alarming changes in nature firsthand, the 93-year-old author takes us on a journey through his extraordinary life.
3. Climate Justice: Hope, Resilience, and the Fight for a Sustainable Future
by Mary Robinson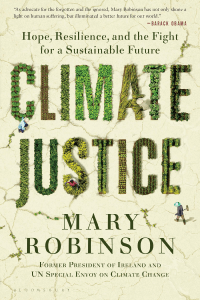 This book by the former President of Ireland, Mary Robinson, is an insightful and optimistic look at our future with climate change and the global struggle for human rights. She shares stories of ordinary people whose resilience and ingenuity unlocked extraordinary change: from a Mississippi matriarch whose campaign began in her East Biloxi hair salon and culminated in her speaking at the United Nations, to a farmer who transformed the fortunes of her ailing community in rural Uganda.
4. The Human Age: Shaped By Us
by Diane Ackerman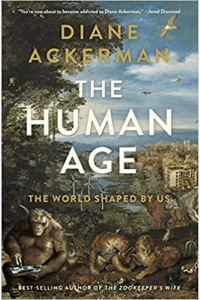 Award-winning author and finalist of the Pulitzer Prize for Nonfiction, Diane Ackerman, gives us an insight into the natural world and our place in it. Her latest book, "The Human Age", takes us on an exciting journey through our new reality, introducing us to many of the people and ideas potentially saving our future and that of our planet. Editors' pick for Nonfiction books on Amazon!
5. Quenching the Thirst: Sustainable Water Supply & Climate Change
by George Annandale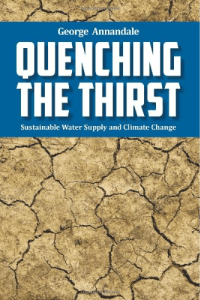 George Annandale's book on the pressing issue of water scarcity due to climate change and the ever-growing demand for more water exposes the real problems and presents potential solutions. The humanist and engineer provide practical guidance on how to end the current practice of irrecoverably depleting our water resources. He also reveals how to reliably and sustainably supply water in the future, in spite of the anticipated impacts of climate change.
6. Half-Earth: Our Planet's Fight for Life
by Edward O. Wilson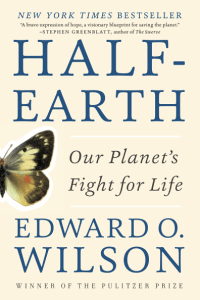 In this New York Times Bestseller, author Edward O. Wilson talks about what it'll take to not only save mankind but our planet. The Pulitzer-Prize-Winner audaciously proposes that we dedicate half of the earth's surface to nature and only populate and use the other half for ourselves. This book completes Wilson's three-part book anthology "The Anthropocene Epoch", with "The Social Conquest of Earth" and "The Meaning of Human Existence" as its number one and two of the trilogy.
7. The Future Earth: A Radical Vision for What's Possible in the Age of Warming
by Eric Holthaus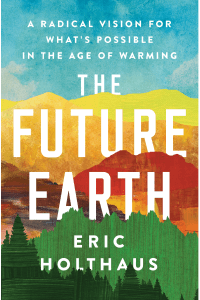 Do you feel overwhelmed by our current environmental change? Then this book is for you! Climate change advocate and journalist Eric Holthaus shows a brave vision of our future, and how to reverse the short- and long-term effects of climate change over the next thirty years. He has interviewed futurists, climatologists, biologists, economists, and climate change activists and proposes answers to questions like "What could happen if we reduced carbon emissions by 50 percent in the next decade?" or "What could living in a city look like in 2030?".
8. The Uninhabitable Earth
by David Wallace-Wells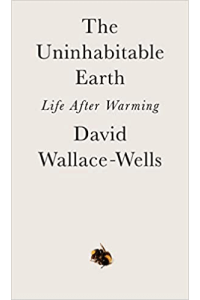 This Sunday Times and The New York Times Bestseller by David Wallace-Wells paints a picture of a world no one would like to live in. It explicitly shows how mankind is responsible for the climate crisis we have put ourselves and nature in. Brutally honest, the author describes chapter by chapter what changes, catastrophic events and circumstances await us in the very near future if we don't act now. This book is not for the faint-hearted, but it sure could be a wake-up call for everyone who is still in doubt or denial of the climate crisis.
9. The Sixth Extinction: An Unnatural History
by Elizabeth Kolbert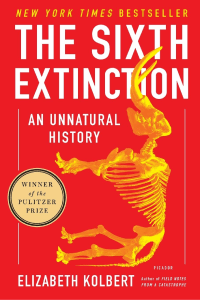 This bestselling book and winner of the Pulitzer Prize by Elizabeth Kolbert, shows us the future of the world, blending intellectual and natural history and field reporting into a powerful account of the mass extinction unfolding before our eyes. The sixth extinction event is most likely going to be as big as the event that erased the dinosaurs from the planet, and it is also predicted to be man-made.
10. Net Zero: How We Stop Causing Climate Change
by Dieter Helm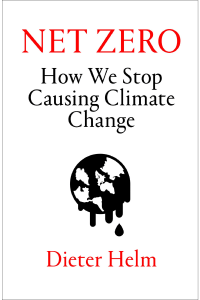 What will it really take to stop climate change and prevent the worst catastrophe in human history? Economist and author Professor Dieter Helm addresses exactly this question and shows what actions we would have to take to stop causing climate change. His net-zero strategy consists of reducing carbon emissions and increasing carbon absorption. He further explains how and why we failed at this during the last thirty years and how we can succeed in the next three decades.
11. The Ocean of Life: The Fate of Man and the Sea
by Callum Roberts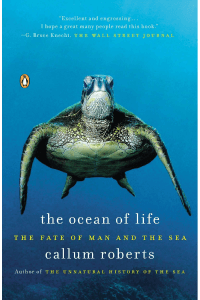 The sea feeds and sustains us, but everywhere we look marine life is under threat, from Caribbean reefs to arctic fisheries to the deepest regions of the sea. In this award-winning book by Callum Roberts, one of the world's foremost marine conservation biologists, he tells the story of man and the sea and the sad scenario that is today's reality. But he also provides us with a vision of how to turn the situation around and help nature, as well as mankind.
12. Our Final Warning: Six Degrees of Climate Emergency
by Mark Lynas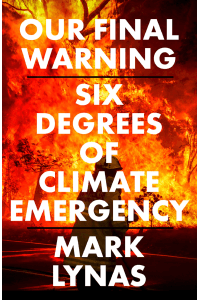 The title of this book says it all - it is our final warning! Author Mark Lynas describes in great detail how devastatingly urgent the matter of climate change is. Will civilization collapse? Are we already past the point of no return? What kind of future can our children expect? And what happens if we reach the six degrees threshold of global heating? Mark Lynas delivers the answers, but you won't like them.
Books on Sustainable Living
13. Being the Change: Live Well and Start a Climate Revolution
by Peter Kalmus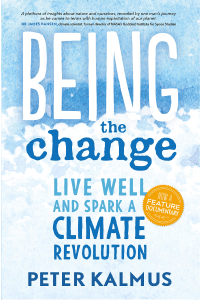 Life on 1/10th of the fossil fuels turns out to be awesome. The author, climate scientist Peter Kalmus, is a living testament to that. In his book "Being the Change", he takes the reader on his journey of reducing the carbon footprint of his whole family. In the first part of the book, Kalmus describes the interconnected dilemma: overpopulation, global warming, industrial agriculture, growth-addicted economics, a sold-out political system, and a mindset of separation from nature. Part two then focuses on how to make small and big changes to reduce fossil fuels and the overall carbon footprint.
14. How Not to Die: Discover the Foods Scientifically Proven to Prevent and Reverse Disease
by Michael Greger and Gene Stone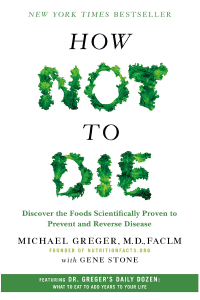 This New York Times Bestseller by Dr. Michael Greger, the internationally-renowned nutrition expert, physician, and founder of NutritionFacts.org examines the fifteen top causes of premature death in America: heart disease, various cancers, diabetes, Parkinson's, high blood pressure, and more. It explains how nutritional and lifestyle interventions can sometimes trump prescription pills and other pharmaceutical and surgical approaches to help prevent and reverse these diseases, freeing us to live healthier lives. By following Dr. Greger's advice, all of it backed up by strong scientific evidence, you will learn which foods to eat and which lifestyle changes to make to live longer.
Our Editors' pick: If there is one book on diet and nutrition you should definitely read, then this is it!
15. Diet for a Hot Planet: The Climate Crisis at the End of Your Fork
by Anna Lappe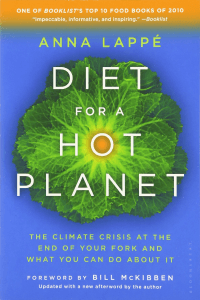 Anna Lappé is a national bestselling author and a founding principal of the Small Planet Institute and Small Planet Fund. In her latest book "Diet for a Hot Planet", she describes in great detail and with scientifically backed data how your food choices and the climate crisis are interconnected. She then educates and empowers the reader on what to change about their diet to reduce the impact on the environment.
16. The Upcycle: Beyond Sustainability - Designing for Abundance
by William McDonough and Michael Braungart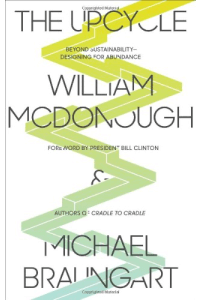 The Upcycle is the eagerly awaited follow-up to Cradle to Cradle, one of the most consequential ecological manifestoes of our time. The authors, William McDonough and Michael Braungart envision the next step in the solution to our ecological crisis: We don't just use or reuse and recycle resources with greater effectiveness, we actually improve the natural world as we live, create, and build. We can have a beneficial, sustainable footprint. Abundance for all. The goal is within our reach.
17. The Sustainable Home: Practical Projects, Tips and Advice for Maintaining a More Eco-Friendly Household
by Christine Liu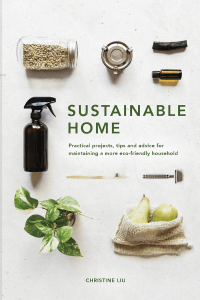 There are many practical changes you can make within your household and your everyday living to be more eco-friendly. Christine Liu is a sustainable lifestyle blogger and offers tips, tricks and 18 step-by-step projects designed to help you lead a more low-impact lifestyle.
18. How to Save Your Planet One Object at a TIme
by Dr Tara Shine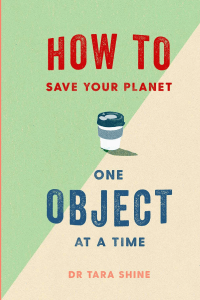 Change can be difficult, especially when you don't know where to begin. Environmental scientist Dr. Tara Shine makes it simple for you. In her book "How to Save Your Planet One Object at a Time", she has practical tips and advice on how you can make smart choices about everyday objects, tasks, and habits. From swapping bottled soap to bars, to replacing cling film with a simple plate, you will reduce your environmental footprint in an instant, while saving money.
19. Eating Animals
by Jonathan Safran Foer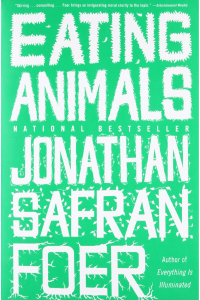 How do you explain to your child why we do eat some animals and pet others? Faced with this dilemma, bestselling author Jonathan Safran Foer set out to explore the origins of many eating traditions and the fiction involved with creating them. Traveling to the darkest corners of our dining habits, Foer raises the unspoken question behind every fish we eat, every chicken we fry, and every burger we grill.
20. Sustainability for the Rest of Us: Your No-Bullshit, Five-Point Plan for Saving the Planet
by John Pabon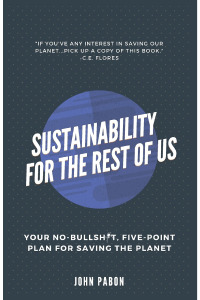 In "Sustainability for the Rest of Us," author John Pabon looks back on the last twenty years in the business of saving our Earth to uncover why most of what we've been doing isn't having a big impact at all. This funny, no-bullshit, unconventional book will reveal to readers - regardless of their experience - what we really need to change, why we need to change, and how to make it happen. Consider this sustainability made simple.
21. How Bad are Bananas?: The Carbon Footprint of Everything (2020 Update)
by Mike Berners-Lee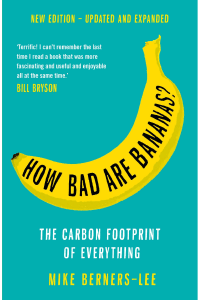 Do you have a carbon instinct? No? Then you will learn about it in the book "How Bad are Bananas?" by Mike Berners-Lee. The carbon consultant goes into detail on how much certain everyday items impact our carbon footprint, such as foods, books, plastic bags, bikes, flights, baths, etc. And he takes a look at global things and events, such as deforestation, data centers, rice production, the World Cup, volcanoes and many more.
22. Wear No Evil: How to Change the World with Your Wardrobe
by Greta Eagan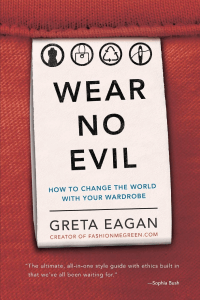 Are you ever wondering "What should I wear today?" and "How can it be eco-friendly?"? Then this book is for you! Greta Eagan introduces you to the Integrity Index (a simplified way of identifying the ethics behind any piece of fashion) and an easy-to-use rating system. You'll learn to shop anywhere while building your personal style and supporting your values.
23. Grow Food for Free: The Sustainable, Zero-Cost, Low-Effort Way to a Bountiful Harvest
by Huw Richards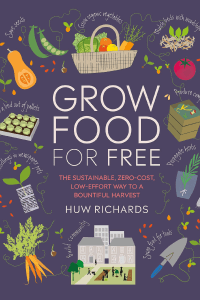 Do you want to grow your own vegetables but don't know where to start? Huw Richards is here to help you with that! In his second book, he shows the reader exactly how he managed to seed and grow his own food over the course of a full year and harvested enough to be self-sufficient. And it didn't take huge efforts or lots of dollars in the bank either.
24. Nature's Best Hope: A New Approach to Conservation that Starts in Your Yard
by Douglas W. Tallamy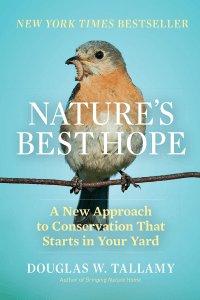 This New York Times Bestseller offers you great tips and advice on how to save the planet in and with your own yard. Author Douglas W. Tallamy shows his vision for a grassroots approach to conservation. He provides guidance on how homeowners everywhere can turn their yards into conservation corridors that furnish wildlife habitats.
Books on Environmental Sustainability in Economics and Business
25. The Responsibility Revolution: How the Next Generation of Businesses Will Win
by Jeffrey Hollender & Bill Breen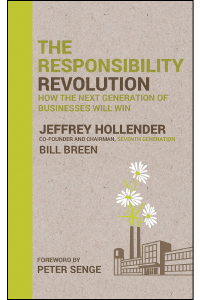 What do companies have to do in order to not only stay in business but convince customers they are worth sticking with? Responsibility, transparency, and a sustainable and eco-friendly approach - these attributes are what more and more people are expecting from businesses. If you're having a difficult time figuring out what actions to take towards becoming a "good company", check out "The Responsibility Revolution" by Jeffrey Hollender and Bill Breen.
26. Doughnut Economics: Seven Ways to Think Like a 21st-Century Economist
by Kate Raworth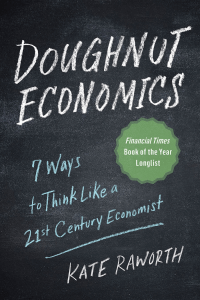 Rated by the Financial Times as "Best Book of 2017: Economics", this work by renegade economist Kate Raworth, sets out seven key ways to fundamentally change our understanding of what economics is and does. She further notes how we can break our addiction to growth, redesign money, finance and business to be in service to people and create economies that are regenerative and distributive by design.
27. Rebuilding Earth: Designing Eco-Conscious Habitats for Humans
by Teresa Coady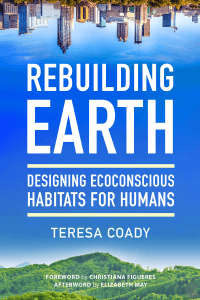 It is estimated that the earth's population will grow to approximately nine billion people over the next century. This is likely to place further stress on our environment, drain our natural resources, and lead to more anxiety and depression due to overcrowding. In this visionary and uplifting book, Teresa Coady offers readers new hope. "Rebuilding Earth" is her blueprint for designing and building the cities, buildings, and homes of tomorrow, resulting in more conscious, sustainable, and humane living.
28. Sustainable Nation: Urban Design Patterns for the Future
by Douglas Farr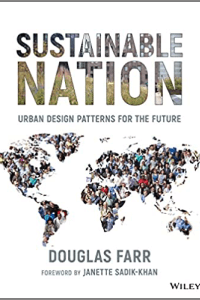 This book from architect, urbanist, author, and passionate advocate for sustainable design thinking, Douglas Farr, is what you need to read if you want to learn about how we'll need to build our neighborhoods in the future. The core strategy of "Sustainable Nation" is the perfection of the design and governance of all neighborhoods to make them unique examples of community and sustainability. The tools to achieve this vision are more than 70 patterns for rebellious change written by industry leaders of thought and practice. This is a guidebook for change and an essential resource for urban designers, planners, and architects.
29. Strategy for Sustainability: A Business Manifesto
by Adam Werbach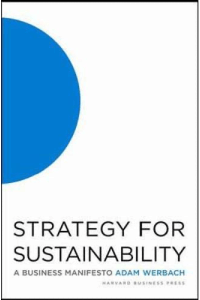 This book offers you a strategic approach to how to incorporate sustainability at the core of your company. Author Adam Werbach shows you why this is important if you want to be a competitive player in your field and how you can implement new strategies into existing ones. He gives examples of big brands and how they do it. Engaging employees, using transparency as a business tool, and reaping the rewards of a networked organizational structure, are just some of the illuminating changes these companies have successfully applied.
30. Natural Capital: Valuing the Planet
by Dieter Helm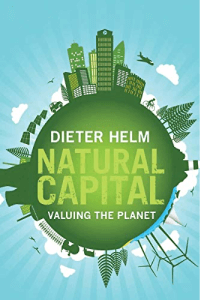 In the face of the global, local, and national annihilation of biodiversity and ecosystems, economist Dieter Helm offers a critical set of strategies for establishing a natural capital policy that is stable, economically sustainable, and politically feasible. In this book, he shows the first real attempt to calibrate, scale, and value natural capital from an economic perspective and goes on to outline a balanced new framework for sustainable growth.
31. Small is Beautiful: Economics as if People Mattered
by E. F. Schumacher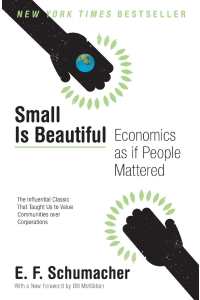 Named one of the Times Literary Supplement's 100 Most Influential Books Since World War II, Small Is Beautiful presents eminently logical arguments for building our economies around the needs of communities, not corporations. First published in 1973, it could not be more relevant today. Economist E. F. Schumacher calls for the end of excessive consumption, "casino capitalism" and wasteful corporate dinosaurs.
Books on Environmental Sustainability in Politics and Society:
32. This Changes Everything: Capitalism vs The Climate
by Naomi Klein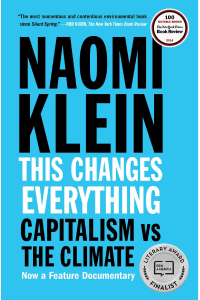 From an award-winning journalist, columnist, and author of the New York Times and international bestsellers The Shock Doctrine, No Logo, No Is Not Enough, comes yet another must-read - This Changes Everything. Naomi Kleins' book offers a brilliant explanation of why the climate crisis challenges us to abandon the core "free market" ideology of our time, and why we need to restructure the global economy and remodel our political systems.
33. #futuregen: Lessons from a Small Country
by Jane Davidson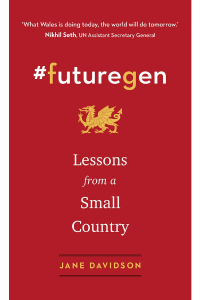 In the fight for a sustainable future, a small country called Wales has already claimed its place in our history books. Author Jane Davidson, former Minister for Environment, Sustainability and Housing in the Welsh Government, explains how she made big change happen. While in office, she proposed the Well-being of Future Generations (Wales) Act 2015―the first piece of legislation on Earth to place regenerative and sustainable practice at the heart of government. The Act connects environmental and social health and looks to solve complex issues such as poverty, education and unemployment. Davidson explores how the shift from economic to sustainable growth is creating new opportunities for communities and governments all over the world.
34. Drawdown: The Most Comprehensive Plan Ever Proposed to Reverse Global Warming
by Paul Hawke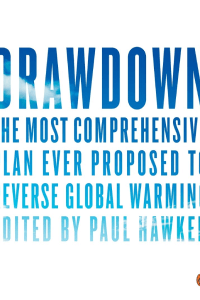 This book should be on the reading list of all global leaders in politics and governments. One hundred techniques and practices are described here—some are well-known, some you may have never heard of. They range from clean energy to educating girls in lower-income countries, to land use practices that pull carbon out of the air. The solutions exist and are economically viable, and communities throughout the world are currently enacting them with skill and determination.
35. Hot, Flat and Crowded: Why We Need a Green Revolution – and How It Can Renew America
by Thomas Friedman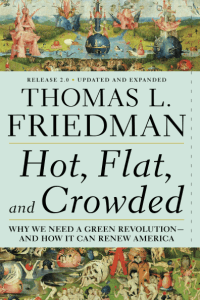 Pulitzer Prize-winning author Thomas L. Friedman speaks to America's urgent need for national renewal and explains how a green revolution can bring about both a sustainable environment and a sustainable America. Not only does he explain how we got to this devastating state of our planet, but presents the United States with a chance not just to restructure its economy, but to lead the world in innovating toward cleaner energy.
36. Climate Crisis and the Global Green New Deal: The Political Economy of Saving the Planet
by Noam Chomsky & Robert Pollin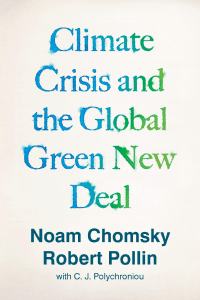 In this compelling new book, Noam Chomsky, the world's leading public intellectual, and Robert Pollin, a renowned progressive economist, map out the catastrophic consequences of unchecked climate change—and present a realistic blueprint for change: the Green New Deal.
As you can see, there is plenty of highly valuable information available in the form of great books on climate change and sustainability. Now, you just need to pick one (yes, that is a challenge!) and dive into it. Just make sure to come back to this post, because we're going to update the list regularly.