When Halloween is over, we end up with a number of costumes in the closet, tons of candies, rotting pumpkins and plastic decorations. Our non-sustainable choices have a huge environmental impact. But there are some things you can do to significantly reduce your festive waste this year.
We include products we think can be useful for our readers. If you make a purchase through the links on this page, we may earn a small commission.
Spooky costumes, pumpkin decor, horror movies, classic gothic novels and of course treats and candies: these words could only mean one thing and that's Halloween. October 31 is just around the corner and it never gets too boring to be celebrated by both kids and adults. But what is Halloween and how did this October holiday start? How is it celebrated and how does this affect our planet? After reading this blog post you will be fully informed about Halloween, learn facts about its environmental impact and get the best tips on what to do with your leftovers after the pumpkin party is over.
In this article:
All You Need to Know About Halloween
What Is Halloween?
Halloween is a holiday celebrated each year on October 31. It marks the day (or more specifically the evening) before the Western Christian feast of All Saints or All Hallows. That's why the word Halloween itself means "hallowed evening". On this evening Americans dress up in spooky costumes and go from door to door, asking for treats or money.
How Did Halloween Start?
Even though Halloween is considered being a new commercialized trend, this holiday is actually a lot older than you might think. Its roots go 2000 years back to the ancient Celtic festival of Samhain, on the nowadays territories of Ireland and the UK. Celts had a polytheistic religion, according to which, October 31 was the day when the souls of the dead return to earth. The tradition says that on this evening the boundary between the worlds of the dead and the living are blurred and this explains the "haunted" connotations Halloween is connected with.
How Did Halloween Become Popular in the U.S.?
Halloween came to America from Europe. In the 19th century, European immigrants (mainly from the UK and Ireland) coming to the U.S. made Halloween costumes very popular. So before the start of the 20th century, Halloween was already established in the U.S. as a principal annual holiday, when parades and community-based gatherings were taking place around the country. Some years later Halloween was commercialized and became the ultimate costume-themed celebration for both children and adults.
How Is Halloween Celebrated?
Far away from its pagan roots, Halloween nowadays evolved into a day full of family activities that are fun for both kids and adults. We celebrate this day by trick-or-treating, organizing festive pumpkin parties and family gatherings, carving Jack O'Lantern, dressing up in costumes, doing spooky face painting, eating candies and more.
When Is Halloween 2021?
Halloween 2021 will be celebrated on Sunday, October 31. Get ready for the most spook-tacular day of the year!
Why Is Halloween Bad for the Environment?
Halloween is one of the most commercial holidays of the year that definitely encourages our overconsumption habits. It is an atmospheric holiday that makes us buy scary costumes, candies and pumpkins to get in the mood. But have you ever thought about what happens with all the stuff after Halloween? What's the environmental impact of this holiday and where do all these leftovers and textile scrubs end up?
Did you know these Halloween statistics:
Take your time and think about the plastic, textile and food waste both stats are revealing. Those stats seem to be more frightening than Halloween itself.
Below you will find some tips and ideas that will help you deal with Halloween leftovers including candies, costumes, pumpkins and decorations in a wise and more sustainable way. Remember, even if you indulge yourself too much this October 31st, there is still a lot you can do to even it up for the environment. In case it's too late to talk about what's left after this Halloween, you can also get inspired with some eco-friendly ideas for the next year.

What to Do With Your Leftover Halloween Candy and Candy Wrappers?
Since 1950 trick-or-treating has become one of Halloween's most featured activities in the U.S. Following the tradition, children dress in costumes and visit houses, threatening to play a "trick", unless they are given a "treat" (meaning candies). According to the Candy Fun Facts from Mobile Cuisine, Americans purchase nearly 600 million pounds of candy a year for Halloween, which is around 10% of the annual candy sales. Additionally, October 28 has become the top candy selling day of the year. Besides the candies themselves, candy wrapping is an additional issue, since most of it is made of oil-based materials, including polypropylene, aluminum foil and pure plastic.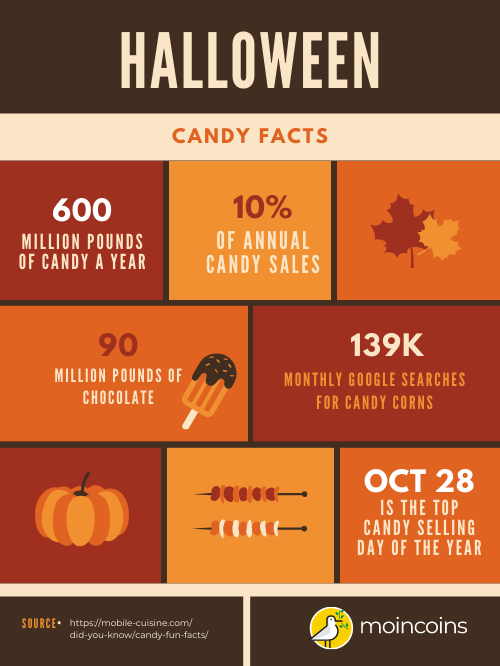 With our tendency to overconsume, it's easy to end up with excess candy after Halloween. You don't necessarily need to eat it all, it certainly won't be very healthy. Check out instead some great ideas on what you can do with your leftover Halloween candies:
Chop and bake them. Chop your leftover candies into small pieces and turn them into amazing sweets. There are plenty of recipes out there on how to reuse your Halloween candies. Follow the guidance of this YouTube video from Tasty, and enjoy some creative time in the kitchen as well as those delicious caramel chocolate cookie cups, peanut butter chocolate snack mix and more.
Treat or donate. There are many ways to get rid of candies (together with the calories) and avoid generating food waste. Treat your colleagues with an unexpected office break snack and share your Halloween stories for some bonding. Otherwise, you can contact nearby nursing homes and homeless shelters to donate your candies.
Save it for the advent calendar. It's never too early to count down for Christmas! Save one Halloween sweet treat for every day to make your own DIY advent calendar. You can make it festive by printing some advent tags, cut paper towel rolls to store the candies and decorate the calendar with colors, glitters, fabrics or stickers according to your likings. If you still have some left, you can keep them for the Christmas tree decoration.
Make a harvest candy tree. Educating your kid could be a fun and sweet activity for both of you. Create a DIY candy tree at home and reward your kid with a small treat every time it deserves it. Be reasonable, so your kid doesn't connect food with achievements.
Use the Zero Waste Box to recycle. We know sometimes it's hard to collect or separate different pieces of wrapping that have to be recycled individually. Order the Zero-Waste Box from EarthHero and collect your plastic-based candy packaging and wrappers, no matter the brand or the size. Send it back to TerraCycle with the prepaid return label and have the job done.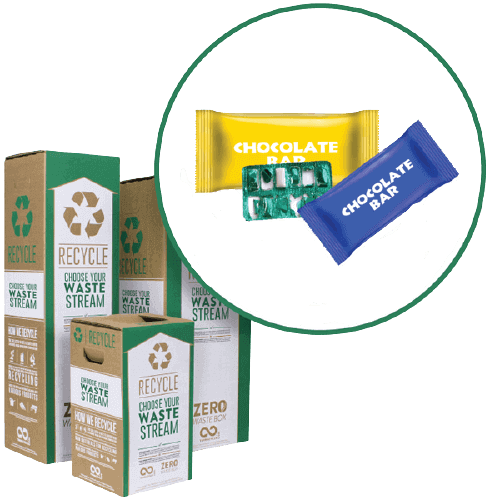 Get crafty. Upcycle candy wrappers into crafts, decoupage them onto boxes or make fancy collages with your child. Ask your local kindergarten if they need some for the daily art and crafts workshops or find a Fine Arts University close to your city and give them to emerging artists. They usually experiment with things that are considered as trash and make small masterpieces out of them.

How to Reuse Halloween Costumes?
One of the biggest after-Halloween polluters is costumes. Almost all of them are prepacked, made of pure plastic or other unsustainable materials and manufactured under unsafe working conditions. This industry is considered fast fashion because most of these costumes are designed for a single-use, are non-recyclable and very toxic. The research conducted in 2019 by the Fairyland Trust / Hubbub showed that polyester is the most common ingredient (69%) used for Halloween costumes (see the pie chart below).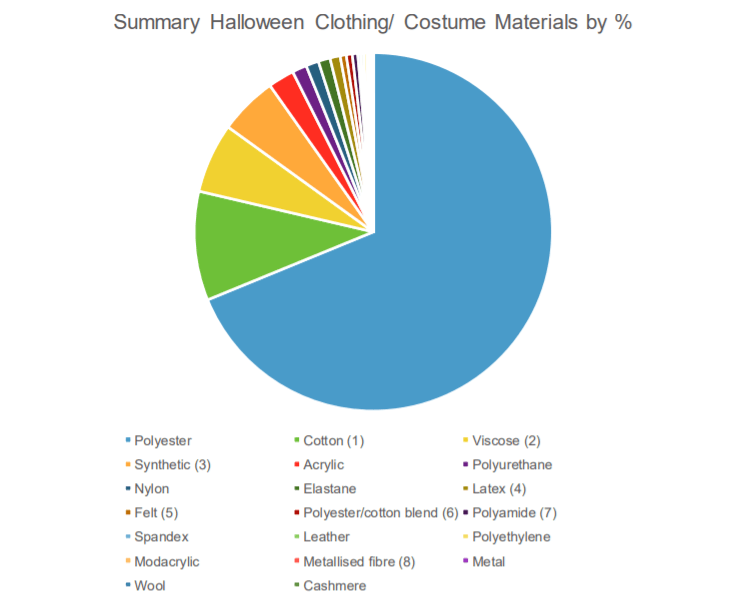 Summary Halloween Clothing & Costumes Materials by %, 2019, Fairyland Trust/ Hubbub
Since recycling is not always possible, you can check out some ideas to reduce textile waste and also avoid buying a new costume next year.
Lend or swap your Halloween costume with a friend. Passing your costume is a great way to reduce textile waste. Find out if there's anyone interested in taking your costume in exchange for theirs.
Give it to a thrift store. Second-hand stores are always a great idea for seasonal costumes. If they don't want to accept it as a whole, you can disassemble it and only give parts of your costume that could be reused as separate items.
Donate it. There are always hospitals or orphanages with kids that would be very happy to receive a Halloween costume. More specifically you can check out Ween Dream - a volunteer nonprofit team that gives free Halloween costumes to children in need across America. However, costumes are not only for kids. Check out centers that support people in need in your area and donate costumes to people that can not afford to buy one this year.
Resell it. Put up your costume on sale on apps like eBay or Amazon. This way your spooky costume will find another life and you will make some money out of it. In case you don't want to resell your costume you can also rent it for a reasonable fee.
Wear it again. Just because it's a Halloween costume doesn't mean that you can not wear it on other occasions, like for example a costume party. Travel to Mexico and celebrate the Day of the Dead (Día de Muertos) on November 2 and get a real chance to wear your costume again.
Ask theater, youth or drama groups. Inform such groups close to your area that you have costumes to lend or donate and support their community.

How to Use Up Leftover Halloween Pumpkin?
Pumpkin is the symbol of Halloween. However, we sometimes forget that this is still food and not a decorating item. We should keep in mind that Halloween pumpkins can be eaten if they are not sprayed with heavy pesticides. Pumpkin innards are not only a great source of fiber, nutrients and antioxidants but also an amazing ingredient for pumpkin muffins, healthy smoothies, soups and pasta. Especially if they're vegan! Check out these three easy pumpkin recipes from hot for you to fully enjoy the pumpkin season.
Besides food waste, you may wonder what's the problem with throwing away pumpkins after Halloween, since we're talking about an organic remnant. When pumpkins are thrown out in the landfills, they start the decomposing phase tightly packed under other piles of trash. This means that they decompose without sufficient oxygen which leads to the release of methane. Like CO2, methane is also a very harmful greenhouse warming gas and therefore a huge number of discarded Halloween pumpkins is a significant problem. So what else can you do with the leftover Jack O'Lantern pumpkin?
Compost it. First of all, make sure that there's no paint on your pumpkin because typical paint is toxic. If there is none, you can mash it or bury to enhance your garden with a natural supplement.
Check out pumpkin composting events around your area. There are multiple free pumpkin smash events, which collect pumpkins for composting. Hudson River Park's Community Compost Program, Compost Cab in Washington DC, Smash 'em, Don't Trash 'em event in Chicago are only a few examples that offer composting services to residents and businesses. If you're lucky, you may also find educational programs and family workshops on how to cook your own pumpkin after Halloween.
Put plants or flowers in the pumpkin once it starts to degrade, plant it directly in the soil so the plant can benefit from the multiple nutrients from the pumpkin.
A treat for chicken coops, farms and zoo animals. Pumpkin seeds are the best chickens' treats, so in case you or any of your neighbors or friends have their own chicken coop, you know what to do. You can also search for farms around your area to give the pumpkin guts.

How to Find the Use for Your Halloween Decorations?
Halloween decoration is one of the best parts of this holiday but also one of the most wasteful ones. The vast majority of Halloween decor items remain low-cost, non-recyclable, pure plastic, contributing to the extinction of marine life. Mother nature is here to provide us with sustainable decoration and organic materials that could create the best autumnal atmosphere for your house (like colorful gourds, tree branches, sunflowers or dried fall leaves). Here are some ideas for what you can do with the Halloween decorations after the holiday is over:
Compost. Pumpkins, leaves, gourds, corn stalks, hay or sticks can fertilize your garden. In case you've painted any of those elements, make sure your paint is non-toxic before composting.
Reuse. Even if your Halloween decor contains a lot of plastic, you can still do some good to the planet by reusing them as much as you can. Especially if you have any fabric banners, metal pumpkins or paper decorations, change them a bit and reuse them next year. You can also use one of your clayed planters to create an eerie Halloween scene. Paint the planter to give it a spooky and grungy look, etch it to make some crackers, plant a big purple flower -like a China Aster- and add some spooky labels to make it look like a grave. It's an easy DIY and plastic-free idea, which you can reuse next year, just by planting different flowers every time.

15 Green Halloween Tips
If there's not much you can do with the Halloween leftovers this year, try to plan next October's celebration in advance and make small improvements towards a more sustainable Halloween. Be farseeing and realistic, learn from your mistakes and try to reduce waste as much as you can. Here are some points you can already start thinking of, while organizing next year's Halloween party:
Be mindful of the candy wrappers. This is probably the biggest environmental issue during Halloween, considering the huge number of candies sold during the last week of October. Limit individually wrapped treats, cook your own vegan candies or visit a bulk store to buy zero-waste sweets that won't harm the planet.
Avoid products that contain palm oil. Many Halloween products contain palm oil. This is also a non-sustainable choice for the next year since the usage of palm oil is responsible for deforestation and has a negative impact on wildlife.
Buy fair-trade chocolate. Chocolate consumption from brands that don't have the best ratings in terms of human rights and environmental impact is a real issue to consider next year. Watch the documentary "The Dark Side Of Chocolate" to get convinced you and make more eco-conscious decisions next year.
Buy organic, vegan and ethically made food. It's not only healthier but also better for the environment and the people. Purchasing an organic pumpkin or supporting a local farmer could possibly be your next big step. Stay away from extraordinary gleaming pumpkins, since they're usually sprayed with heavy pesticides and shipped over long distances, increasing our carbon footprint.
Avoid plastic or rubber face masks or regular face paints that contain toxic chemicals. Your next facial Halloween paint can be water-based, cruelty-free and made of natural ingredients. Look for the "leaping bunny" logo or visit Cruelty Free Kitty for cosmetic brand ratings. Otherwise, you can check out non-toxic facial painting recipes to do at home.
Time to shine: DIY your costume! There are many ways to be creative and environmentally conscious. Use less plastic and take advice from your local thrift store on how to do it. The ideas are endless. You can create ghosts out of old sheets, skeletons out of cardboard boxes, bats out of egg cartons or spider webs out of yarn. All you need to do is let your or your kid's imagination run wild, use Pinterest for some inspiration and you will end up with a unique costume. You can dress up like your favorite superhero, a TV show character or even something really meaningful, e.g. raise awareness about plastic waste and dress up as the Great Pacific garbage patch or wear a big plastic bag to make a statement. In case you are not a crafty person, head to a second-hand, consignment store or yard sales instead of buying new costumes.
Don't skip glitter, there's an alternative! You will probably need some glitter to complete your spooky look. In this case opt for bio-glitter, like Today Glitter.
Stick to durable Halloween decorations. Try to avoid artificial flavors, colors, or preservatives and stick to durable, sustainable decorations that can be stored and reused for the next years.
Use your car less. Trick or treating is traditionally an outside activity. Let yourself or your kids walk and consider that there are always too many cars on the road that day, emitting CO2 emissions. Also, why not try carpooling with others for longer distances.
Go trick-or-treating with a pillowcase. We usually use our plastic candy bin once per year. Try not to buy a new one next year but use a colorful pillowcase or even a backpack instead. Search for washable and reusable solutions that will not end up in the landfills on November 1.
Invest in LED light. On Halloween night we usually have all lights on to welcome our trick-or-treat visitors. You can prepare your house better for next year and start investing some money on LED lights that will save you money and will also make the next Halloween holiday more sustainable.
Give out gifts instead of candy. Find alternatives, like Halloween-themed pencils or coloring books that are not very wasteful once they reach their end of life.
Buy eco-friendly candles this year. Light up your pumpkins by using not paraffin-based candles, like soy- or organic beeswax-based ones.
Send electronic invitations for your next Halloween party. According to the NRF, in 2020 $0.44 billion were spent on Halloween greeting cards. Think twice before you spend unnecessary money and send another paper invitation that most probably will very soon end up in the bin. Go digital!
Serve your dishes without using plastic. If you're organizing a Halloween party, use recyclable or even compostable plates, cups and utensils to serve food and drinks to your guests.
Tradition wants Halloween to reunite the world of the living and the dead. But both worlds have one thing in common: we all lived, are living and will be living on the same planet.
"The environment is where we all meet; it is the one thing all of us share."

-Lady Bird Johnson
Keep this in mind when planning any event, not just a Halloween night.