Exaggerated sustainability claims are common practice within all industries, but what happens when companies choose to keep their environmental accomplishments a secret? We talk you through all the details below
In this article
When Greenwashing Expands to Greenhushing
Greenhushing refers to the practice of keeping sustainability-focused initiatives and plans hush-hush. Some companies prefer to stay quiet about their environmental achievements and goals and avoid being called-out by the public, media or legislators.
But before diving into the concept of greenhushing, let's take a closer look at the bigger trend behind it.
Over the last decade, greenwashing has become a widely popular practice among brands, regardless of the industry they operate in. The term was coined by Greenpeace in the 1990s to describe cynical and superficial marketing efforts by brands to give customers a false sense of environmental awareness. Greenwashing occurs when companies market products as "green" or "eco-friendly" without providing credible evidence to support these claims, or when a company exaggerates the environmental benefits of its products or practicesю
As consumers become more environmentally-conscious and demand environmentally-friendly products, greenwashing is also more likely to happen. This can make it difficult for consumers to identify products that are truly environmentally-friendly and can undermine the efforts of companies that are making a genuine effort to reduce their environmental impact.
To better understand greenwashing, let's take the example of H&M's Conscious Choice collection (now discontinued). In 2022, it was announced that H&M would remove its sustainability labels from its products after the Netherlands Authority for Consumers and Markets (ACM) launched an investigation. The ACM found that H&M was using sustainability claims such as "Conscious" and "Conscious Choice" without explaining what was meant or providing a description of the sustainability benefits of the products.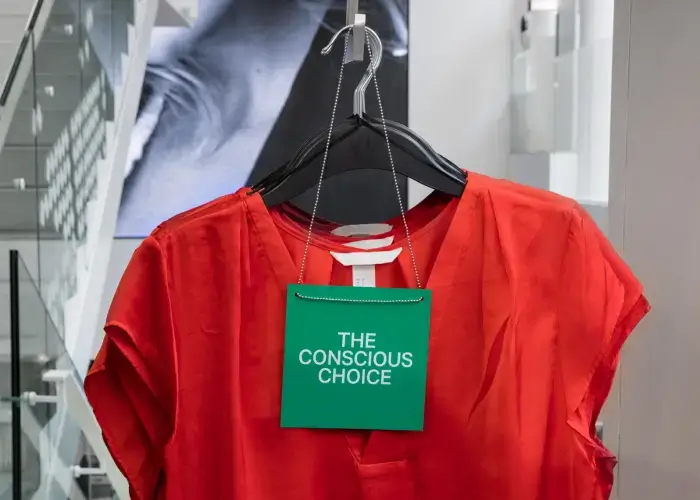 H&M's Discontinued Conscious Choice Label
Image credit: The studio
It was also suspected that the Swedish fast fashion company was making sustainability claims about products that incorrectly created the impression that particular products were made from environmentally-friendly materials. Consequently, H&M agreed to provide donations of €400,000 to sustainable causes "to compensate for the use of unclear and insufficiently substantiated sustainability claims." Apart from this, the fast fashion brand removed the Conscious Choice collection from all of its online and physical stores by October 2022.
Greenwashing and the Fast Fashion Industry - Moincoins Testing
Greenwashing is common practice within the fast fashion landscape and we stumbled upon this trend during our fast fashion experiment last year. Check out our "Fast Fashion Tested" article series below, where we dive into the eco-friendly collections of several globally-known brands:
Greenhushing at a Glance
Slowly but surely, greenwashing has given way to another problematic sustainability trend, known as greenhushing. This happens when companies choose to stay silent than showcase their environmental accomplishments. Why? Because they fear that doing so could damage their image, hinder investors' interest, or even cause a backlash from the public. As sustainability has become a familiar term over the past decade, the danger of being labeled a "greenwasher" is so great that many companies are holding back on sustainability communications to avoid being called out for doing too much or too little.
Unlike greenwashing, where companies tend to exaggerate
their sustainable practices, greenhushers prefer to turn down
the volume on their sustainability efforts and goals.
A 2022 report by the climate consulting firm South Pole examined 1200 private companies that are considered global leaders in climate action. It found that one in four businesses do not publish its environmental achievements and milestones, as depicted in the infographic below.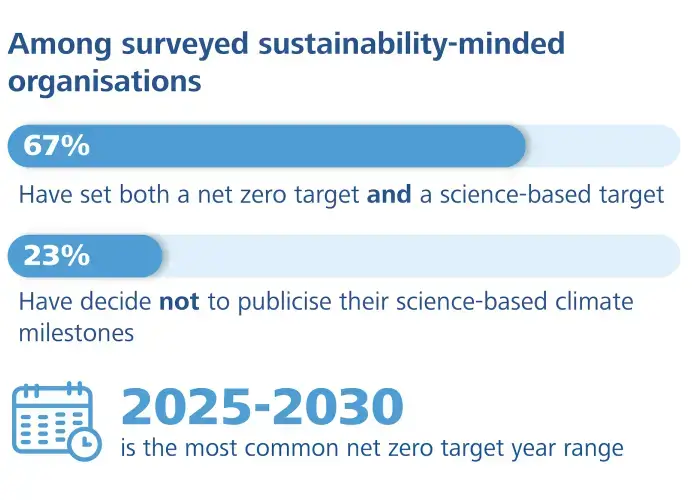 Percentage of Greenhushing Companies
Image credit: South Pole
Even though a quarter of these companies have already set a Science-Based Target (SBT), none of them want to publicize it, hinting that some companies are hesitant to overpromise publicly on what they can deliver. Surprisingly, the study also captured that, despite the terrible global economic outlook, businesses are still investing more, not less, in reaching net zero targets.
However, not disclosing progress makes it difficult to review corporate climate goals and limits knowledge-sharing on decarbonization, which can lead to setting less ambitious targets and missed opportunities for industry collaboration. Achieving real climate impact requires collective effort and society's ambition to address climate change at the scale required. And frankly, this is impossible if progress is kept a secret.
According to the South Pole's report, publishing an SBT on sciencebasedtargets.org (an online tool created to highlight the best practice in emissions reductions and net-zero targets in line with climate science) is required when setting such a target. But the reasons why some companies decide not to do it are varied. It could be because companies fear the increased scrutiny and critique by the media or the lack of confidence in having what it takes to meet such goals. It could even be due to the fact that setting an SBT has become "business as usual". After all, why trumpet about something that should be done by default in the first place?! The truth is, we do not have a definitive answer.
Greenwashing Glossary
As we have seen, greenwashing can expand to new problematic trends, some of them even surprising. Apart from greenhushing, there are a variety of other terms used to describe all the ways in which certain companies try to go under sustainability's radar.
In the following lines, we'll briefly take you through some of these and give you a handful of hints on how to avoid being greenwashed in the first place.
Greenlighting
Greenlighting, in the context of greenwashing, happens when a company emphasizes an environmentally-friendly feature of its activities or products. This practice can divert attention from environmentally-damaging activities being carried out elsewhere.
Greenlighting is a fairly widespread practice within the automotive industry, where manufacturers highlight the benefits of their electric cars, which are often a tiny part of their production.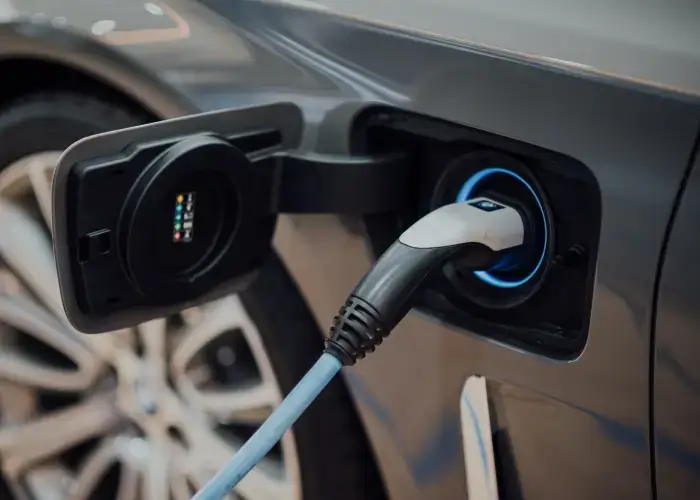 For instance, Toyota's zero-emission vehicles accounted for just a fraction of total sales in 2021 (0.2%, which was the smallest share among the world's top ten automakers). However, the company has been ceaselessly promoting a "Beyond Zero" sustainability campaign, with attention-grabbing headlines, such as "The Future Looks Electric".
Greenrising
We know that it can be tricky sometimes for brands to achieve all the environmental, social and governance (ESG) targets they aim for. However, some companies have come up with an easy way out of this, an extension of the umbrella term, greenwashing, also known as greenrising.
Greenrising takes place when a company regularly changes its ESG targets before these are even achieved. In doing so, companies can lower or delay their own environmental targets, which are usually easier to meet. This "strategy" enables companies to appear more eco-friendly than they actually are.
One famous greenriser is Coca-Cola. In 2020, the company mentioned that it was going to make bottles with 50% recycled content by 2030. However, Coca-Cola changed its plans in 2022, and lowered the target to 25% by the same year.
Greencrowding
Greencrowding companies tend to hide within a group and move at the speed of whoever is slowest to adopt any sustainability policies. Planet Tracker, a non-profit financial organization, gives the Alliance to End Plastic Waste (AEPW) as an example. Around 65 companies, including oil giants, have joined this global alliance to "end plastic waste in the environment and protect the planet." However, according to Planet Tracker, the alliance's investment targets are low, and members' average member contributions fell by 56% in the first three years of operations.
Greenshifting
Greenshifting happens when a company blames the consumers for their carbon footprint. One example is BP's "Know your carbon footprint" campaign. In 2019, the oil company introduced a carbon calculator and asked customers to share their pledges to reduce emissions.
That same year, BP spent millions on an ad campaign about its low-carbon energy and clean natural gas. In reality, oil and gas still accounted for more than 96% of annual spending at that time, according to environmental organization ClientEarth.
Emissions from fossil fuels are the leading cause of global warming. In 2018 alone, 89% of the world's CO2 emissions were caused by fossil fuels and the industry, ClientEarth said. Despite all this, fossil fuel companies have consistently shown stealth resistance to transitioning to a greener future, despite being well-aware of the dangers of climate change.
Ways To Avoid Being Greenwashed
1. Keep An Eye Out for Certifications
Many brands try to greenwash clients into believing that their products are "natural" or "organic" without having any certifications to support such claims. Hence, it's important to do your research and find out whether the brand you're planning on buying from has any certifications. Some of the most important certifications to look out for are:
Global Organic Textile Standard (GOTS)
Better Cotton Initiative (BCI)
Recycled Claim Standard (RCS) and Global Recycled Standard (GRS)
Oeko-Tex
Woolmark
Not sure what these all mean and how they differentiate? Check out our post on Top Ethical Fashion Certifications You Need to Know.
2. Don't Give in To Irrelevant Claims
In their desire to jump on the sustainability bandwagon, some brands could even issue statements that are fundamentally true, but irrelevant. For instance, chlorofluorocarbons (CFCs) are non-toxic, non-flammable chemicals used to manufacture aerosol sprays.
While these are banned by law, companies can still claim that their products are CFC-free. This should be a clear indicator that the company isn't as environmentally-friendly as it tries to appear.
3. Go For Full Transparency
Try to steer away from brands that gatekeep essential information about their fabrics, suppliers, production process and even workers or animal rights. These companies are most likely to engage in unethical practices that endanger both people and the environment.
When in doubt about companies you're interested in, try to do your own research - check their sustainability reports, any relevant causes they've made donations to or look for them on other relevant and trustworthy websites. You can even look for those brands on Moincoins, as we might have already done the research for you. We use a complex evaluation process after which we rate brands according to their commitment to environmental and social causes. To find our full selection of eco-friendly brands and their deals, make sure you visit our Eco category.
4. Spot Exaggerated Claims
Beware of companies that only promise to get better but never really put the time and effort to commit to sustainable practices. Such companies can even go as far as claiming that their products are sustainable, eco-conscious or environmentally-friendly only to find out they were far from it at a close inspection. For instance, in 2021, H&M was found guilty of greenwashing customers, with a staggering 96% of its claims not holding up.
Our Top Eco-Friendly Brands
With all the greenwashing (and its adjacent trends) happening around the world, it can be difficult to find brands that take their environmental and social responsibility seriously. But we want to make it easier for you to spot and shop at cool and transparent brands that also happen to have amazing styles and high-quality products at affordable prices. Make sure to check all of them in the table below:
Amour Vert

Astor & Orion

Made Trade

The Body Shop

Green Chef

Category
Fashion
Fashion
Department Store
Health & Beauty
Food & Drink
Eco rating
Eco Skilled
Eco Nerd
Eco Skilled
Eco Skilled
Eco Nerd
Sustainability

Produces locally in California in limited quantities to limit waste
Is taking steps to eliminate plastic usage

Designs pieces that are planet- and people-friendly

Offers products made from sustainable or recycled/upcycled materials.
Products are designed to minimize their impact on the environment

The brand values ethical sourcing and cruelty-free ingredients
Supports small-scale farmers and artisans in developing countries

Dedicated to minimizing its environmental impact
Committed to limiting food waste through perfectly portioned ingredients

Best For
Sustainable clothing and accessories for women
Sustainable jewelry
Eco-friendly clothing and accessories
Skincare products made with the users and the environment in mind
Delicious, healthy and sustainable meal kits
Product Range
Tops, bottoms, dresses and skirts, as well as jumpsuits, loungewear, shoes and accessories for women
Hoop and stud earrings, drop and threader earrings, as well as necklaces
Clothing, homeware, accessories, shoes & gifts
Cleansers, toners, mists, creams, serums, masks and face oils
Keto, paleo, vegetarian, Mediterranean, fast & fit, vegan or gluten-free meal kits
Price Range
$15 - $298
$28 - $180
$21 - $4,068
$8 - $40
$11.99 - $13.49 per serving
Our Top Pick
Do not miss the Pre-Loved Collection where you can find high-quality pieces at affordable prices
Make sure you take a look at the Just In section to be the first to know about the latest sustainable pieces
Check out the Ethical and Sustainable Gifts section for beautiful pieces at amazing prices.
Check out the "Sensitive Skin" category which includes vegan products, free from mineral oil and perfect for the most sensitive skin out there.
Always keep an eye out for the weekly menu and stay up-to-date with all the fantastic dishes that are coming up next.
Customer Reviews
"I have purchased quite a few items from Amour Vert on many occasions. Customer service has always been smooth, and shipping is always on time." - D from Trustpilot
"I love this company and their jewelry! I have a couple of pairs of earrings myself, and the gold floating heart threaders were a big hit with my girlfriend." - E from Google Reviews
"Would definitely purchase from Made Trade again. Their customer service is incredibly responsive and thoughtful." - L from Made Trade
"I am a regular customer that shops at Body Shop and every time I go in the store I am never disappointed with the service and advice I get." - R from Trustpilot
"Varied and healthy options. (...) It has helped us save on take out tremendously, and so much tastier and healthy." - J from Sitejabber
Deals
Amour Vert coupons + 3.5% cash back
Astor & Orion coupons + 7% cash back
Made Trade coupons + 3% cash back
The Body Shop coupons + 5.5% cash back
Green Chef coupons + 10.5% cash back

Visit site
A Few More Words on Greenhushing
When Was Greenhushing First Noticed?
Greenhushing is a fairly new trend that was first spotted in 2022 during a study among some of the world's leading corporations in climate action conducted by the South Pole organization.
Is Greenhushing the Same as Greenwashing?
The short answer is no. They are complete opposites. While greenwashing is the general term used to describe deceiving practices of companies to appear more sustainable than they are, greenhushing strictly refers to companies that stay silent about their environmentally-friendly policies and goals.
Is There Anything We Can Do to Prevent Greenhushing?
As consumers, we can only encourage and support sustainable practices, regardless of how small or ambitious they might be. Tackling the issue of climate change is no easy feat and it takes more than a few promises and policies here and there to achieve real change, we know that. However, we shouldn't minimize or dismiss brands' genuine efforts simply because they're not spectacular enough.
Moincoins' View On Greenhushing
While certain brands prefer to greenhush rather than be vocal about their sustainability commitments and goals, too many still continue to use empty targets and claims to increase public perception of their climate progress. To counteract, we need companies to open up and have honest conversations about their progress, without exaggerating their goals or sugar-coating their results to please the customers or the media.
At Moincoins, we believe that no real change can happen if progress is made in silence. We know that the cost of climate inaction is rising every day and we wish to see more and more companies talking and being confident about their sustainability-focused policies. Perfection doesn't exist, but we shouldn't let that stop us from striving for the best every day.