Pineapple Leather at a Glance
Facts
Material Origin

Piñatex® is made of pineapple leaves fibers
The fabric is sourced in the Philippines and finished in Spain and Italy
All Piñatex is shipped internationally from Spain

Price
Certifications

PETA
The Vegan Society
B Corp™

Durability
Great durability thanks to its petroleum-based resin coating
Pros

It is more eco-friendly and sustainable than genuine leather

Cruelty-free

Vegan

Made from renewable resources

Durable

Water-resistant

Wrinkle resistant

Comfortable and soft

Pleasant look and feel

Cons
How Is Pineapple Leather Made
Piñatex is made of pineapple leaves waste. Since the leaves are a by-product of the already existing pineapple harvest, no additional environmental resources are needed to produce this fabric. Once the pineapples are harvested, the leaves are collected and the long fibers are extracted using semi-automatic machines. The fibers are washed and dried in the sun and go through a purification process to remove all debris. After completing these steps, manufacturers end up with a fluff-like material, called pineapple leaf fiber (PALF). PALF is then mixed with a corn-based polylactic acid (PLA) and goes through a mechanical process to make Piñafelt, which is a non-woven mesh and the base of all Piñatex products.
The Piñafelt rolls are then ready to be shipped from the Philippines to countries like Spain or Italy, where they'll go through specialized finishing. At the same time, Piñafelt can also be colored using Global Organic Textile Standard GOTS-certified pigments or covered in a top coating made of resin for additional strength, durability and water resistance. Thousands of brands across the world use Piñatex for clothing, accessories and upholstery including H&M, Hugo Boss and Hilton Hotel Bankside.
The Specifics of Pineapple Leather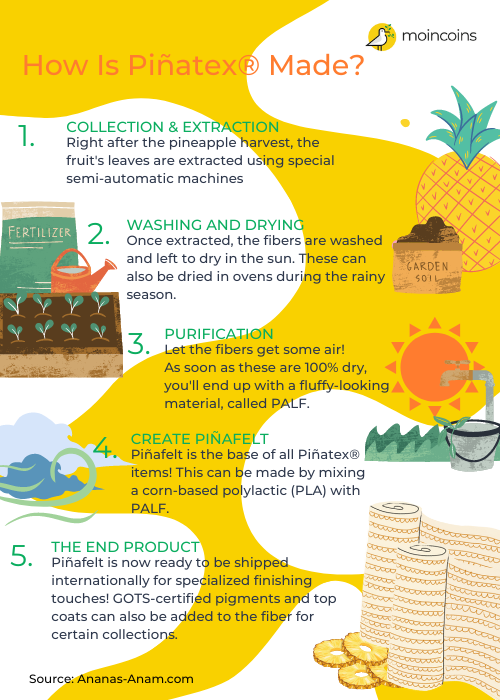 How Is Pinatex Made Infographics
Uses for Pineapple Leather
Piñatex is an extremely versatile fabric and it's widely used across various industries, such as fashion, hospitality and home design. In other words, Piñatex can be used for everything that has usually been made of genuine leather.
Cost Breakdown And Price Comparison
As far as production costs are concerned, pineapple leather is usually cheaper than genuine leather. This is mostly because pineapples are a renewable resource and turning their leaves into leather-resembling fabric doesn't require manufacturers to use as many hazardous chemicals as they would normally use to create leather from animal hides. For instance, 20 square feet of premium-quality leather cost around $150, while the same amount of pineapple leather costs as little as $65.
Pineapple Leather Vs Genuine Leather
| | | |
| --- | --- | --- |
| Material | Pineapple Leather | Genuine Leather |
| Sustainable and animal cruelty-free | ✓ | |
| Heavy use of resources | | ✓ |
| Toxic chemicals in the tanning | | ✓ |
| Closed loop production | ✓ | |
| Extra environmental resources needed for raw material | | ✓ |
Source: Ananas Anam
To better understand how pineapple leather goods compare to those made of genuine leather, it is important to look at specific scenarios. For instance, Mercer Amsterdam, a high-end sneaker label, produced the first ever sneakers made of pineapple leather, alongside its genuine leather goods. In 2018, Mercer collaborated with Piñatex and brought to life a series of pineapple leather sneakers, as part of the brand's "The W3rd" collection.
Mercers Genuine Leather Sneakers vs Pineapple Leather Sneakers
Genuine Leather Sneakers
(Mercer W3RD Heritage Suede Grey)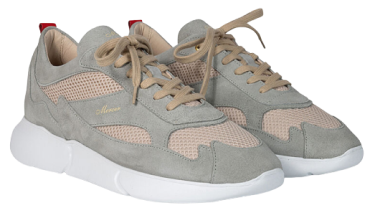 Price $250
Carbon positive
Frequency of wearing: all seasons, daily
Cost-per-wear: $1
Pineapple Leather Sneakers
(Mercer W3RD Pineapple Leather Cream)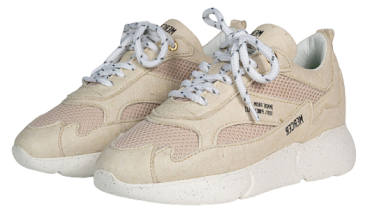 Price $250
Carbon negative
Frequency of wearing: all seasons, daily
Cost-per-wear: $1
As presented above, both types of sneakers have similar designs and prices, and it would be quite impossible to tell which one is made of genuine or pineapple leather unless you touch them. However, if we analyze them in more detail, we'll see that there are substantial differences between the two.
For instance, on average, producing a pair of cow leather shoes releases the equivalent of 40,7kg of CO2 into the atmosphere, while producing pineapple leather saves over 260 tons of CO2 emissions from the 825 tons of leaves burned as excess in the pineapple industry
In terms of cost per wear, both sneaker options would cost around $1 for each wear. To measure this, we made use of the Cost-Per-Wear calculator and added to the equation facts related to how frequently the items would be worn, how many years they're expected to last for, as well as basic care guidelines. Therefore, a customer who decides to purchase one of Mercer's pineapple leather or genuine leather-made sneakers will be able to enjoy the product for as long as 2-3 years, in all seasons and for as little as $1 per wear.
Care Guidance
Caring for products made of pineapple leather is relatively easy and can be done at home without the help of professional dry cleaners. Ananas Anam, the company producing Piñatex, recommends using natural, colorless wax to clean your Piñatex products. Apply the wax using a clean cloth and leave your products to dry. The wax will help the fabric look more hydrated for longer.
Piñatex items cannot be machine washed or tumble-dried. They can be cleaned by hand using a damp cloth or soft sponge. Make sure to wash Piñatex goods with cold water and a soft detergent to protect them from heat damage and, consequently, melting.
To dry pineapple leather goods, place them on a hanger and let them air dry slowly and naturally. This method will protect your garments against heat damage and save you a lot of energy, money and CO2 emissions. It is also important to note that all Piñatex® items must be given enough time to dry completely before use.
Pineapple Leather in Practice
Pineapple Leather in the Fashion Industry
The fashion industry is always looking for the next cool sustainable opportunity to tap into and pineapple leather could not be missed.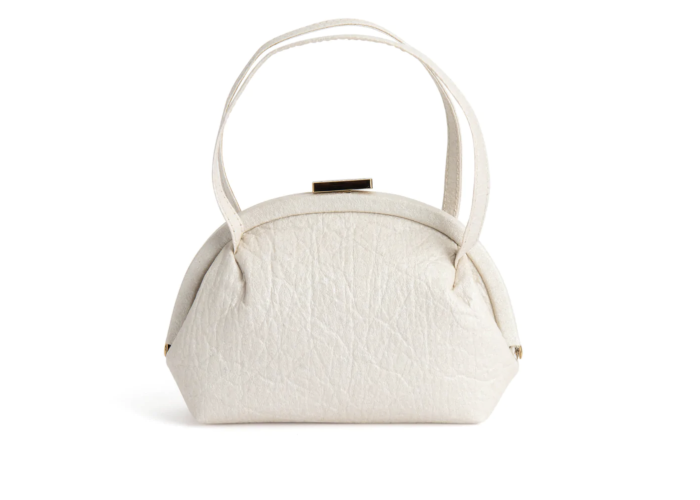 "The Queen Mother" bag
Image credit: Marici
Marici is the world's first luxury plant-based brand to ever make use of pineapple fibers in its designs. Marici's "The Queen Mother" bag is made entirely of pineapple leaves fibers and is completely recyclable and biodegradable.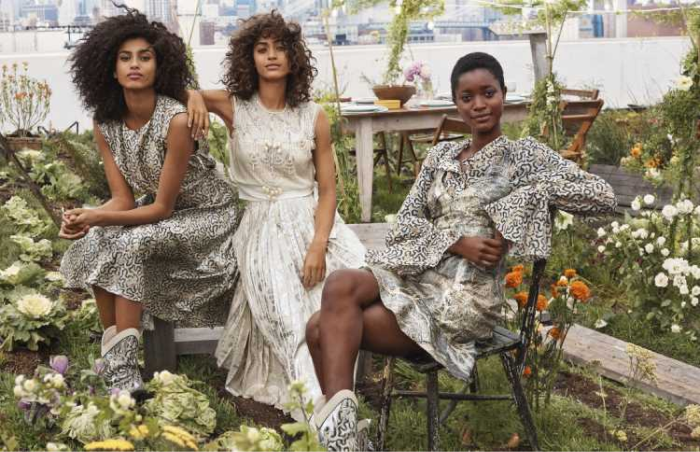 H&M's 2019 "Conscious Exclusive" collection
Image credit: H&M
Global fashion brands have also set foot in the pineapple leather territory. In 2019, H&M released a premium Conscious Exclusive collection of eco-friendly pieces, including pineapple leather jackets and boots, Orange fiber tops, as well as slides made of BLOOM™Foam - a plant-based foam made of algae biomass.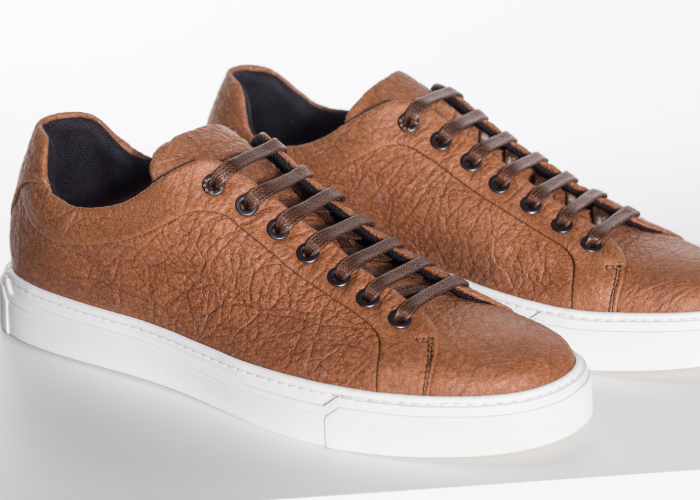 Hugo Boss' Pineapple Leather Sneakers
Image credit: Dezeen
Similarly, as part of its responsible design initiative, Hugo Boss released a collection of limited-edition sneakers crafted from Piñatex. The vegan shoes feature lightweight recycled TPU soles and fasten with organic cotton laces. Every shade is naturally dyed, while our new silver style is created by heat-bonding foil to the shoe to reduce the number of components used.
The eco-conscious shoes feature 100% Piñatex upper, recycled Thermoplastic Polyurethanes (TPU) soles and organic cotton laces. Every pair of sneakers has also been dyed using natural, plant-based dyes.
Pineapple Leather In The Hospitality and Household Industries
Piñatex can also be used to make stunning and durable furniture, such as seats and sofas, but also cushions, upholstery or home decor, as proven by the world's first "Vegan Suite" at Hilton London Bankside.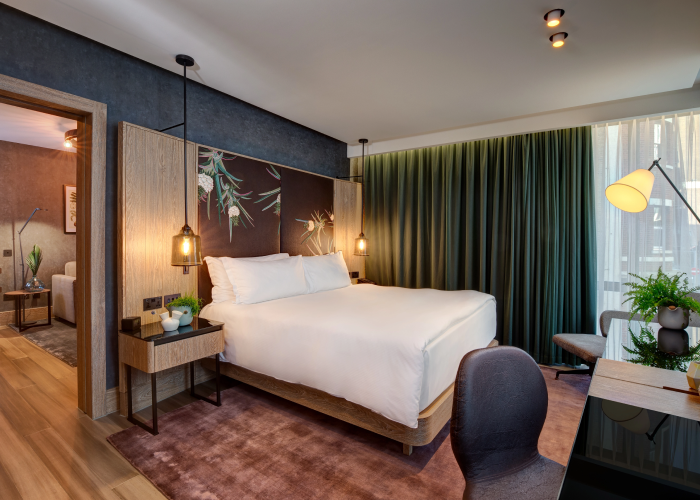 The World's First "Vegan Suite"
Image credit: Hilton
In 2019, Hilton launched an immersive vegan-friendly hotel stay for eco-conscious travelers looking for the ultimate sustainable living experience. This project was designed with the increasing popularity of the vegan lifestyle in mind, and from the very entrance, guests can hand in their documents at a plant-based check-in desk.
Shortly after the paperwork is done, travelers are given keycards made of Piñatex and are directed to the Vegan Suite', where Piñatex takes center stage. From the bed's headboard to the desk chair and the poufs, everything is made of Piñatex, proving that this fabric can be stylish, durable and eco-conscious all at the same time.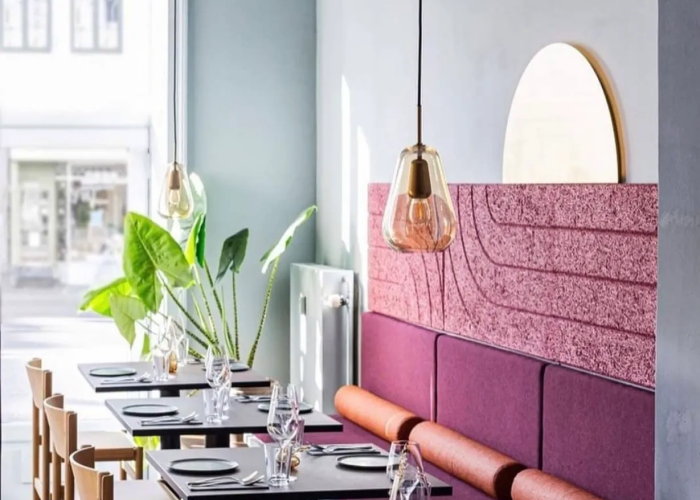 The Ark Restaurant
Image credit: Architectural Digest
Another example of seamlessly integrating pineapple leather into furnishing and upholstery is represented by the Ark Restaurant in Copenhagen, Denmark. This fine dining, plant-based restaurant incorporated auburn-colored Piñatex into its cylindrical cushions, which perfectly compliments the serene and cozy ambiance.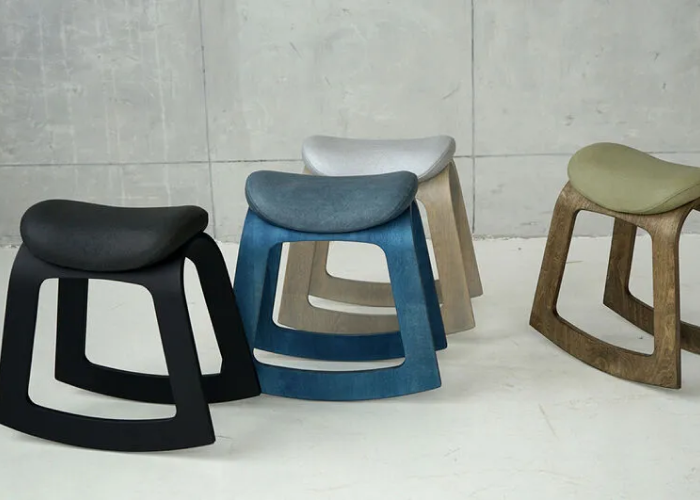 Pineapple Leather Muista Chairs
Image credit: Design Milk
Pineapple leather seems to be a favorite when it comes to designing furniture and upholstery and these ergonomic chairs by Muista prove that functionality, sustainability and beauty can make the perfect team. Designed to exercise the body while sitting for hours, the chairs feature a Piñatex-made upholstery that is flexible enough to work well with stitching and fitting around curved edges. These chairs are part of a limited-edition collection.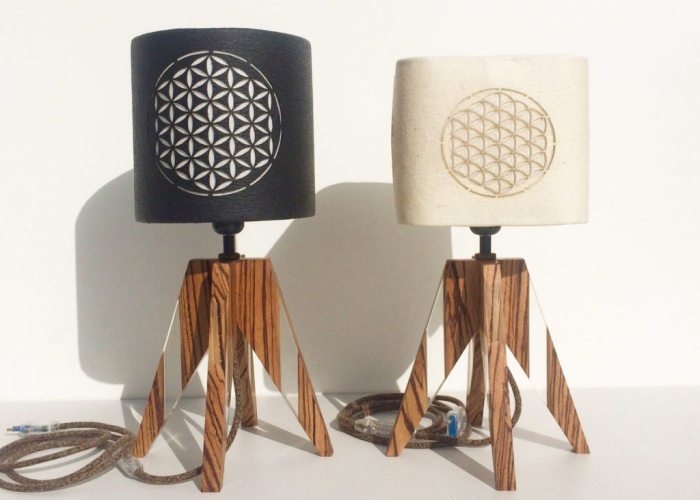 Kanopee Design "Fleur de vie" Lamps
Image credit: Kanopee Design
Pineapple leather is also perfect for creating unique interior design pieces, such as these lamps made by Kanopee Design - a furniture-making company based in Nantes, France. The shades of these "Fleur de vie" (which translates to The Flower of Life) lamps are entirely made of pineapple leather and, besides their sustainable value, can fill out any room with a magical pattern and soothing energy.
Pineapple Leather In The Leisure Industry
Apart from its purely functional and eco-friendly features, pineapple leather can be adjusted to match the lifestyles and interests of a variety of people.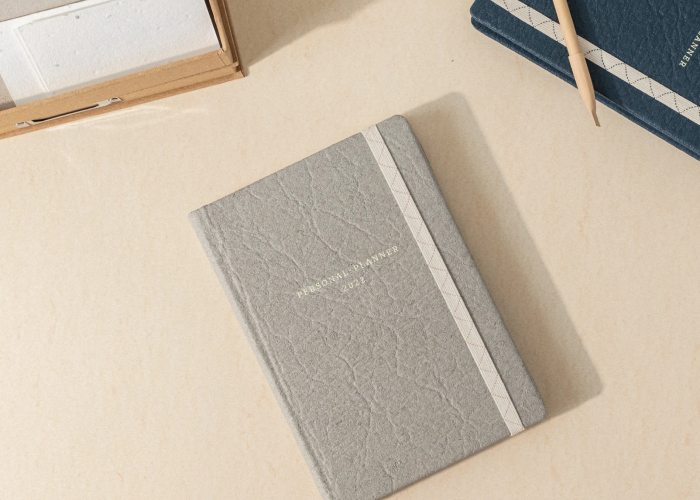 Melpom Personal Planner Made From Piñatex
Image credit: Melpom
For instance, Melpom is a Spanish stationery company that has collaborated with Piñatex and brought to life a collection of notepads with covers made from pineapple leaf fibers and pages made from 100% recycled paper.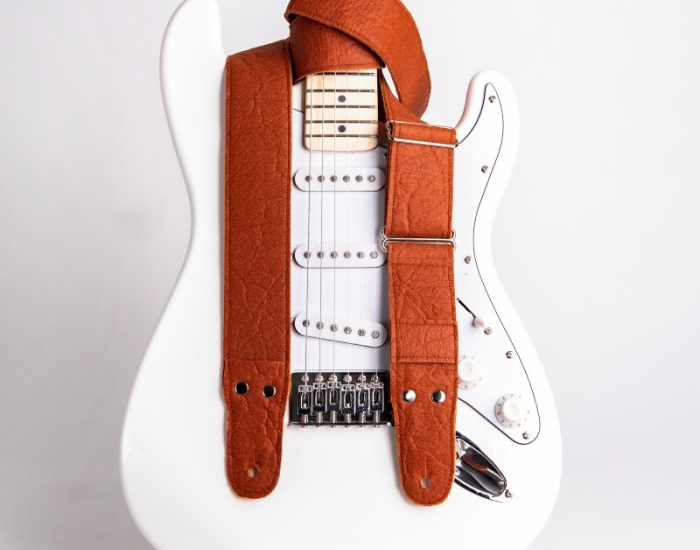 Pineapple Leather Guitar Strap Pina 5 Canela
Image credit: Rock'n Soul
Similarly, Netherlands-based guitar and bass straps maker Rock'n Soul worked closely with Piñatex to develop "Eco Serie Pina", a selection of straps made from pineapple leaves' fibers. Rock'n Soul decided to include this material in its offertings because it delivers high-quality comfort, strength and usability.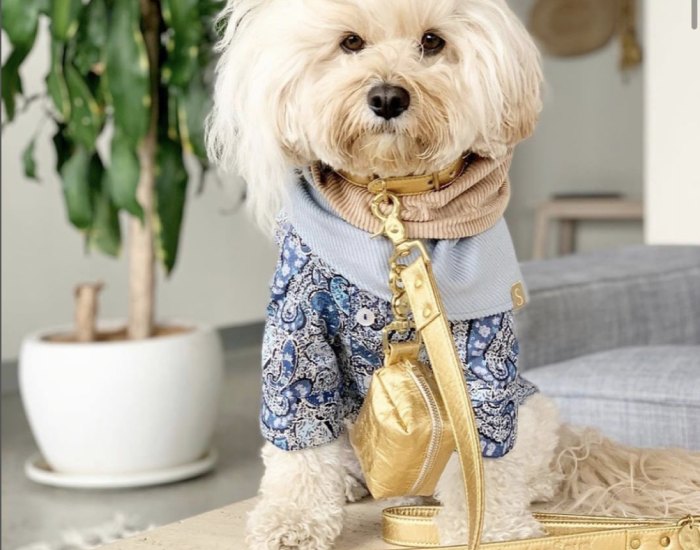 Gold Piñatex Dog Collar
Image credit: Sebastian Says
And who said that sustainable design can't be fun, chic and useful all at the same time?! Meet Suz Delev, the designer behind Sebastian Says - an Australian dog accessories brand. Designed with functionality and aesthetics in mind, Sebastian Says offers dog lovers a few sustainable alternatives to genuine leather leashes and collars.
The Social Environmental Impact of Pineapple Leather
The Social Impact of Pineapple Leather
Tons of pineapple leaves per year used to go to waste in the Philippines. That was before Dr. Carmen Hijosa realized there was a way for her to turn them into a viable commercial fabric. She also realized that using the wasted leaves' fibers could also mean that farmers would get an extra source of income who would otherwise rely solely on the seasonal harvest. Once the fiber has been removed from the pineapple leaf, the waste biomass can be utilized as a natural fertilizer or biofuel, which offers an additional environmental benefit.
By laying the foundation of Piñatex back in the 90s', Hijosa didn't only offer an eco-friendly alternative to genuine leather, but she also offered jobs and economic improvements to the local communities of the Philippines. Currently, the company aims to work with other pineapple-growing countries, helping the local economies and boosting their exports.
Piñatex is a unique material simply because it is a by-product of the pineapple harvest, which means that no other resources are used when growing the raw material. At the moment, Piñatex is the most sustainable alternative to genuine leather available on the market.
The company has recently been granted the B-Corp Certification, which is a sought-after credential given only to companies that meet the highest standards of verified performance, accountability and transparency, from employees' working conditions to the supply chain practices.
"We offer fair prices and safe working conditions, a transparent and traceable supply chain from leaves to finished material rolls and are continuously reducing our impact on the environment. As a B-Corp™ certified company, we share our impact data via an annual report to inspire and invite all our stakeholders to join us on the journey to full circularity, which we can only achieve together", said Melanie Broye-Engelkes CEO of Ananas Anam Ltd to Vegconomist.
The Sustainability of Pineapple Leather
Making animal-based leather is a complex process that involves dangerous chemicals, such as formaldehyde and heavy metals, which can cause issues when they end up in wastewater. Leather comes from animals that require large amounts of food, so making leather-based products is both unsustainable and unethical. Since leather is the most valuable co-product of the meat industry, over a billion animals are killed for their skin every year.
On the other hand, fake leather is problematic too because it's usually made from polyurethane (PU) or polyvinyl chloride (PVC) or, in other words, plastic. The production process of vegan leather items made of these materials emits hazardous chemicals, such as phthalates, dioxins, and Vinyl Chloride, which are toxic to the environment and difficult to dispose of. The latter is also classified by the U.S. Environmental Protection Agency (EPA) as a Group A human carcinogen, meaning that it is capable of causing cancer in living tissue.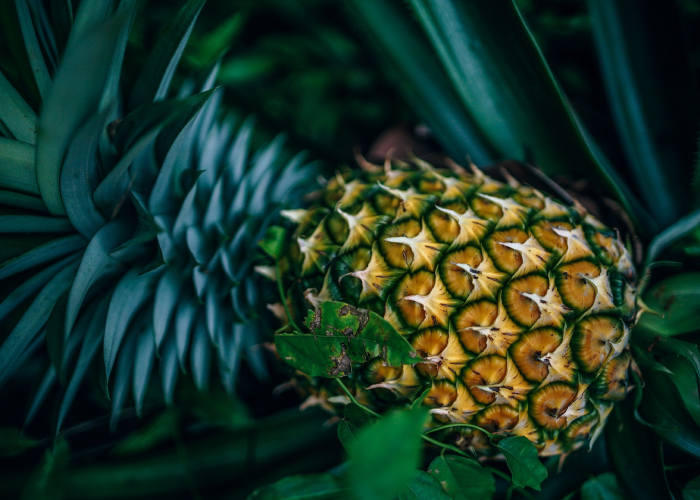 Piñatex materials address all these issues and aim to transform the leather goods industry by providing an eco-friendly alternative that's beneficial for both the environment and the people. Even though no harmful chemicals and animal products are involved in the production of Piñatex, the end product is extremely similar to genuine leather in terms of appearance, texture and feel. Approximately 480 leaves are necessary to create a single square meter of Piñatex, which weighs and costs much less than a similar amount of genuine leather.
The material is breathable and flexible and can even be stitched and printed on. Currently, it can be bought on a roll, which can considerably lower wastage caused by irregularly-shaped leather hides. Ananas Anam, the company producing Piñatex, is also working to find a fully biodegradable top layer for added durability and resistance.
Based on the principles of a circular economy, Piñatex makes use of already existing materials without hurting the environment. "To have Piñatex, a textile, we don't have to use any land, water, pesticides, fertilizer, (...) we are actually taking a waste material and (...) we're giving it added value", says Hijosa.
Critics on the Use of Pineapple Leather
When it comes to the production of pineapple leather, the process is generally less damaging to the environment compared to that of genuine leather. Knowing that the most sustainable activity one can do is no activity at all, there are certain elements that need to be discussed about pineapple leather. For instance, pineapple leather is not as durable as genuine leather and tends to lose longevity when exposed directly to sunlight. While a pair of leather boots can last for several years and multiple uses, the same might not be applicable to items made of pineapple leather.
Also, the fabric is water resistant, but not waterproof and in making it so, an extra layer of petroleum-based resin is needed. Just like any other synthetic resin, this one too is harmful to the environment and can potentially release dangerous chemicals into the air and water systems. Specific types of resin can also have devastating adverse effects on animals and humans, including causing cancer. However, it is important to note that Piñatex is currently looking for a more eco-friendly resin coating.
Other Sustainable Alternatives to Pineapple Leather
In the sea of eco-friendly leather alternatives that are readily available on the market, pineapple leather is hardly the only practical option. In recent years, innovative plant-based leathers have been created, so we've rounded up six materials 6 that could easily pass as genuine leather at any given moment.
1. Apple Leather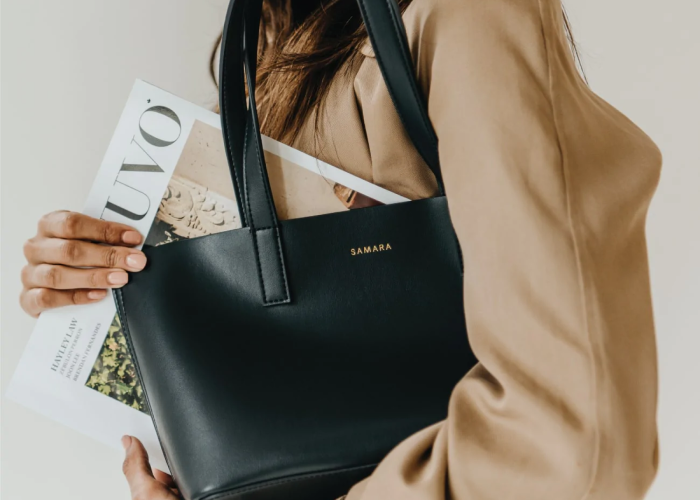 Samara's Apple Leather Rhian Mini Tot
Image source: Samara
Apple leather is a suitable substitute for cow leather which is frequently used in the fashion and interior design industries. The material is made using apple waste, right after apple juice production. At this stage, apples would normally be thrown away, but thanks to the latest technological developments, the fruits can be crushed and mixed with pigments and a binder. The fabric will then be spread on a canvas until it turns into a leather-like PETA-approved material.
2. Mylo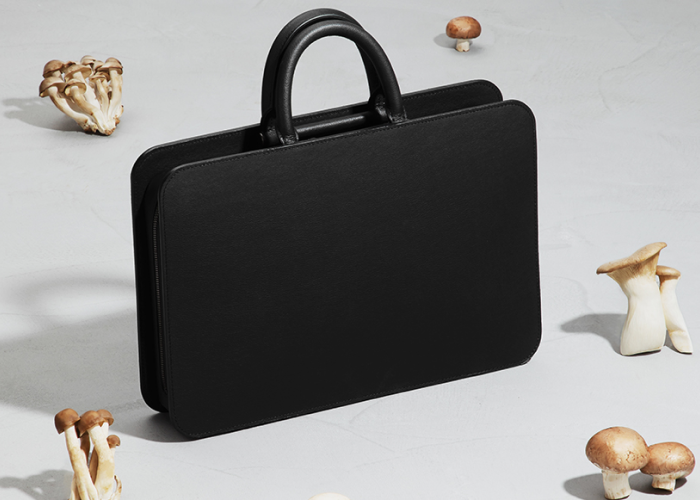 Tsuchiya Kaban Mylo Leather Briefcase
Image credit: Mylo
Made from mycelium, which is the underground root-resembling system of fungi, Mylo is an eco-friendly alternative to genuine leather developed by US biotechnology company Bolt Threads. The fabric is soft to the touch, supple and versatile, and has gained popularity over the years, after being used by globally-known apparel brands, such as Stella McCartney, Adidas and Lululemon.
3. Malai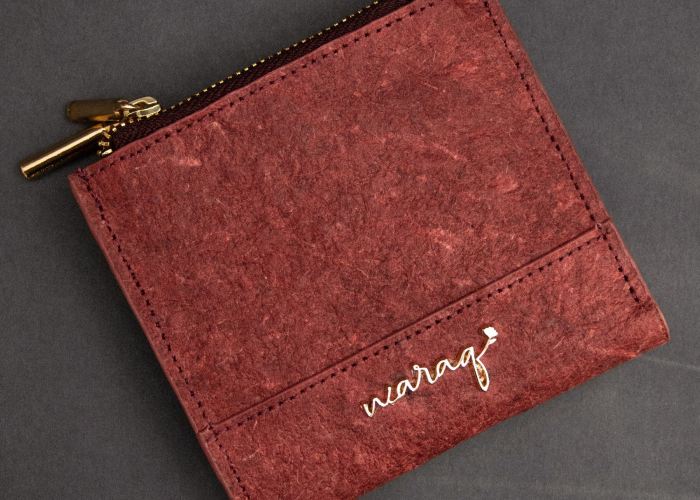 Waraq's Rubia Small Wallet
Image credit: Waraq
To put it simply, Malai is another sustainable alternative to real leather made from the flesh of coconuts. The fabric is flexible, durable and similar to leather or even paper! Malai is an entirely vegan leather substitute that is also water resistant and is available in a variety of colors achieved through the use of natural dyes. Over time, Malai can develop a satiny sheen patina.
4. Cactus Leather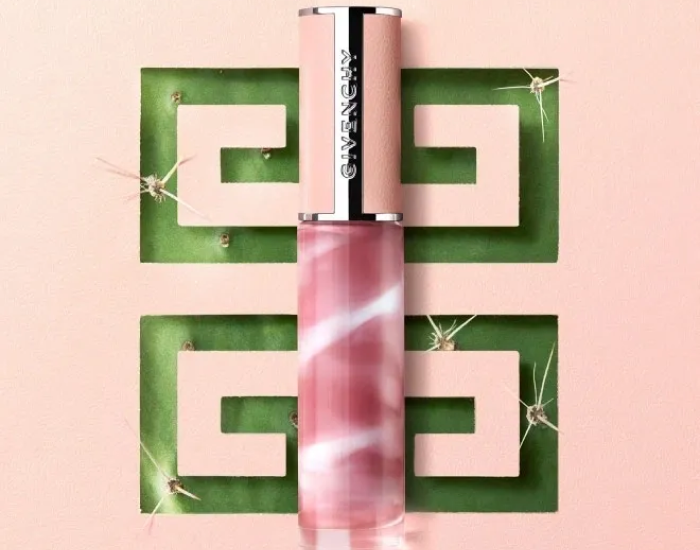 Desserto-Based Lipstick Cap For Givenchy's Rose Perfecto Liquid
Image credit: Desserto
Cactus leather, also known as opal vegan leather was released on the market in 2019, by Mexico-based company, Desserto. As a highly sustainable plant-based material, Desserto presents a viable alternative to real made entirely from cactus. The fabric is widely used across the fashion, automotive, packaging and furniture industries. Desserto is free from phthalates and PVC, is partially degradable and stands out through its delicate feel and great performance.
5. Tômtex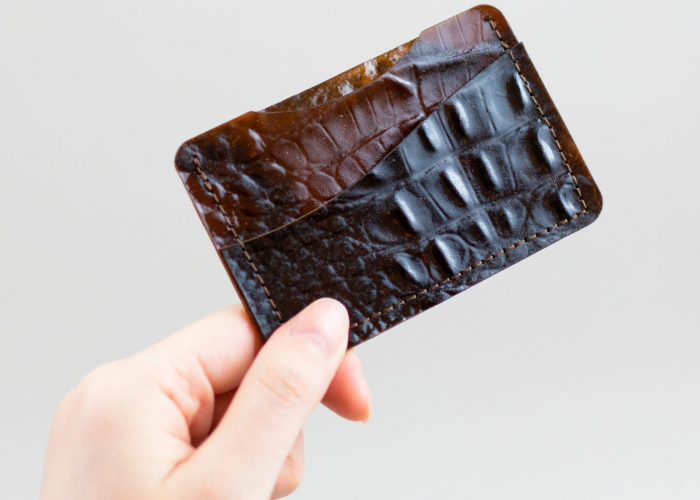 Tômtex Leather Wallet
Image credit: Dezeen
Tômtex was invented by Vietnamese designer, Uyen Tran, and it closely resembles snakeskin or crocodile hides. This fabric is made from waste coffee grounds and chitin, which is a biopolymer found in the exoskeleton of crustaceans and is sourced from scrapped seafood shells. Although not vegan, this material is extremely durable and flexible and makes use of the over eight million tonnes of shells that are thrown away by the global food industry every year.
6. Wine Leather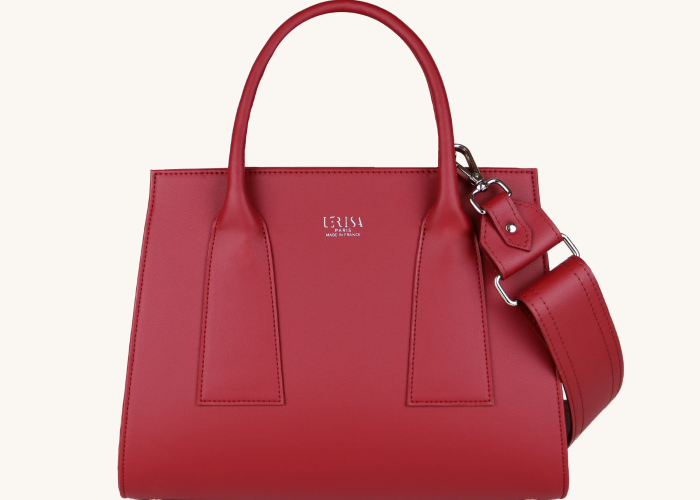 Lerisa's Wine Leather "L" Bandoulière Bag
Image credit: Lerisa
Last but not least, wine leather, also known as grape leather or vegea, is an excellent choice when looking for sustainable, cruelty-free leather-like materials. Wine leather features a soft and smooth finish and is made of waste products from Italian wine production. In other words, the fabric is a by-product of grapes, called pomace. The pomace is traditionally used as a natural fertilizer or to feed animals, but, given the right technologies, can be turned into a superb leather-like material.
Once the bio-oil is extracted from the grape seeds, the rest of the grape is left to dry, after which the two will be mixed. The bio-based material will be covered with an organic cotton fabric to form a textured, but silky vegan leather. It is important to note that the end product is made of 78% eco-composite organic cotton and 22% water-based polyurethane (PU).
How To Recycle Pineapple Leather
It is essential to mention that Piñatex® is not 100% biodegradable. The fabric is made from 80% pineapple leaf fibers and 20% Polylactic acid (PLA) which is only biodegradable under controlled industry conditions. However, the polyurethane (PU) used in the coating is Registration, Evaluation, Authorisation and Restriction of Chemicals (REACH)-compliant, which is a regulation issued by the European Union.
While most of Piñatex is made of pineapple leaf fibers, the end fiber is coated with a petroleum-based resin to enhance its resistance to water. Because of this, recycling Piñatex garments can be tricky since the coating could impact the environment in a similar way as other vegan leathers. The base of Piñatex items is biodegradable, which represents 58% of the total composition.
As far as the actual recycling process recommended for Piñatex®-based items is concerned, little to no information has been provided online.
Other Cool Things to Know About Pineapple Leather
Where Is Piñatex Made?
According to the Ananas Anam website, the base of all Piñatex® is sourced from the Philippines and finished up in Europe, namely Italy and Spain. The material is shipped internationally from Spain.
Is Piñatex® Available in The US?
Yes, there are multiple US brands that offer Piñatex®-based garments and we listed a couple of those at the end of this article.
Is Piñatex® the Best Alternative to Real Leather?
It is difficult to say which plant-based leather option is the best since there are so many out there. They're all different, as far as texture, production process and usability is concerned. However, opting for sustainable alternatives to genuine leather is always the best choice for the environment, especially in the long run.
Our Take on Pineapple Leather
As a general rule, we recommend opting for plant-based alternatives to leather whenever possible. It is a sure way to bring a small but positive contribution to the already problematic fashion industry. Nevertheless, it is heartwarming to see so many small and global brands tapping into such creative eco-friendly solutions. We can't wait to see what other sustainable innovations the future has in store.
Where to Buy Goods Made of Pineapple Leather
There are plenty of brands out there that sell good quality items made from pineapple leather, but to make things a bit easier for you, we gathered a few for you below:
Ceibo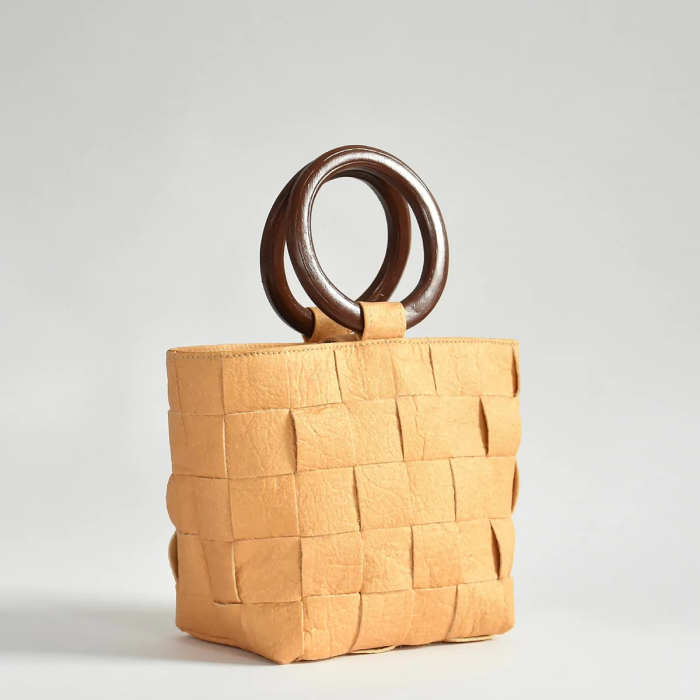 Ceibo's Pineapple Leather Woven Bag
Image credit: Ceibo
Ceibo (pronounced as say-bo) is a small independent plant-based brand brought to life by Maria Cadena in Houston, Texas, in 2016. The inspiration for the brand's name comes from the Ceibo tree, one of Maria's favorite trees that grows alongside the Pacific. On the Ceibo website, you can find a wide variety of pineapple leather-based accessories, such as bags, backpacks, wristlets and wallets.
Visit Ceibo
Bego Vegan Label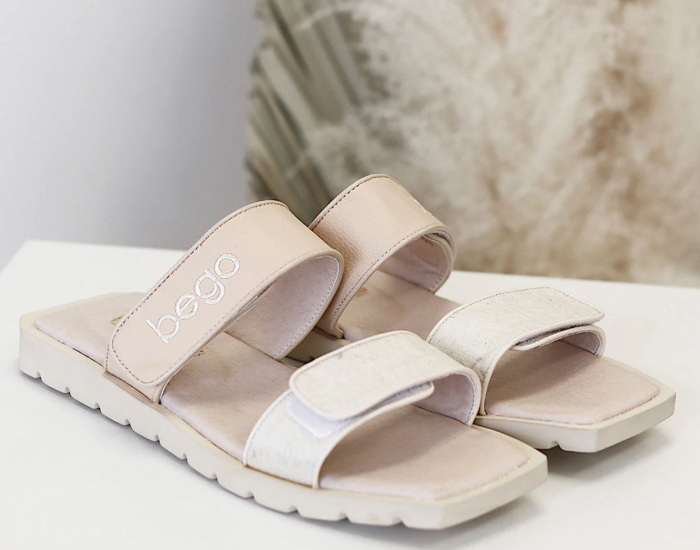 Bego Vegan Label's Jane Pineapple Leather Shoes
Image credit: Bego Vegan Label
On the Bego Vegan Label website, you can find pineapple leather-based items that are as various as boots, sandals, belts, card holders and even hair clips.
Visit Bego Vegan Label
Abrego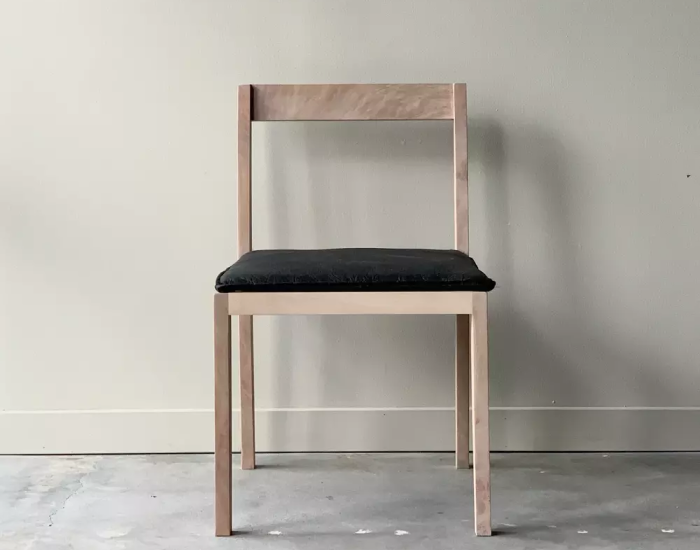 Abrego's "Calle De Piña Pineapple Leather Chair
Image credit: Abrego
Abrego is an interior furniture company that combines carpentry and interior design skills to offer customers high-quality custom-made work. Apart from the various other interior design products this company offers, Abrego introduced its first sustainable, plant-based chair, after collaborating with Piñatex. Made from salvaged wood and pineapple leather, the chair's cushion is also filled with coconut coir, Organic cotton and Natural Kapok.
Visit Abrego
Wait! Here is more
Learn more about sustainable fabrics in our A-Z guide from the most to the least eco-friendly textiles.