Organic cotton, recycled polyester, eco-something - are you confused about the so-called sustainable fabrics in today's fashion industry?
That's no surprise! There are hundreds of different textile materials which are being used to create the latest clothing pieces. And the list is growing because of the rising need for innovative, environmentally friendly fabrics. We want to help you out and provide you with valuable information on the most commonly used textile materials. We also include our opinion and recommendations on the fabrics and materials which are more sustainable. Use this list as a reference book and guide for when you do your fashion shopping and come back often to check for newly added materials and updated information.
Jump to one of the fabrics
Sustainable Fabrics
If you are keeping up with today's fashion trends, you have probably heard of eco-friendly materials or sustainable fabrics. They are considered less harmful for the environment, are made from natural or recycled materials and/or aim to reduce the negative impact on people and the planet. In this section, we put together the most interesting vegan and animal-derived fabrics that are also considered sustainable. Then we further break them down and determine whether they are truly eco-friendly. Read on to find out more about these fabrics, learn which certifications guarantee their sustainability and what is our stance as Moincoins.
Vegan and Natural Fabrics
Organic Cotton
About the fabric:
Cotton as a fabric dates back to ancient times. It has been used for generations and is produced all over the world. It is a soft, stretchy and strong material that is perfect for any casual garments such as pajamas, underwear, or shirts.
Organic cotton is one of the most natural materials that we have and use to this day. Not only is organic cotton grown without pesticides and synthetic fertilizers but it is 100 percent produced without any chemicals. It is grown and certified to organic agricultural standards to maintain the health of soils, ecosystems and people.
Some of the eco-friendly benefits of organic cotton:
Uses less water
Reduces the environmental footprint
Requires no chemicals or pesticides to be grown
Gives farmers more freedom and is better for their health
Feels way better on your skin than commercialized cotton
Good to know:
Organic cotton doesn't harm the soil, has less impact on the air and uses up to 88% less water and 62% less energy on the manufacturing stage. It also helps to tackle climate change by keeping carbon in the soil.
Certifications:
GOTS
Standard 100 by Oeko-Tex
Organic Content Standards
USDA Organic
Moincoins opinion:
We believe that buying products made of more sustainable and organic materials is the way to go. Organic cotton is better for the environment, for those communities that produce it and for us consumers. But it gets tricky if there are no certifications to back up its sustainability, just a claim is no longer enough.
Recycled Cotton
About the fabric:
Recycled cotton is made out of recycled scraps of different cotton articles. This can be but is not limited to, shirts, underwear, pillows or any cotton article. The recycling process starts with separating the different types of cotton, divided into colors and then placed into a machine, where it is shredded and turned back into a fiber. Here, it can be respun into a yard of fabric that eventually is created into recycled cotton articles.
During the recycling process, some of the quality is lost in the original fiber. This is due to the length and structure of the fiber breaking down and creating it being not as strong as before. Additionally, when recycled cotton is created, many non-substantial fibers are woven in to create a more strong and durable fabric. Therefore, not all "recycled cotton" items are purely recycled material.
Good to know:
765,000 liters of water can be saved per ton of recycled cotton. Imagine you can provide 200 thousand people with a daily supply of drinking water - this is how much water is saved with just one ton of recycled cotton.
Certifications:
Recycled Claim Standard (RCS)
Global Recycled Standard (GRS)
Moincoins opinion:
Recycled cotton is one of the better materials out there as it involves recycling and reusing items that normally would just end up in a landfill. We, as Moincoins, suggest when buying articles that have recycled cotton, check the label and see if there are additional non-recyclable materials in that product. Otherwise you may be very easily tricked into buying products that are not fully recyclable.
Vegan and Synthetic Fabrics
Recycled Polyester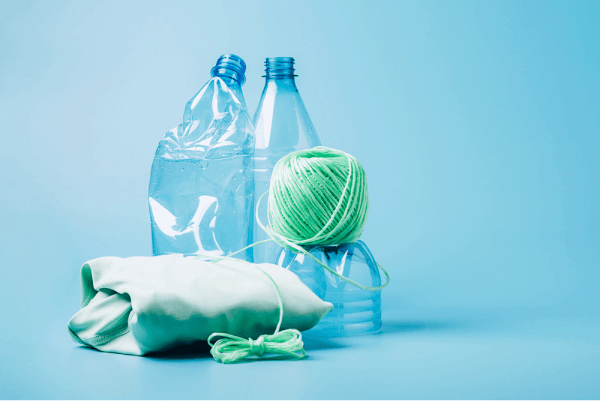 About the fabric:
rPET or recycled polyester is made from recycled plastic bottles. This material can be used for a great number of different items, including sheets, luggage, athletic shoes and even automotive parts. This non-biodegradable material is not very smooth or soft to wear because it is made out of plastic.
There are two ways that rPET is produced. The first one is mechanical recycling, where the plastic is melted into new yarn particles. Not surprisingly, this process affects the fiber and the quality is lost. The second way that rPET is produced is chemical recycling. This process breaks down the plastic molecules and transforms them into yarn. Unlike mechanical recycling, this process maintains the quality of the fibers but it is more costly.
Good to know:
Recycled polyester cannot be recycled again and again. Ultimately, garments made of it end up in landfills and are therefore bad for the environment. However, it is still necessary to recycle polyester as often as possible in order to reduce our overall CO2 footprint and reach the goal set and initiated by Textile Exchange and its committee of over 250 brands.
"We encourage brands to commit to the most ambitious uptake target possible. 80-100% recycled polyester commitments from the brands in our community will be essential to reaching our 2025 45% recycled volume target and for building critical mass to reach an absolute 90% recycled volume share by 2030."
Certifications:
Recycled Claim Standard (RCS)
Global Recycled Standard (GRS)
Sources:
Sustain Your Style
Textile Exchange
Moincoins opinion:
We as Moincoins, do believe that there needs to be a lot more improvement in recycled polyester before we give it a recommendation. Yes, we are happy that it uses rPET/plastic bottles to recreate new materials but that doesn't fix the problem of the wastefulness of virgin polyester. We recommend a better and more sustainable material like organic hemp or cotton.
Mostly Vegan and Semi-synthetic Fabrics
Lyocell (Tencel®)
About the fabric:
Lyocell is a semi-synthetic fabric and like many other materials, it's made from cellulose fiber. More specifically, it is made from eucalyptus trees and occasionally from either bamboo, oak, or birch. This material has been described as breathable, strong and gentle on skin with a soft, silky texture. It can also be blended with other non-natural materials, to create a more durable fabric. It is commonly used for clothing, towels, medical uniforms and specialty paper.
All things considered, Lyocell is a low-impact fiber. Coming from the quick-growing eucalyptus tree, there is no need for using pesticides.
Good to know:
It needs less than half the amount of water during the production time than cotton. It helps to reduce the fast fashion industry's mass water consumption.
Certifications:
MADE IN GREEN by OEKO-TEX®
EU Ecolabel
USDA BioPreferred
Sources:
Sewport
ScienceDirect
Moincoins opinion:
Out of all the semi-synthetic materials, Lyocell is a pretty sustainable fabric. It has a low impact on the environment, is biodegradable and does not need chemicals for its production. Just be aware, that this fabric is made out of trees and it does cause deforestation in some parts of the world. We also suggest consuming either Tencel or Bamboo Lyocell because then you know it's manufactured from sustainable raw material.
Better Modal
About the fabric:
When it comes to a more sustainable way of manufacturing modal, the best-known producer of it is Lenzing. TENCEL Modal (formerly known as Lenzing Modal) is a cellulosic fiber and belongs to the rayon family. Discovered in the early 1950s, better modal didn't become popular until the Austrian company Lenzing AG decided to commercialize the sale of this material. Modal is the "second generation" of cellulosic fibers and is stronger when wet (kind of cool, right?). This flexible and strong material is found in household items, like towels, sheets, curtains and a variety of clothing. It is a very common material for any type of athletic material or undergarments.
Good to know:
TENCEL Modal fibers are biodegradable in natural and industrial environments, including soil, compost, fresh and marine water. TENCEL Modal has also been a certified biobased fiber under the BioPreferred designation of the United States Department of Agriculture (USDA).
Certifications:
USDA BioPreferred
Sources:
Lenzing AG
USDA
Moincoins opinion:
Even though TENCEL Modal has a lot of positive certifications, this material still has an impact on the environment. Deforestation (fibers come from trees) and pollution are still factors that are involved in making this fabric. Also: TENCEL modal is a raw fiber, not a ready-to-wear fabric. Manufacturers buy the yarn and turn it into a fabric which can have a bad impact on the environment then. Our tip: Look for the TENCEL trademark, but also check what other sustainable efforts the brand takes before you buy.
Sustainable Viscose (ECOVERO™, ENKA®, Eastman Naia™)
About the fabric:
Sustainable viscose is a soft, fuzzy material, that feels a lot like cotton and is a form of rayon. It is a semi-synthetic material that is made from a variety of trees (pine, bamboo, beech, etc.) It can be found in many different materials, including household items, skirts, blouses and pants. Conventional viscose is usually not very sustainable because its production involves a lot of chemicals, heavily harmful to the environment when they are released in effluents.
However, there are three patented kinds of sustainable viscose and they are called ENKA®, Eastman Naia™ and ECOVERO™. Each has its own advantages but the main characteristics they share are:
Biodegradable
Lower water need
Low amount of energy needed
From renewable recycled and resources
Chemicals control/ no chemicals used
No Soil Erosion
Good to know:
In recent years, "recycled" manmade cellulosic fibers (MMCFs) are being developed. This means that companies are aware of the amount of waste we create with MMCFs. Go check out the Textile Exchange Market Report and see all the different brands that are trying to reduce their waste.
Sources:
Textile Exchange Market Report
Fabrics Yard
Moincoins opinion:
Even though sustainable viscose is way better than conventional viscose, it still doesn't receive a golden star in our books. Yes, it uses less water and energy and it's a lot more eco-friendly produced but it is still (and will always be) a form of rayon. Check out these three sustainable viscose brands, ENKA®, Eastman Naia™ and ECOVERO™, to make sure that you are really buying quality sustainable viscose.
Pineapple Leather (Piñatex)
About the fabric:
Pineapple leather, also known as Piñatex®, was developed and presented on the market in 2015 by Dr Carmen Hijosa, who later founded the materials company Ananas Anam. Piñatex is made of pineapple leaves' waste. Since the leaves are a by-product of the already existing pineapple harvest, no additional environmental resources are needed to produce this fabric. Also, the production process of pineapple leather is generally less damaging to the environment compared to genuine leather.
Thanks to its versatility and durability, Piñatex is widely used across industries, such as fashion, hospitality and home design. In other words, Piñatex can be used for everything that has usually been made of genuine leather.
Good to know:
Did you know that no harmful chemicals and animal products are involved in the production of Piñatex? And yet, the end product is extremely similar to genuine leather in terms of appearance, texture and feel. Also, around 480 leaves are necessary to create a single square meter of Piñatex, which weighs and costs much less than a similar amount of genuine leather.
Certifications:
PETA
The Vegan Society
B Corp™ certification has been granted to Ananas Anam, the company producing Piñatex (pineapple leather).
Moincoins opinion:
We encourage you to opt for plant-based alternatives to leather whenever possible. It is a sure way to bring a small but positive contribution to the already problematic fashion industry. And the best part is that the possibilities are seemingly endless. If pineapple leather hasn't convinced you yet, take a look at other eco-friendly alternatives to leather, such as apple leather, cactus leather or even coconut leather.
Vegan Silk - Cupro
About the fabric:
Cuprammonium rayon is the full name of this regenerated cellulose material (also: cupra, ammonia silk, Bemberg). It is a byproduct of the cotton industry. In its raw form, it is called cotton linter which are the super fine fibers of a cottonseed. The linter cannot be used for regular cotton production so it usually goes to waste. The production process requires caustic soda, copper, ammonia and other toxic chemicals which are harmful to nature and the workers handling it. There are many positive characteristics about the plant-based fabric though.
fully biodegradable
vegan and cruelty-free
light-weight and breathable
machine washable
hypo-allergenic
anti-static
very elastic
can be well-mixed with other fibers like cotton or linen
needs less water for its manufacturing process than many other fabrics
Today, it's mainly produced in China, dyed with toxic chemicals and mixed with synthetic fibers. So it counts for negative practices as well. Cupro is a fabric that is neither good nor bad. It really depends on the manufacturer and how it's handled.
Good to know:
There are some slow fashion brands in the U.S. and Europe which sell cupro garments that are sustainably and ethically produced. L.A.-based beach and swimwear brands Nightswim and Anemos, sustainable clothing brand Amour Vert, and PETA-approved loungewear brand niLuu from Turkey, for example.
Certifications:
Global Recycle Standard and Recycled Claim Standard
Life Cycle Assessment
ISO 14001
Standard 100 by Oeko-Tex
Sources:
Sewport
Moincoins opinion:
We think it's better to avoid buying products made of this material since it's not sustainable by default. If you want to buy clothing made from cupro silk, make sure to check where the brand gets the cupro from and how it's handled before you make your purchase.
Animal-derived Fabrics
Responsible Sheep Wool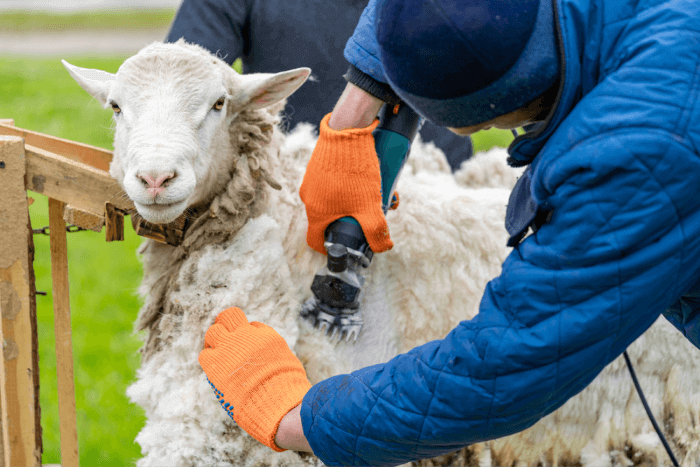 About the fabric:
Responsible Sheep wool is a natural fiber. This material is very warm, soft to touch and one of the most common fabrics that we use. You can find wool in almost anything: clothing, carpets, blankets and even horse products. The process of making responsible wool, all starts with the sheep. The wool needs to be sheared and then cleaned with water and soap. It is a very simple process and when practiced in a responsible manner, it is quite humane. It also has a low impact on the environment during its production, which makes it one of the more eco-friendly materials we use. Sheep's wool is also biodegradable and recyclable which gives it another brownie point. As stated by Responsible Wool Standard (RWS), it does not need any chemicals to be produced and it lasts longer than other fabrics.
What makes the responsible sheep wool different from the regular one is the materials they use and the way the sheep is treated. In regular wool, they use different chemical tonics to dye the wool which causes a lot of damage to the environment. Also, many factories practice Mulesing, which causes great harm and distress to the animal itself.
Good to know:
In 2018, there was a ban on Mulesing (removal of skin from the sheep behind). Since then, over 129 brands have published a commitment against this hateful crime against sheep. This is great news because we as consumers can now shop at these brands and know that products come from non-mulesed sheep. Some of these brands are Patagonia, Jack Wolfskin, H&M and Hugo Boss. You can find hundreds more at Brands Against Mulesing.
Certifications:
Responsible Wool Standard (RWS)
Sources:
Brands Against Mulesing
Moincoins opinion:
Responsible Sheep's wool is definitely better than normal wool but still doesn't make it the top material. Because the wool comes from sheep, there will always be the setback of animal cruelty, welfare and environmental factors, no matter where you buy your wool. When buying wool, we suggest buying second-hand items or even better, go for materials that do not come from animals.
Responsible Leather
About the fabric:
According to the Responsible Leather Round Table, there are almost 800,000 tonnes of leather wasted each year. Because of this shocking number, many companies have switched to using responsible leather. Most of this material is made from pre-used fibers and scraps from old leather, making it more sustainable. This process actually makes it stronger and more durable than before.
Responsible Leather is more sustainable and eco-friendly because it is recreated and recycled for a second life. Without the tanning process, leather can be considered eco-friendly because the material is natural. Leather Impact Accelerator (LIA) is one of the organizations that hold different leather companies responsible for their production of it. They have a number of partners and suppliers who follow their strict guidelines to create more eco-friendly leather. Genuine leather - recycled or not - is and will never be vegan because it comes from either cattle, sheep, goat, or buffalo.
Good to know:
Over 71 different fashion brands have recently signed a commitment pledge to develop strategies that will have a positive impact on the climate, biodiversity and the ocean. Many of these brands have created or are in the process of creating an eco-friendly leather brand. They are either taking recycled leather or leather-based fibers and turning them into usable products. Some of these products are Sustainable Composites, Spinnova and KT Trading or Nike Flyleather. All these products are using recycled materials, which is a lot more eco-friendly than using virgin leather.
Sources:
Responsible Leather Round Table
Leather Impact Accelerator (LIA)
Moincoins opinion:
We would always recommend choosing responsible leather over conventional leather. Because multiple companies are trying to be more sustainable, we believe that every consumer should be aware of the products she buys and try to purchase recycled products. Especially when it comes to leather items.
Non-sustainable Fabrics
Some of the following animal-derived materials and vegan fabrics have been around for centuries but that is not an indicator of their eco-friendliness. In this section, we talk about all the fabrics which are controversial and should be avoided if possible. Many of these materials seem super sustainable at first glance but once we dove deep into the research, we noticed the huge impact these materials have on our environment.
Vegan and Natural
Conventional Cotton
About the fabric:
Conventional cotton, though being a natural fiber, is not an eco-friendly material. It grows in dry and warm regions and requires almost 20.000 liters of water to produce just one T-shirt and a pair of jeans. In regions with water scarcity like India, growing cotton is a terrible idea. Additionally, 99.3% of cotton is produced using fertilizers and genetically modified seeds. According to WWF, the environmental impact of cotton includes pollution, water contamination, soil erosion and degradation. Most of the cotton farmers come from developing countries where the labor, health and safety regulations are compromised. Not to forget forced child labor!
Good to know:
Statista mentions that China and India are the largest producers of cotton in the world. In the majority, cotton cultivation is considered to be an exploitative practice where multinational companies take advantage of poorer countries, using their cheaper labor. Demanding working conditions in the cotton fields lead to shortened life expectancy among workers.
Sources:
European Union's organic standards organization
USDA-Certified Organic
Moincoins opinion:
Even though cotton often seems to be the best option, we would recommend you to check the material before buying and see where it is manufactured. Check the tags. It is better to go for an alternative organic fabric that also follows fair trade labor practices. Go for second hand, if you want to have one anyway. And if you want to know the difference between organic, recycled and regular cotton, we've got a whole guide dedicated to the topic.
Conventional Hemp
About the fabric:
Hemp fiber has certainly become a trend in recent years. Brands and consumers especially value it for its natural origin and sustainability. Hemp fiber is made from stems of the Cannabis sativa plant, just like good old linen. The fabric is very breathable and is mostly used in apparel and home textiles.
Hemp is known for its natural resistance to pesticides and for consuming less water as it grows. And that would have been all very nice and eco-friendly if not for some manufacturing processes on the way. According to the Sustainable Material Guide by SupplyCompass, at the retting stage, harvested hemp is soaked in water with chemicals for around four to five weeks in order to soften the stems and separate the fibers. Roving and spinning go hand-in-hand with chemical dying, softeners, wrinkle-resistants and other substances used to make the final fabric more appealing to us. All these substances are often very harmful and may contaminate groundwater and have a severe impact on the workers' and local communities' health, therefore negating all the sustainable benefits of conventional hemp.
Good to know:
70% of hemp fabric comes from China, which due to lack of transparency raises many questions about its sustainability.
Certifications:
Global Organic Textile Standard (GOTS)
FairTrade
Bluesign
Moincoins opinion:
Despite hemp being a natural material, just like regular cotton or linen, it doesn't automatically mean that it's eco-friendly. Conventional hemp can be really harmful to the environment and leaves behind an untraceable impact on the communities that produce it. We would recommend you choosing its organic version that is proven by one of the above certifications.


Source: Higg - the sustainability insights platform
Vegan And Synthetic
Polyester
About the fabric:
Polyester is the most wildly used fiber in the world. Almost 57 million tonnes of polyester are produced each year with about 52% representing the global fiber production. This fabric is flexible, breathable and holds its shape. It has a blend of microplastic fibers, is durable, lightweight, strong and dries quickly. It is commonly used for apparel and household furniture. Unfortunately, polyester is non-biodegradable. But it can be recycled which more and more clothing manufacturers consider doing when creating new garment collections.
Good to know:
Since this material is derived from fossil fuels, it is a huge source of pollution that affect the air we breathe and the water we drink. Just washing polyester, releases microscopic particles into the air. Producing and manufacturing polyester also consumes huge amounts of water, making clean water scarce to local communities.
Sources:
Textile Exchange Report
Sewport
Moincoins opinion:
We do not recommend buying virgin polyester fabric. The impact it has on the environment overpowers the good qualities it has. When buying any type of polyester, we recommend looking for plant-based polyester or recycled polyester. Learn more about rPET in this section of this article.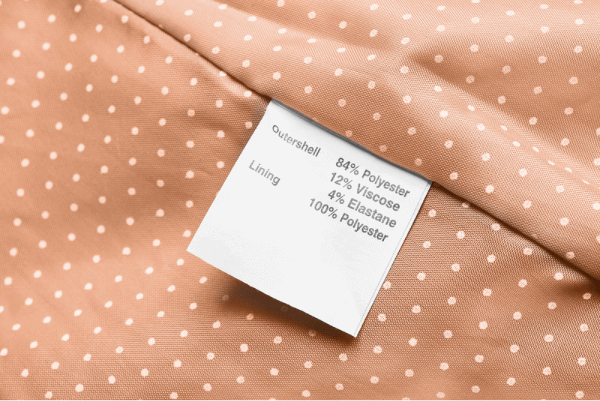 Acrylic fabric
About the fabric:
Acrylic is a synthetic man-made fabric that was originally developed to be an alternative to wool. It is a popular fabric for its durability, waterproof characteristics, along with being lightweight, soft, and warm. You can find acrylic in boats, clothing, vehicles, blankets, rugs and even stuffed animals. Because this is a man-made material and it is part of the synthetic family, it is not biodegradable. Once it lands in the trash can, it will end up either in the ocean or a landfill. Luckily, there are options to recycle acrylic fiber, even in the fashion industry.
Good to know:
Along with impacting the environment, acrylic fabric can also cause a lot of harm to your body. Get prepared for a short chemisty lesson - a fiber is called "acrylic" in the US, when the polymer contains at least 85% acrylonitrile monomer. According to the Centers for Disease Control and Prevention, any time your skin contacts an acrylic fiber it increases your chance of developing cancer. Because this is also a fossil fuel, it is flammable and easily catches on fire.
Moincoins opinion:
Acrylic does not get approval from us because there are better and more eco-friendly materials out there. We always recommend checking the tags, when you buy clothing and really be careful about misleading information that different brands promote. Check out our sections above and see which material gets recommended by us.
Polyamide
About the fabric:
Polyamide is a synthetic polymer made from petroleum-based plastics. It can be used for a variety of different items, especially in the fashion industry. Polyamide fabrics are often made of various material blends such as spandex and nylon but it can be used alone. After polyester, polyamide is one of the more popular synthetic fabrics we use. It is cheaply made and mass-produced in a short amount of time, making it more desirable for companies. It is commonly used for women's tights, yoga pants, sportswear or even gear for police or firemen. As expected, this synthetic fabric is not eco-friendly. It is a plastic-based material and impacts people, animals, and of course, the planet.
Good to know:
This plastic-based material is a huge cause of ocean pollution. According to the UN, over 800 million tons of plastic are dumped into the ocean and from all the plastic we use, only 10% of it is recycled. It is also not biodegradable and once it is thrown away, just like many of these materials, ends up in landfills.
Sources:
Sewport
United Nation
Moincoins opinion:
Just like many fossil fuel-based materials, we do not recommend purchasing items made from this material. Check out some of our eco-friendly and plant-based materials at the top of this page.
Nylon
About the fabric:
Nylon was originally produced and manufactured in the United States. Right around WWII, an American discovered this synthetic fabric and was shocked by its flexibility, durability and resistance to tears and abrasions. Immediately, this fabric was used for countless military products and later replaced "silk" tights because it was cheaper and easier to produce. As a member of the synthetic polymers family, this well-known material can be found all over the world. Unfortunately, just like polyester nylon is not biodegradable and is made from nonrenewable resources (oil). Once thrown out, nylon products end up in landfills. However, the fashion industry uses recycled nylon in an attempt to give the virgin material a second life and to reduce its impact on the environment.
Good to know:
The production of virgin nylon has a nasty impact on the environment. A huge amount of water is used to cool the fibers of the fabric and this water often carries horrible chemicals to the towns located around the factories. To produce this material, the basic element which is needed is adipic acid, which releases nitrous oxide into the atmosphere. This toxic waste has been considered 300 times worse for the environment than that of CO2.
Sources:
TheConversation
Sewport
Moincoins opinion:
Even though this is a very popular fabric for men and women to wear, the amount of waste and harm it has on the environment, overpowers the practicality. We as Moincions believe that there are so many other materials out there that are more sustainable.


Source: Higg - the sustainability insights platform
Spandex (Lycra or Elastane)
About the fabric:
Spandex, also known as elastane or lycra, is a stretchy synthetic fabric. This flexible, lightweight matter helps feel comfortable while doing any type of physical movement. The non-biodegradable fabric is commonly used in many different items. It can be used in everything from socks to activewear and is very durable. It is a very common material that has been around for decades and to be honest, really hard to avoid. The production of spandex uses and releases a lot of toxic chemicals. Even though it releases fewer microplastics than polyester, it still is very harmful to the environment. Like many other synthetic materials which have lost their popularity, spandex has not only become more popular but there is also no current replacement for this fabric. That means this product will continue to grow until 2023.
Good to know:
Originally founded and produced in the United States, this material has been transferred to China and over 65% of spandex is produced there. This is due to the higher demand for labor laws in the US and like many other items, it is cheaper to produce in China.
Sources:
Sewport
Moincoins opinion:
We realize that avoiding spandex is very hard and not very practical. What we want from our readers is to recognize the impact on the earth and how toxic it can be. We recommend air dry/low dry heat for any items that have spandex because then the material lasts longer.
Vegan and Semi-synthetic
Rayon
About the fabric:
Rayon is a natural-based material. It is made from cellulose that comes from wood pulp, cotton, or trees. This smooth fabric has a very similar feeling to cotton or linen. It is used in many different items like blankets, sheets, curtains and a variety of articles of clothing. There are several grades of rayon that can imitate the look and texture of other natural fibers such as cotton, linen and silk. This includes viscose, modal and lyocell. Even though rayon is made from trees, it is not a natural fabric. The chemical creation of rayon manipulates many different materials together and transforms these into highly toxic and non eco friendly materials. This material is synthetic and in no way, a natural material.
Good to know:
Reported by the United States Environmental Protection Agency (EPA), the development of rayon does not comply with their standards. There is an overwhelming amount of evidence against this material and its environmental impact. The destruction of rainforests ruins and/or kills entire ecosystems, just to gather this raw material.
The National Center for Biotechnology Information has also found a correlation between factory workers' health and their involvement with rayon. They are more likely to develop a stroke, nerve damage, heart disease or have a mental illness. They have also found that toxic chemicals have been known to reach the water sources and poison the members of the communities around the factory.
Sources:
Textile Exchange Report
National Center for Biotechnology Information
EPA
Moincoins opinion:
Even though this material is biodegradable, we do not condemn people to buy rayon, in any shape or form. The social welfare of the workers, the incredibly harmful impact on the ecosystems and the chemicals that it takes to create this material, is just not worth it. We as Moincoins, highly recommend looking into other material eco-friendly products that do not have such a huge impact on the environment.
Viscose
About the fabric:
Viscose is the most important and most used in the MMCF (Manmade Cellulosic Fibers) market. It is used in about 80 percent of all MMCF fabrics. It was originally created to replace the material silk and has been used for many centuries. This soft, sturdy material is very flexible and feels a bit like cotton. It can be found in many clothing items such as jackets, dresses and blouses and in household carpets or upholstery. The semi-synthetic material is made from tree wood pulp, which includes beech, pine, bamboo and eucalyptus trees. Unfortunately, in the process of producing viscose, there are many different chemicals (carbon disulfide and sodium hydroxide) used, making it not as eco-friendly as we would like it to be.
Good to know:
Even though Viscose is composed of natural materials, it is not considered to be eco-friendly because the production is very damaging to the environment. The main issue is the toxic substances that are released into the atmosphere. These toxics consist of sulfur, carbon, hydrogen sulfide and many others, which are shockingly not healthy for our earth. These highly polluted air emissions are mostly found above the viscose manufacturing factories. That also effects the people who are living in the area.
Sources:
Textile Exchange Report
Moincoins opinion:
From the research that we have conducted, we believe that this material is not environmentally friendly. The development of viscose is more damaging than it is worth, making it hard for us to give this a golden stamp. We always recommend using substantial material, which viscose is not. Go check out these three sustainable viscose brands, ENKA®, Eastman Naia™ and ECOVERO™ that are way better for the environment.
Modal
About the fabric:
Developed in the 1950s in Japan, this semi-synthetic material has been considered a luxurious textile. Modal is in the family of ​​manmade cellulosic fibers (MMCFs). Textile Exchange has recognized that modal has 3% of the total market of manmade cellulosic fibers and makes up about 0.2 million tonnes of material each year. Modal is a form of rayon (a plant-based material) and blended with other materials to create flexibility and strength. It comes from beach trees and is processed into a soft, silk-like material. This fabric can mostly be found in a variety of household items and different articles of clothing.
Good to know:
Reported in Dirty Fashion, the majority of modal is made in China, Indonesia and Pakistan. They discovered this material is not eco-friendly and/or sustainable, whatsoever. The effects of the harsh chemicals on the ecosystem and the factory workers are unbelievable. They also found out that over 150 million trees are needed to make cellulosic fabric and that number has only doubled in recent days. From what we have researched, modal fabric is a toxic material and even though it is supposed to be eco-friendly, there is proof that it is not.
Sources:
Textile Exchange Report
Dirty Fashion
Moincoins opinion:
Modal is not a sustainable material and we do not recommend buying products made of it. From the harsh working conditions and toxic material waste, we believe that there are many more sustainable options out there.


Source: Higg - the sustainability insights platform
Animal-derived And Natural
Sheep Wool
About the fabric:
Wool is a natural material that we use almost every day. It is soft and warm and very durable. It's one of the longest-lasting materials. Unfortunately, this doesn't by default mean that it is also good for the environment. In a past report published by Pulse of Fashion Industry, they state that wool is one of the top five damaging materials for the environment. This is due to the immense amount of methane gas released into the atmosphere because of sheep farming.
In general, sheep farming has a massive impact on the environment because of the normal body functions of sheep. Just like humans, sheep burp, fart and digest their food. From these natural body functions, sheep cause a great number of greenhouse emissions that release toxic particles into the atmosphere.
Good to know:
In 2020, 22% of the world's wool came from Australia and of that more than half of it came from mulesed sheep. Mulesing is one of the biggest issues related to sheep wool production with Australia being the only country that practices it. This is the process of removing strips of skin from the behind of a sheep to prevent infections. The sheep receive no anesthetic or pain relief during this process and it has been deemed to be a very cruel procedure for the sheep. Many farmers in Australia use mulesing, to make their lives easier and keep infection out of the herd.
Sources:
Pulse of Fashion Industry
PETA - UK
Textile Exchange Report
Moincoins opinion:
We highly recommend looking for organic sheep wool or, what's better, purchasing other substantial fabrics (vegan). We also do not condone buying any wool from Australia due to the brutal practice of mulesing. If you are really interested in wool products, try organic sheep wool or check out PETA-approved vegan brands that are more sustainable.
Cashmere
About the fabric:
Cashmere is considered to be one of the softest and most luxurious types of wool. It originates from cashmere goats which are mostly located in Central Asia. About 60% of the world's cashmere is produced in China with Mongolia closely behind. This expensive material is mainly used for sweaters, scarves, lightweight jackets and many other clothing items. Like many animal-based materials, the process of producing cashmere all starts with shearing the goats. This could be a normal and humane process but in the large factories in Asia, the treatment and harm that is done to the goat are overwhelming. PETA has caught on camera, what it is really like to be a goat in these places. They are often abused while being sheared and left with open and infected wounds.
Good to know:
Cashmere goats love to eat! Each day, they consume about 10% of their body weight and they love to eat the roots of different plants (mostly grass). This is a huge contribution to soil degradation in China and Mongolia. 65% of Mongolia's grasslands have already been degraded and 90% of Mongolia is in danger of desertification. This mass destruction of the ecosystem in these countries has created some of the world's worst dust storms and naturally polluted the air we breathe.
Sources:
PETA (viewer be advised, graphic content)
Textile Exchange
Moincoins opinion:
Even though this is natural and biodegradable fiber, we HIGHLY recommend buying used or recycled cashmere. This is because this fabric is not eco-friendly or cruelty-free in any manner. Look at the different materials above, for more information on sustainable materials.
Down Feathers
About the fabric:
Down feather is a natural material that comes from ducks and geese. It's used as a filling material for coats, jackets, pillows and duvets. Down feathers are warm, light and fully biodegradable. The technique used to harvest the feathers is called live-plucking. The animals often suffer injuries or death during the process. All ducks and geese who "give" feathers, will ultimately get slaughtered. This is why down feathers are never cruelty-free or vegan. Down feathers also have a negative impact on the planet. While the material itself is biodegradable, the outer fabrics used to hold the feathers (such as coats and jackets) usually aren't. The runoff of factory farms is bad for the environment. There are massive amounts of harmful wastewater produced by these farms.
Good to know:
Some brands claim to sell products made of recycled down feathers. But these are almost always mixed with non-recycled feathers. There are many great alternatives to down feathers, such as PrimaLoft P.U.R.E or PrimaLoft Bio, Thermore or Flowerdown - they're just as warm and light as bird feathers, but much better for people and the planet.
Certifications:
Responsible Down Standard (RDS)
Global Traceable Down Standard (GTDS)
Moincoins opinion:
There are many cruelty-free fabric options available. We don't see a reason to buy (new) products made from down feathers.
Leather
About the fabric:
Leather is one of the oldest materials that we use. It has been described as a durable, flexible and strong fabric that can be used for many items, such as clothes, shoes, household items and other accessories. It comes from a variety of animals and is considered one of the "best" animal-derived fabrics because it's easy to process and seemingly infinite as a natural resource. The most common animal used to produce it is a cow and about 80% of all leather is produced in China.
According to the Responsible Leather Round Table, in 2020, the global production of fresh new leather reached around 12.5 million tonnes. This multi-million-dollar industry has a huge impact on the environment, whether it is from the usage of harmful chemicals or the welfare of the animals, natural leather is not eco-friendly nor sustainable. Deforestation is happening constantly, to create space for animal farming. The tanning process uses multiple toxic chemicals to create a more durable product.
Good to know:
According to PETA, in the US alone, millions of animals are killed to make leather products. PETA has discovered that in many animal-derived materials, the treatment of these animals is really heart-wrenching. They are constantly being neglected or abused by their caretakers.
Sources:
Responsible Leather Round Table
The Leather Industry (PETA)
Moincoins opinion:
Because of the treatment of the animals and the environmental impact leather has, we do not believe in purchasing any type of conventional, animal-derived leather is a good idea. In fact, there are so many cruelty-free leather substitutes right now, e.g. piñatex, kombucha leather, apple or even cactus leather. Scroll up to read all about these materials.


Source: Higg - the sustainability insights platform
Summary
From the hundreds of materials out there, we have broken them down into whether they truly are sustainable. Overall, the majority of the materials on the market are not eco-friendly. From the toxic chemicals used to produce these fabrics, to the environmental impacts (animal harm/deforestation/water waste, etc.) and the working conditions, there are way more negatives than positives.
There's a ton of information about sustainable fabrics and a lot of companies are making new, innovative items. So next time you need something new for your wardrobe, search for an environmentally-friendly choice rather than just settling for fast fashion products. This includes what types of resources are needed to create the article: land requirements, water, energy, and chemical use, greenhouse gas emissions and whether a garment is renewable, recyclable, or biodegradable. The primary goals are to keep harmful chemicals out of the environment and waste out of our landfills. Always look for sustainability certifications in the article of clothing to make sure that it is legit.
FAQs
What is meant by sustainable fabrics?
Sustainable fabrics are less harmful for the environment, people and nature. Often, sustainable fabrics are made from eco-friendly resources like recycled materials, natural and organic fibers. But also the reduction of water, chemicals, pesticides and energy during the whole production process define if a fabric is considered more sustainable or not. If the fabric is used without harming animals and/or ensuring better working conditions for the workers, this also indicates a more sustainable textile. When looking for and researching sustainable fabrics, look for sustainability and ethical certifications. These labels will help you shop and find products that align with your approach to living a more sustainable life. These days, there are so many different eco-friendly fabrics to choose from. The most popular materials are recycled cotton, industrial hemp, recycled wool and organic linen.
Why are sustainable fabrics important?
The top 5 reasons why sustainable fabrics are important:
Recycled materials create less waste
Ensure fair wages & proper working conditions
Reduce CO2 and fewer chemicals used
Save water
Don't harm animals
What is the most sustainable fabric?
Recycled cotton and organic linen are the two most sustainable fabrics according to our research. Here is why:
Recycled cotton is made from old cotton articles that would just end up in landfills. It also needs fewer natural resources to be created and there is limited impact on the environment when created.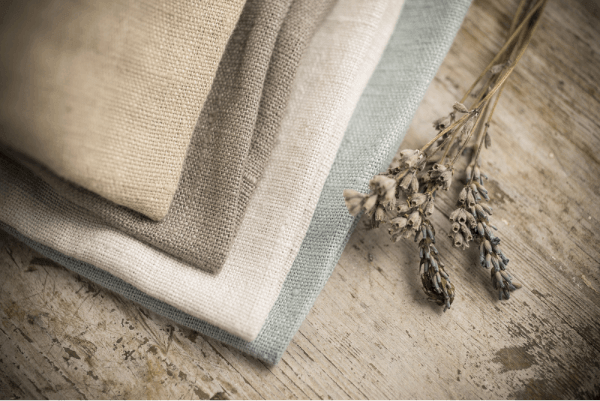 Organic linen is a natural fiber (flex seed stems) and it doesn't require many natural resources to be manufactured. The plant needs very few fertilizers and grows very fast. Flex seeds also have a high rate of carbon absorption.