Check out these sustainable clothing brands that will make you change your look and habits.
We include products we think can be useful for our readers. If you make a purchase through the links on this page, we may earn a small commission.
Moincoins is here again to remind us that sustainability is becoming a huge issue to deal with. More and more people are trying to change their habits, reduce their footprint and make more responsible choices every day. That obviously has a big impact on the fashion industry too. The number of fashion brands that are partially implementing green practices or turning their main focus to the ethical and sustainable aspects of the industry is constantly increasing.
It's important to highlight three things:
Sustainability means much more than being green. It is about environmental, economic and social issues that should have been successfully integrated into every brand's business strategy. Using recyclable and eco-friendly fabrics, reducing CO2 emissions, avoiding fast fashion strategies, using renewable forms of energy, paying workers a fair wage, and ensuring reasonable working hours under safe health conditions are all issues to take into consideration for a sustainable brand. That's why more and more companies are creating new positions (like Chief Sustainability Officer), publishing annual sustainability reports and trying to be transparent with their brand's mission and values.
There is no 100% sustainability in fashion. First of all, washing clothes requires the use of water and electricity. Secondly, most washing powders are not eco-friendly. Thirdly, the delivery of your online order also increases the CO2 footprint. But on top of that, while brands are working on eco-friendly approaches, cloth consumption is steadily increasing. That means people are buying and discarding more and more clothes. That's a vicious circle, where 100% sustainability can never be achieved. Although it's important that brands are trying to become the more responsible version of themselves and are committed to minimising their environmental impact as much as possible.
Yet, there are great achievements in the industry. In the UK, the effort of fashion retailers trying to reduce water, energy and chemical usage had a real impact according to a study. The research highlights recent achievements of SCAP signatories - over 90 organisations representing more than 48% of the UK fashion retailers trying to collectively reduce the impacts of their products. These organisations reduced carbon by 10.6%, water by 13.5%, and waste across the product life cycle by 0.8%, per tonne of clothing sold since 2012. There's still much to be done, but we have to admit that supporting eco-conscious brands really matters.
We believe that the majority is ready for the big change, all that is needed is a few small steps and mindful choices to join this movement. Plus, there is an amazing perk - sustainable fashion is not only good for the planet but also can look fabulous! There are amazing all-time classic pieces that will add some elegance, style and personality to your wardrobe. We rounded up here some UK sustainable and affordable fashion brands for you to choose from.
Ready to shop?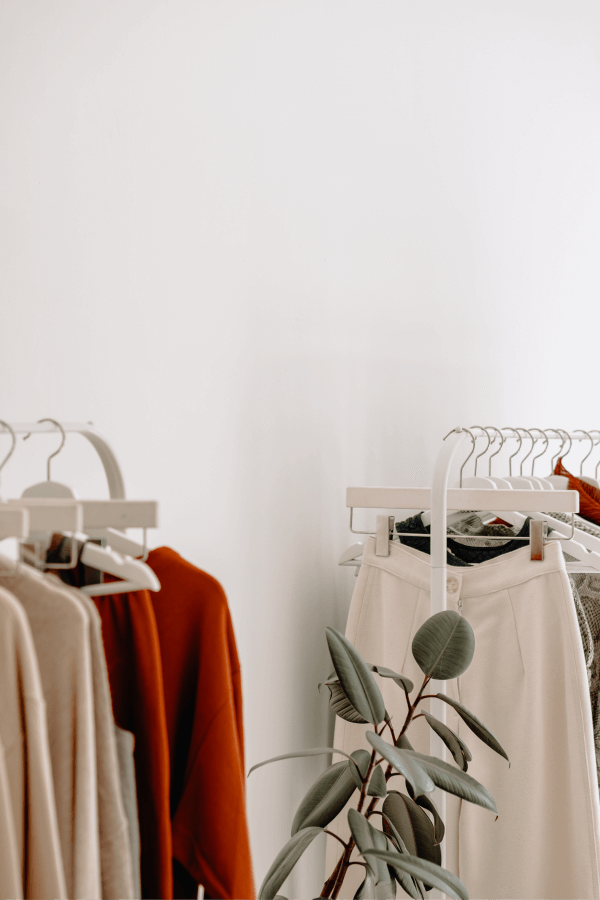 Photo by Thom Bradley via Unsplash
Know the Origin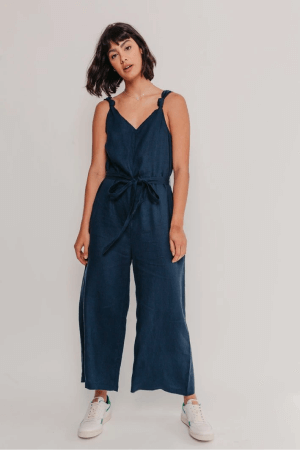 Erin Woven Hemp Jumpsuit Navy from Know the Origin
Know the Origin has a great story to share. In 2013 a garment factory in Bangladesh collapsed and over 1,100 workers were killed. This tragic event was the seed for a challenging but thoughtful beginning - a brand that would stand for the most vulnerable communities, sustainable development and ethical manufacturing.
Founded in 2016 with a very basic line of only 50 pieces, Know the Origin gradually turned into a go-to destination for people who are looking for fair trade, recycled and sustainable fabrics. Check it out for a great selection of sustainable items, including organic cotton essentials and outfits for men and women, as well as beauty products, gift ideas and homeware.
löfte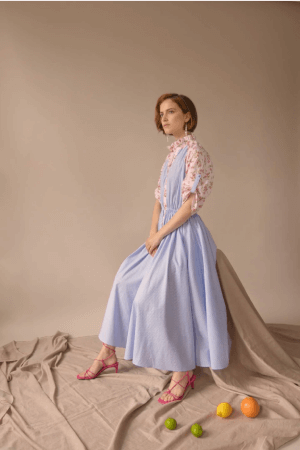 Alexandra Dress by AEIBE from löfte
"Löfte" means promise or vow in Swedish. löfte is all about making more ethical choices in fashion. The whole website is a carefully curated collection of luxury brands that are also eco-friendly.
Influenced by the Scandinavian style and minimalism it invites you to create a new wardrobe with ethically manufactured items. We're sure, löfte's sustainable and slow fashion brands like Re/Done, FanFare, Been London, h.hune and more will spark your interest. Choose your favourite one and make a real impact with your mindful choice.
Bamboo Clothing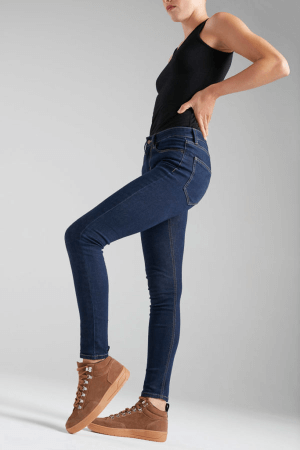 73 zero skinny bamboo jeans from Bamboo Clothing
It was back in 2006 when Bamboo Clothing discovered how to use soft and sustainable bamboo fabrics to make clothes for men and women. The brand has the environment at its heart and therefore tries to bring a positive and ethical impact with every new clothing line.
Bamboo Clothing is a go-to brand for stylish dresses, tops and bottoms, underwear and yoga clothing. We recommend you try its recyclable jeans, made out of 74% organic cotton and 25% bamboo viscose, needing 74% less water than conventional denim.
By 2030 this retailer promises to achieve zero waste to landfills, zero pollution and zero waste water with the power of bamboo. It definitely worth a try to put some bamboo in your closet and support its mission. Don't you think so?
People Tree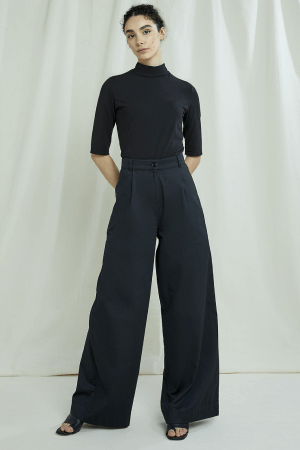 Eve Wide Leg Trousers from People Tree
People Tree is a real pioneer in the sustainable and slow fashion industry, it's been setting up trends since 1991. The brand's mission is to provide customers with stylish, quality and affordable choices at the lowest environmental cost. It seeks to inspire customers and producers to join Fairtrade and environmentally sustainable solutions.
People Tree's clothing is made of sustainable materials, free from harmful azo chemicals or toxic substances and coloured with low-impact dyes. It's at the brand's core, that all cotton it uses is organic and GOTS (Global Organic Textile Standard) certified. Moreover, the company promotes traditional artisan skills, such as hand weaving and hand knitting that also have a significant impact on its carbon footprint.
Planet Warrior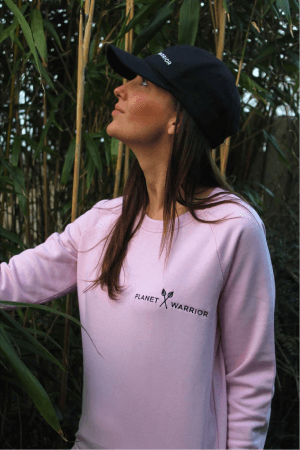 Yoga Sweatshirt from Planet Warrior
Looking for a sustainable sporty look? We again have you covered! Planet Warrior is a sustainable sportswear brand, awarded by the Eco-Age Brandmark for its contribution to reducing plastic usage by producing sportswear made from recycled plastic waste.
The brand not only provides you with unique recyclable leggings, tops and hoodies but also delivers those in 100% plastic-free packaging. Treat yourself to an amazing jumper made out of 85% organic cotton and 15% recycled plastic, super soft to the touch and fits any casual look.
Ethical Superstore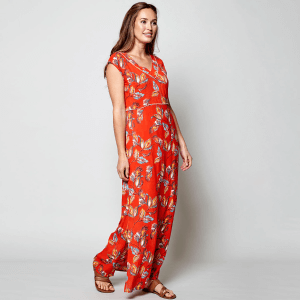 Nomads Mango Aquarelle Maxi Dress from Ethical Superstore
Ethical Superstore was created to encourage people to make more responsible choices every day. It's a real superstore, with all kinds of categories from organic groceries to sustainable fashion, cruelty-free cosmetics, plastic-free homeware and more.
This brand is prioritising UK-based retailers that produce their products in Britain. This way it utilises local resources and cuts carbon emissions. Under every product, you will find all the relevant tags and certifications. We suggest you explore eco-friendly fashion choices and let your money speak for the brands you want to support.
Thinking twice before buying, actively reading labels and knowing which philosophies you support through your purchases can make you an ethical consumer. Remember, what matters is that we're becoming the more responsible version of ourselves and making mindful choices one step at a time. Fashion might be the step, to begin with.