Being a pet parent is hard. Being an eco-conscious pet parent is even harder but definitely worth trying. Check out our curated list of eco-friendly pet care products that won't harm the planet and your bank account.
We include products we think can be useful for our readers. If you make a purchase through the links on this page, we may earn a small commission.
Every choice has an impact: what we eat, what we wear, where we shop from or what items surround us. It can either support environmental sustainability or increase our carbon footprint and waste. However, this is not only about humans; pets can have a big ecological footprint depending on the choices we make for them. Celebrating International Dog Day on August 26th could be a good starting point to leap out all the plastic, toxic and non-sustainable items we use to feed, house, groom, play, clean up our four-legged friends. Of course, comfort, price, and style play an important role, that's why we rounded up the best eco-friendly pet supplies that will help you raise your pet more sustainably.
Switching to organic pet food
Why choose organic pet food?
Fewer digestive problems. Organic dog food is closer to a dog's natural diet, avoiding fillers such as corn which are always difficult to digest.
Fewer allergy problems. A lower number of additives means fewer chances for your dog to develop a food allergy.
Stronger immune system. Your dog gets most of the vitamins and minerals from actual healthy foods.
Where to buy organic pet food?
Planet Organic is the UK's largest fully certified organic supermarket, where you can find many vegan and cruelty-free options for you or your pet. No matter if it's dry food, chew sticks, pate or vegan dog biscuits, your dog will love Planet Organic's food. You can shop for pure food, free from artificial additives, pesticides and GMOs. All plant-based proteins have been carefully selected to make sure your dog gets exactly what it needs.
Our top pick from Planet Organic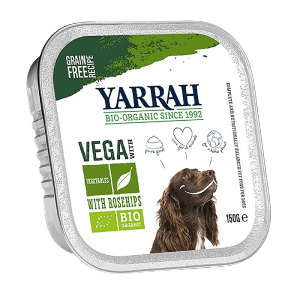 Get Yarrah Dog Food Vega Chunks from Planet Organic
Check out Yarrah - tasty, organic-certified and vegetarian chunks made from soya beans with added organic peas, carrots and rosehips. It also contains D3 vitamin from animal sources and is therefore even a better choice for your dog. It costs only £1.19 and your order will arrive packed in cardboard boxes made from 75% recycled fibres, recycled scrunched paper and compostable air pockets.
How to save at Planet Organic?
Moincoins gives you up to 5.5% of your purchase back if you shop via our website. You can also subscribe to the mailing list for 10% off your first 3 online purchases or make sure your order is over £50 to get it at no additional delivery cost.
Make every bite count in favour of nature
Is vegan food good for dogs?
This question needs to be answered by every vet and every dog parent individually. Each dog is special and choosing a fully vegan diet for your dog should be approved by your vet. However, a vegan snack now and then will surely not harm your dog.
Where to buy vegan dog treats?
Founded in 2015, Green Bay is an independent London start-up with the vision to make plant-based and vegan options easy and accessible to everyone. In its extended list of products, you will find a great selection of vegan meats, dairy-free cheeses, cruelty-free cosmetics or cleaning products and of course pet food. You can simply filter the results by dog or cat food and check out the options you have for healthy dog snacks, training treats or organic food.
Our top pick from Green Bay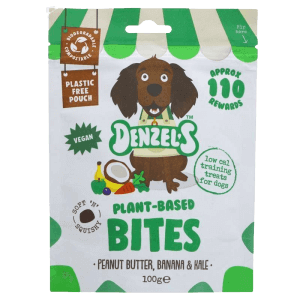 Get Denzel's Dog Bites from Green Bay
We recommend Denzel's vegan bites. It's a plant-based and hand-baked snack for your dog, using carbon-neutral wood-chip ovens. This healthy snack contains peanut butter (which is palm oil-free), fresh banana, carrot, and kale. It will come to you in a plastic-free and biodegradable pouch. You will only pay £2.69 for 100g of yummy bites.
How to save at Green Bay?
You can spend £60 or more and get your next GreenBay delivery for free. Also, shop via moincoins to get up to 3.5% cashback on every order.
Be mindful about plastic packaging
How to avoid individual serving pouches made out of plastic?
Find out stores, where you can buy pet food from a canister and carry it home in your own mesh bag, jars or stainless steel containers.
Look for pet food that is packed in a paper or compostable bag.
Challenge yourself a bit more by cooking your pet's food, trying to reduce packaging waste. The online pet food recipes are endless!
All typical pet bowls are plastic. When the time comes, choose an eco-friendly alternative, made of stainless steel or ceramics.
Where to buy sustainable dog food containers?
Global WAKEcup is a UK-based zero-waste brand with the vision to replace every single-use plastic with eco-friendly alternatives. Born in 2018 it now offers a big variety of sustainably sourced coffee cups, bottles and containers, as well as zero-waste products for the bathroom or kitchen and personalised gift ideas.
Our top pick from WAKEcup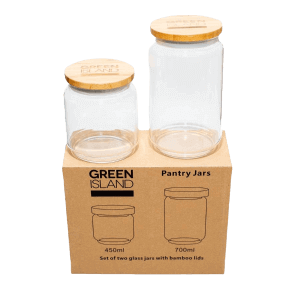 Get Pantry Jars - Set of 2 from Global WAKEcup
Non-plastic jars are all you need, not only for your kitchen but also for your dog's food. Try to spot stores around you that offer pet food from a canister or explore your zero-waste pet food stores. Then simply store your pets' food in those 100% plastic-free jars that are made from tough borosilicate glass with bamboo lids and a silicone seal. The cost is £15.95 and your order will arrive in sustainable packaging.
How to save at Global WAKEcup?
Shopping at Global WAKEcup can be affordable and sustainable at the same time. Moincoins gives you a 3.5% cashback on every order.
Snoozing peacefully and sustainably
Why choose a sustainable pet bed?
The average dog sleeps between 12 to 18 hours per day. That's why it's extremely important that you choose a high-quality bed for your friend. The majority of the pet beds use cheap and mass-produced materials that may even include unhealthy or dangerous chemicals in the foam and stuffing. Obviously, this is neither a safe choice for our little friend nor a sustainable option for our planet. Switching to a responsibly sourced wood-made bed, or a bed made from upcycled cotton, bamboo or other non-toxic foams seems an easy and eco-conscious decision since many brands are offering such options now.
Where to buy an eco-friendly pet bed?
Jollyes has everything you need for your pet. From pet food, toys and coats to grooming and health products, your pet will be happy with its new items. At Jollyes you will explore a wide range of dog beds, including raised dog beds and dog sofa bed models as well as cuddly blankets, padding and mats. No matter the size, age or special needs, you will find the ideal bed for the most relaxing moments of your pet.
Our top pick from Jollyes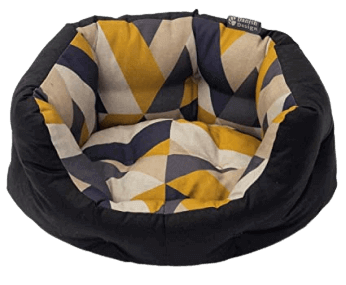 Get Danish Design Retreat Eco Well Bed from Jollyes
Finding a bed that is cosy for your pet, durable and visually pleasing is not an easy task. It gets even more complicated when you need to combine all these criteria with sustainable materials. We looked through a big variety of pet beds and we recommend the Eco Well Bed for your dog. This sustainable bed is filled with 100% recycled memory foam crumb filling. These small pieces of foam are not only eco-friendly but also provide optimum support and comfort to your pet's body during sleep. The cover is removable and washable and the price is only £31.99.
How to save money at Jollyes?
Spend £35 at Jollyes to have your next order delivered to your door completely free of charge! If you shop via Moincoins you make even greater savings, by getting an additional 5.5% cashback.
Eat. Sleep. Then comes the play (and repeat)
Why choose plastic-free toys for your pet?
The plastic waste crisis is constantly growing. Over the past few years, we've been called to raise our voices and contribute to the global campaign against the production and use of plastic. Single-use plastic is one of the biggest polluters of beautiful beaches and oceans. According to a graph presented by The Guardian, in 2019 the UK has generated 44kg of single-use plastic waste per person. Now think how many plastic items your pet has.
One of the worst things you can give your dog to chew on is rawhide. It's a cheap material, made mainly in China from leftover scraps. It contains toxic colourings, bleach to chemically preserve it, glue, also phthalates and bisphenol A (commonly known as BPA) - all of these harmful and potentially deadly chemicals might be contained in your dog's toy.
We all know how hyperactive docs can go, their over-enthusiasm sometimes makes them destroy a squishy plastic toy within minutes. By choosing a non-plastic toy, you may also get the new item to last longer.
Be creative! You can always make your own non-plastic pet toy. Simply cut some strips of your old t-shirt or towel and make a rope toy. And don't forget that for some reason socks or cardboard boxes are always very amusing to our little friends!
Contact animal shelters near you and donate any lightly used or unwanted toys to reduce waste.
Where to buy plastic-free toys for your pet?
Looking for toys made from sustainable or recycled materials, that are preferably also biodegradable at the end of their lives? Natural Collections has you covered! This brand is dedicated to selling high-quality and ethical products that have a positive impact on people and the environment. In this marketplace, you will find leading ethical brands as well as independent traders and producers across the world, committed to sustainability.
Our top pick from Natural Collection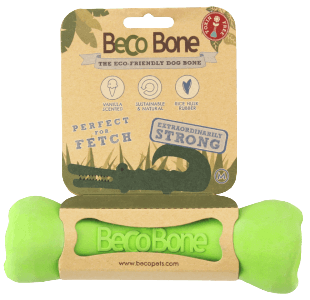 Get BECO treat bone from Natural Collection
Check out pet toy alternatives that contain organic cotton, hemp, rope, natural rubber, canvas, wood, bamboo, or wool. BECO treat bone is a perfect replacement, since it's made of natural rubber and rice husk and is completely free of toxins. We score an extra point here because there's space inside the bone where you can place your dog's favourite treats or snacks (delicious surprise!) or sneakily hide a teeth cleaner. It will cost you £8.99 and save you money in the long run, due to its durability.
How to save at Natural Collection?
Moincoins gives you 7% of your purchase back every time you shop at Natural Collection. You can also avoid paying extra for delivery if you spend over £50.
Sustainable pet wash
How to make our pet's grooming routine more sustainable?
Keeping your pet clean and tidy is a never-ending duty, and all pet parents know that. Making it more eco-friendly is an extra, but worth trying, step. Here are two simple things you can do:
When you need to buy a new grooming brush or hair removal, pick the ones made from wood or bamboo with natural bristles.
Avoid shampoos that are in plastic containers.
Where to buy eco-friendly pet grooming products?
&Keep was founded to help you reduce the impact of your everyday living. You can explore its mindfully selected and sustainable range of products and make every purchase for yourself, your family or your pet count. All brands in this marketplace are ethical and to make your shopping easier, you can filter your results by category, product or price. All products are also cruelty-free and in case any item has a small piece of plastic (which is not very common) it is completely BPA-free.
Our top pick from &Keep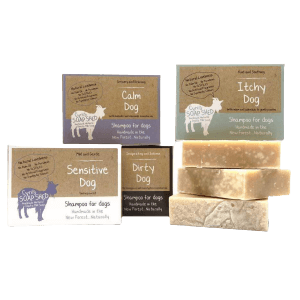 Get Cyril's Soap Shed Dog Shampoo Bar from &Keep
We suggest the mild and gentle Cyril's soap shed dog shampoo bar with natural oils (like olive oil, coconut oil, sunflower oil and more) and fresh goat's milk. First of all soap bars make for a great alternative to any type of shampoo in plastic bottles. Secondly, this shampoo is palm oil-free, does not contain any parabens, artificial fragrances or synthetic colours and is not tested on animals. It's suitable for vegetarians and the packaging is made from recycled materials. It's also an affordable option that will cost you only £6.50.
How to save at &Keep?
Spend over £40 to get free delivery and shop via Moincoins to save up to 5.5%.
Brushing doesn't stop at hair: what about teeth?
What to avoid in a regular dog toothpaste?
The first thing to keep in mind is that you should never use human toothpaste on your dog. Many of the toothpaste kinds you use at home contain xylitol, which is an artificial sweetener that is toxic to dogs. Moreover, we recommend avoiding buying toothpaste in plastic tubes.
Where to buy eco-friendly dog toothpaste?
Wearth started in 2017 to make our shopping more conscious. It brings together over 250 independent UK brands from the fashion, beauty and home industry, curating a unique list of products made in an ethical way. Around 70% of the products are made in the UK and none of them has ever been tested on animals. This brand also supports women-led businesses across the UK, that's why over 80% of the brands have a female founder.
Our top pick from Wearth London
Get Natural Dog Toothpowder from Wearth London
Our choice for this category would be the organic and vegan toothpaste of Wearth London. This dog toothpaste is 100% natural and made in the UK. You can get it at no additional shipping cost for only £12. The packaging is also eco-friendly.
How to save at Wearth London?
Look for discount codes and promo codes online and use those at the checkout to get a little extra off your order.
Strolling around while keeping oceans clean
Are there eco-friendly collars?
Kitting out your friend can also be sustainable; make sure you don't use a plastic leash! You can find plenty of dog collars and leashes made from hemp or recycled materials that are good for the environment and fancy for your dog's style.
Where to buy eco-friendly collars for your dog?
Ethical Pets is a vegan, organic and eco-conscious pet shop, aiming to become the ultimate ethical destination for all things pets. Founded in 2011 and continuously working on extending its list of products, it offers food, toys, treats and other useful items for your animal friends, which are all sustainable and responsibly made.
Our top pick from Ethical Pets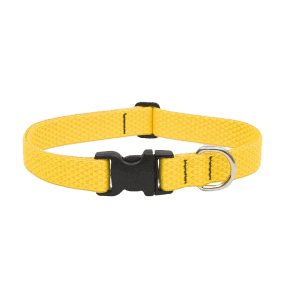 Get Lupine Eco Dog Collar from EthicalPets
The Lupine ECO collars are made from recycled plastic bottles and are available in three widths and four adjustable size ranges. Even though the material is made from 100% post-consumer recycled plastic, the benefits of regular plastic (like durability and strength) are maintained. The collars are also hand-made in fair working conditions. You can choose between three fancy colours and make it yours for only £13.99.
How to save at Ethical Pets?
Ethical Pets is collaborating with discount codes websites. To snap up a good bargain, look for Ethical Pets vouchers online and use one of them at the checkout.
Natural fertiliser and plastic bags don't go together
How to replace plastic poop bags?
Most pet parents use an average of two plastic bags per day to dispose of their pet's waste. That means hundreds of bags per year! This is an area where you can easily make a huge impact by switching to non-plastic solutions. You can either buy biodegradable or paper poop bags or flush your pet's waste down your toilet (only for dogs, not for cats!). Keep in mind that the latter might need official approval by the local municipal waste office to make sure that any parasites won't end up in waterways.
Where to buy non-plastic poop bags?
Ethical Superstore was created to encourage people to make more responsible choices. This store is prioritising UK-based retailers that produce their goods in Britain to utilise local resources and cut carbon emissions. It's a real superstore since you can find almost everything to make your life more eco-friendly. From organic groceries to sustainable fashion, cruelty-free cosmetics, plastic-free homeware and eco-friendly pet items, Ethical Superstore is always a good choice!
Our top pick from Ethical Superstore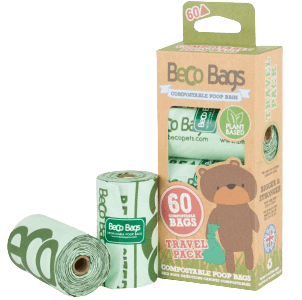 Get Beco Compostable Poo Bags from Ethical Superstore
Beco Compostable Poo Bags is the product we recommend in order for you to replace all plastic bags you use on the daily dog walk. It's a 100% biodegradable product but still resilient enough for holding your dog's business without rips. 60 bags will cost you £5.99.
How to save at Ethical Superstore?
You can enjoy free delivery on orders over £20. You can also earn up to 7% cashback if you shop via our website.
Last but not least: cleaning!
What to avoid when cleaning the house?
This category is not only for your pet but generally for your house cleaning habits. Many cleaning products present a significant danger to your pet, so it's important to make sure you no longer use toxic floor liquids to clean the house. Also no matter how pet-friendly your cleaning product is, always move your four-legged friend out of the room until the product has dried properly.
Where to buy eco-friendly cleaning supplies that won't harm your pet?
The UK's largest fully certified organic supermarket, Planet Organic offers organic, vegan and cruelty-free options across the UK. This company was launched in 1995 in order to support a healthy lifestyle. By selling organic and sustainable products and at the same time by acting ethically as a business, it sells high-quality and responsibly made items with nature in mind. The list of products is huge, check it out to find amazing ideas to replace typical products with their eco alternatives!
Our top pick from Planet Organic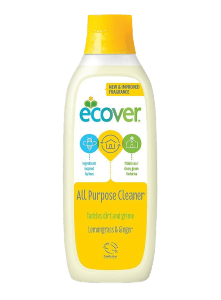 Get Ecover All Purpose Cleaner from Planet Organic
It's time to replace the old-school toxic floor cleaners with new sustainable ones. The Ecover cleaner from Planet Organic is a good start! This product is cruelty-free, made in green factories and designed to be refilled. The product is vegan and flavoured with lemongrass and ginger. You can make buy it for as little as £2.99 for 1lt.
How to save at Planet Organic?
Spend over £50 to save the delivery costs and shop via Moincoins to get up to 5.5% of your purchase back.
To sum it up: keep your furry friend's world away from plastic and other materials that contain pesticides and chemicals. Opt for organic and natural options that are usually also incredibly durable - you'll get plenty of years until they will need a replacement. And of course, don't forget about the packaging!
Show a bit of extra love to both pets and the planet this month by replacing some regular pet products with their eco-friendly alternatives. No fuss is needed if your current pet products are just fine for now. Make your choice when the time comes. Enjoy shopping and cute wagging tails!