Check out these 20 eco-friendly alternatives to Christmas cards that celebrate both the earth and the festive season.
All the products listed below have been independently selected by our content team. If you make a purchase through the links on this page, we may earn a small commission.
When we think of Christmas time, many things are quick to pop into mind: Christmas trees, Santa gifts, glitter decorations, meat-based dinners, glowy makeup and single-use Christmas cards. Unfortunately, all these elements have one thing in common: their negative impact on our planet. Plastic waste, water pollution, CO2 emissions, animal testing and unethical working conditions are only a few examples that can give us a general overview of the problem.
Despite our less-than-considerate habits during the holiday season, Moincoins is here to spread some positive vibes! And the best news is that people have already started looking for alternative ways to celebrate Christmas! According to recent Google Trends "sustainable Christmas" searches went by 117% over the past five years! This is an important sign that we are ready to make small changes and turn our holiday habits from completely unsustainable to more environmentally conscious. This year, we can start by replacing plastic-based Christmas cards with eco-friendly alternatives.
To mark the occasion, we came up with 20 unique Christmas cards that are as eco-friendly as they are jolly! But beware! These cards are so cleverly made that you might want to send them to your loved ones as soon as possible.
Christmas cards can be made of truly surprising materials.
Jump directly to discover Christmas cards made of:
20 Say Yes to an Eco-Friendly Festive Season With These Christmas Cards
Christmas Cards Made of 100% Recycled Paper
1. Merry Merry Greeting Card from EcoVive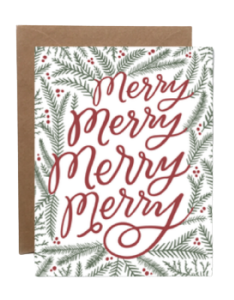 Christmas Card from EcoVibe
Ethics | Hand-picked and eco-mindful options, 1% for the Planet Member
Key features | 100% recycled paper
Type of product | Illustrated Christmas cards made of recycled paper with "Merry, Merry" print
Card size | 4.25" x 5.50"
Price | $5.00
Customer reviews | "Excellent service and high-quality products. I will continue to purchase these eco-friendly products" - K. from Trustpilot
About EcoVibe | Established in 2010, EcoVibe began as a fashion boutique but has quickly evolved to become an online store for home décor, plants, kitchenware, accessories, gifts and more. All products are hand-selected based on their sustainable and aesthetic values, giving a full spectrum of eco-friendly choices for you, your home or the people you love. It also donates 1% of the online sales to 1% For The Planet non-profit organization.
How Is Paper Recycled?
The recycling life of a paper begins in the blue bin and continues in the recycling center. All the irrelevant contaminants such as plastic or glass are removed and tons of paper are being sorted and stored into different containers. The sorted paper will be transferred to the mill, where big pulper machines will shred the paper into small pieces. With the contribution of water, chemicals and heat, the mixture will be turned into fibers. Later on, it will be pressed through a screen and cleaned, which will remove the inks. Through this process, the paper will take its shape and all the fibers will bond together. The drying process is up next, at the end of which a brand new paper product will be created.
Are Christmas Cards Recyclable?
Most Christmas cards are paper-based and they can be recycled together with their envelopes unless they're wrapped in plastic foil or have glitter on them. You can choose your closest local recycling points or sort them in your house before taking them to the blue bin.
Can Christmas Cards With Glitter Be Recycled?
Besides the fact that it sticks to everything, glitter also makes greeting cards non-recyclable due to tiny pieces of plastic bonded with aluminum. Think twice before using glitter during Christmas because no matter what product you choose (Christmas cards, make-up or hair spray), there's always a dark side to that spark.
Christmas Cards Made of 100% Post-Consumer Recycled Paper
2. Joy Fun Christmas Photo Cards from Minted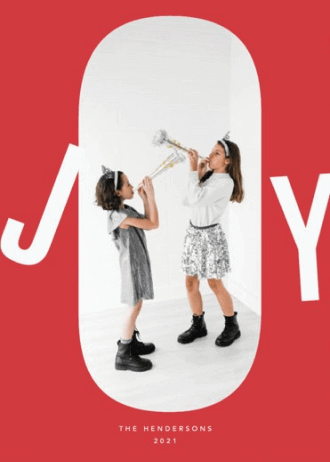 Christmas card from Minted
Ethics | Plant-based or sustainably-sourced materials, FSC certified, carbon-neutral, manufactured with wind power. transitioning to 100% recyclable and compostable packaging
Key features | 100% post-consumer waste paper, FSC certified, quilled technique
Type of product | This is a fully customizable Christmas card, created by Minted's global community of independent designers. It is made of dual-texture Smooth Signature Paper from 100% post-consumer waste
Card size | 4.25" x 6"
Price | $58.00
Customer reviews | "Every year I purchase our holiday cards through Minted. I love their design selection, the terrific, substantial quality of the paper, the beautiful photograph printing, the whimsical and / or elegant envelope-addressing designs, the fantastic customer service which tweaks my additions to make them look perfect, and the very (VERY) speedy turnaround." - U. from Trustpilot
About Minted | Minted is a community of independent artists and designers located in all 50 states and over 100 countries. It mostly uses 100% post-consumer waste recycled paper that is thick, smooth, matte-finished and manufactured with wind power. It also offers options for non-tree-based paper, FSC-certified paper or plant-based paper.
3. Joy Fun Christmas Photo Cards from Minted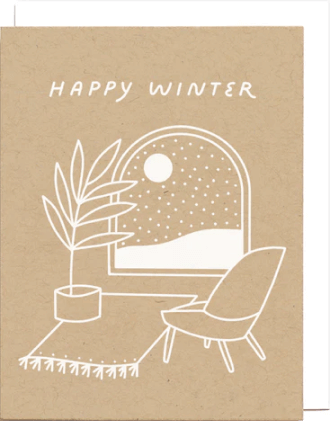 Christmas Card from Worthwhile Paper
Ethics | Each card and envelope is made of 100% recycled paper, dyed with water-based ink, screen printed in-house, in the Worthwhile Paper studio, Michigan
Key features | 100% recycled paper, painted by hand by a team of local artists
Type of product | Even though this card has already been painted on, it is still a blank canvas. The designers wanted to let customers fill it with their own words, doodles and loving sentiments for the fortunate recipients
Card size | 5.50" x 4.25"
Price | $5.50
Customer reviews | "So well made. Also came with some adorable stickers which I was not expecting. Very happy with my purchase."
About Worthwhile Paper | This is a small but eco-conscious team that crafts and prints greetings cards by hand. Based in Michigan, US, Worthwhile Paper takes inspiration from the beauty of simplicity and translates it into minimalist card designs. Each card is handmade locally using water-based dyes that were mixed by hand to get unique, vibrant colors.
What Does PCF Stand For?
PCF stands for post-consumer fiber and indicates that the product is entirely produced by using old paper material that has been thrown away and recycled.
What Is Post-Consumer Recycled Fiber?
Post-consumer fiber (PCF) is any paper-based material that has been discarded and recycled after someone used it. This can be paper, paperboard and other fibrous waste from retail stores, office buildings or households.
What's the Difference Between Recycled Paper vs Post-Consumer Recycled Paper?
The recycled paper doesn't necessarily mean that the paper was made out of other people's discarded material. That's why we have to distinguish between pre-consumer and post-consumer paper. Pre-consumer material means that it was discarded during the manufacturing process before it was ready for consumer use. On the other hand, post-consumer waste is any material discarded after someone used it. It's important to know that paper-based products marked with the "recycled" symbol may also contain pre-consumer waste. This is why it's always better to look for paper made from (ideally 100%) post-consumer recycled paper.
Christmas Cards Made of FSC-Certified Paper
4. Stamp Out Personalized Christmas Card from Paper Culture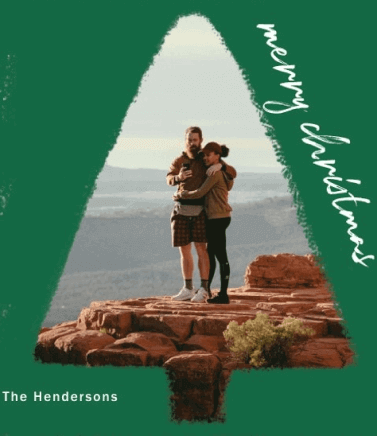 Christmas card from Paper Culture
Ethics | 100% post-consumer recycled paper products, Green Business, planting trees, partnering with CarbonFund.org
Key features | FSC-certified paper from 100% post-consumer recycled paper, produced with wind power
Type of product | A Christmas card which you can easily personalize to give it a more personal touch. Paper Culture offers free designer assistance, to help you with color and layout changes, any logo placement, photo editing and more. The back side gives you the chance to share your favorite quote or craft the ideal holiday message. Both cards and white envelopes are made from 100% post-consumer recycled paper.
Card size | Square cards 5.1" - flat
Price | Starting from $15.95
Customer reviews | "Paper Culture is AMAZING and I'm thrilled I found them. I had wanted some custom invitations for my wedding and their free designer assistance was perfect! And it's no extra cost! Communication was incredibly fast with their team and I was able to make a few small changes to one of their templates to customize my invitation perfectly" - C. from Knot
About Paper Culture | Paper Culture is a company selling products made of 100% post-consumer recycled paper and other eco-friendly materials. It offsets 100% of the carbon footprint of the production and it's officially recognized by the EPA as a Top 10 Climate Leader, certified as a Green Business.
5. Christmas Cards from Print Work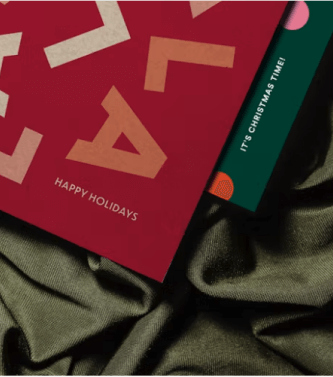 Christmas card from Print Work
Ethics | Fully-recyclable Christmas cards made of FSC-certified recycled paper
Key features | The cards can be customized according to the clients' preferences. Shoppers can choose the paper type and weight, as well as the cards' size and orientation
Type of product | All the Christmas cards are printed on FSC-certified card stocks. Depending on the shopper's needs, each card can come in a recycled paper envelope, alongside customizable, peelable stickers and the FSC logo.
Card size | A5, A6, A7 and 148mm square cards (folded)
Price | Starting from $8
Customer reviews | "I absolutely LOVED my art prints I ordered with Print Work. The quality is so high and the packaging was great. Will be a loyal shopper for all my future printing needs now! Thank you so much!" - J. from Trustpilot
About Print Works | Print Works is a planet-friendly printing company from Leeds, UK. From personal to professional orders, all the products are printed on FSC-certified recycled paper, providing customers with the perfect prints while still being considerate to the planet.
What Does FSC Stand For?
FSC stands for Forest Stewardship Council, which is an international non-profit organization that's responsible for the world's forestry management. This organization needs to ensure and certify high standards for the natural conditions of forests. When buying products with the FSC logo, you can be sure that the trees harvested are being replaced or allowed to regenerate naturally, and that the rights of indigenous people are protected.
Which Are the Three FSC Labels?
There are three different FSC labels.
FSC 100% stands for products that are made from 100% virgin materials. When buying products labeled FSC 100%, you can rest assured the global were not harmed during the product's manufacturing process.
FSC RECYCLED is for verified products made from 100% recycled content (either post-consumer or pre-consumer materials).
FSC MIX stands for a mixture of materials from FSC certified forests, other recycled materials, and/or FSC controlled wood.
Christmas Cards Made of Chlorine-Free Paper
6. Holiday Floral Greeting Card Set from Aya Paper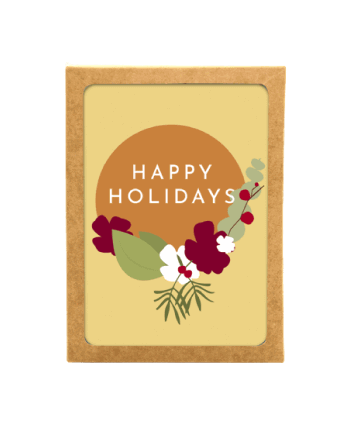 Holiday Card from Aya Paper
Ethics | Woman-owned, eco-friendly packaging
Key features | PCF Chlorine-free paper, 100% post-consumer recycled paper, 100% recycled envelopes delivered in paper box, non-toxic toners
Type of product | The Holiday Floral Card Set gives a minimal and earthy vibe to our typical holiday cards. The pack consists of 4 cards, with print "Happy Holidays", which are made of 100% post-consumer recycled paper and free from chlorine chemicals that harm the environment.
Card size | A6-sized cards
Price | $15.00
Customer reviews | There are currently no reviews available.
About Aya Paper | Aya Paper Co. is a sustainable stationery brand, created in 2019, offering truly inspiring greeting cards and gifts. Since launching in July 2019 it is selling paper products made with 100% recycled materials in neutral earth tones, minimalist illustrations and modern typography
What Does PCF Stand For?
The "PCF" stands for "Processed Chlorine Free" and means that no chlorine or its derivatives were used in the production or recycling process.
Why Is Chlorine in Paper Bad?
Chlorine compounds are widely used for whitening paper and this substance is also responsible for water pollution due to its discharge of dioxin, which is a hazardous, cancer-causing gas. That's why it's important to keep an eye on PCF labels when buying paper products because recycled paper doesn't necessarily mean chlorine-free.
Christmas Cards Made of Wheat Straw Paper
7. Tree-Free Card from EarthHero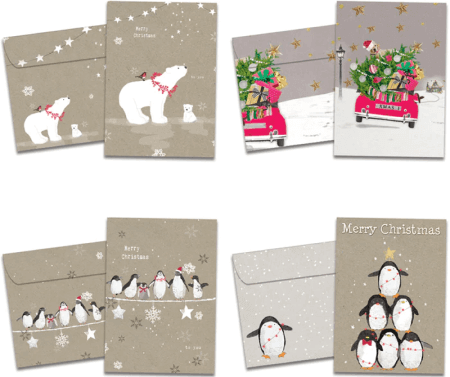 Christmas card from EarthHero
Ethics | Recyclable materials, renewable energy use, donations, Certified B Corp
Key features | Envelope is made from 100% wheat straw, card is printed on 100% post-consumer recycled paper
Type of product | Recycled paper greeting card from Tree-Free Greetings. This card is made in the U.S., it features a cute caroling reindeer and it's a perfectly sweet way to share your greetings. Each 10-pack card set is printed with solar power and processed without chlorine.
Card size | 5.00" x 7.00"
Price | $14.99
Customer reviews | "Quick shipping, friendly customer service, and great product selection!" - B. from Trustpilot
About EarthHero | EarthHero is an eco-friendly marketplace, offering a huge variety of brands that are really putting effort into making online shopping more sustainable. The brand is collaborating with Tree-Free Greetings, a company that has been offering amazing eco-friendly alternatives to conventional greeting cards over the last 18 years.
What Is Wheat Straw?
Wheat straw is considered to be one of the most eco-friendly alternatives to plastic. Wheat is a type of grain mostly used to make bread, flour and pasta and the straw is the outcome of the wheat harvest. Its byproduct contains lignin, which is usually mixed with sugar to make a plastic-like, biodegradable substance.
Why Is Wheat Straw Better Than Plastic?
Wheat straw is perfect to replace plastic food containers, drinking straws, plastic plates and cups but it's also ideal to create paper-like substances. While it may take over 450 years for a plastic bottle to decompose, wheat straw is entirely biodegradable (decomposing time is up to 6 months) and thus it's considered to be one of the best alternatives to plastic.
Christmas Cards Made of Seed Paper
8. Happy Holidays Plantable Card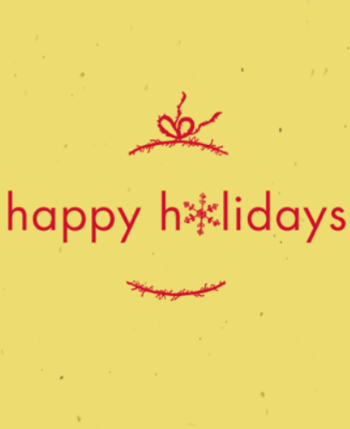 Holiday Greeting Card from Forever Fiances
Ethics | Biodegradable or 100% recycled paper, Green Business print stationery, donations
Key features | Premium handmade seed paper which will bloom into wild flowers once planted
Type of product | Premium handmade seeded paper, embedded with wildflower seeds is maybe the greenest paper in the world since it's 100% biodegradable. All you need to do is wrap the card in a moist towel and place it in a window so the sun helps the seeds to grow for the next 2 weeks. Then you place the moist paper into a pot with soil and you water it on a weekly basis, waiting for the wildflowers to pop up.
Card size | 5.50" x 4.25"
Price | Price varies
Customer reviews | "ForeverFiances was one of the best vendors to work with! Their idea (plantable and recyclable paper is why we picked them in the first place, and we would pick them all over again. They were VERY prompt with proofs, had beautiful options, and always very quick to answer emails. They were very nice and delivered exactly what we wanted. I HIGHLY recommend them!" - J. from Weddingwire
About ForeverFiances | If you are looking for the most sustainable greeting cards, this is the ultimate store to shop from. ForeverFiances has over 770 exclusive designs, all printed on 100% recycled or biodegradable papers. This brand also puts an effort into reducing the CO2 emission through green technologies and innovative printing methods and donates 1% of its revenues to several nonprofit organizations that support environmental causes.
What Is Plantable Paper?
Plantable paper is one of the latest eco-friendly paper categories. Most of them are made from post-consumer materials and are embedded with different kinds of seeds (like flower seeds, herbs or other vegetable seeds), which makes them plantable in pots or in the garden. The paper germinates and grows into beautiful plants, without leaving any trash behind.
How Do You Plant Plantable Paper?
After receiving and reading your card you have to fill the ⅔ of a pot with good potting soil. Take your plantable paper and cover it with the soil that's in the pot. Don't mind if the paper overlaps, just gently tamp it down. Soak it, but make sure you don't overwater it. The first 10 days are the most important to keep your paper moisturized to boost the germination process. Once sprouts appear, keep watering it wisely and watch it grow and turn into a beautiful flower. The paper can be planted both indoors or outside, according to the temperature and the weather conditions.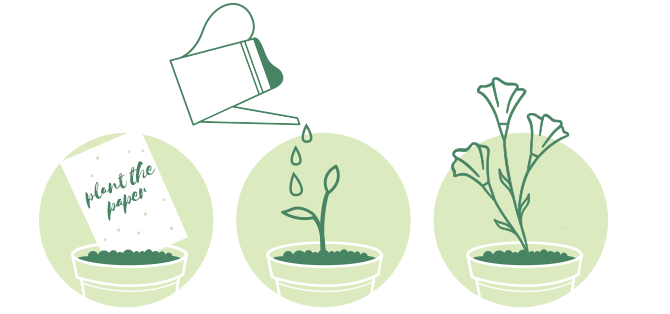 Three Steps on How to Plant Seed Paper
How to Make DIY Plantable Paper?
Did you know that you can make your own DIY plantable paper? Start by collecting a large pile of recyclable paper, including newspaper, egg cartons or paper grocery bags. Shred them into tiny pieces and mix them. Put them in a jar and pour some warm water until it turns into a smooth pulp (blending them in a food processor for about 10 seconds, at a low speed will make it easier). Add about a teaspoon of flower seeds into the mixture and stir them without blending anymore. Pour the pulp into a strainer and remove as much water as possible. Lay out a piece of microfiber towel, dump the pulp and make it as thin and flat as possible and let it dry. Once both sides are dry, your DIY seed paper is ready for use.

How to make plantable paper, YouTube video
Christmas Cards Made of Hemp Paper
9. Hemp Holiday Cards (8 Pack)

Christmas Cards from Rawganique
Ethics | Organic, handcrafted, cruelty-free
Key features | Handmade in the USA, 25% North American hemp & 75% post-consumer recycled ingredients
Type of product | This hemp paper holiday card pack is ideal for those who are enthusiasts of all hemp-related products or are interested in being more eco-conscious buyers for Christmas. This product is chemicals, dyes or additives- free and it doesn't contain chlorine.
Card size | 4.50" x 6.00"
Price | $15.00
Customer reviews | "Love how they look and feel, just sad they came in plastic sleeves." - A. from Rawganique product review
About Rawganique | Rawganique was founded in 1997 and it specializes in organic cotton, linen and hemp clothing, bed, bath and gift products. It produces over 1000 awesome unique organic products, which are never tested on animals, following the highest environmental and quality standards.
What Is Hemp Paper?
Paper produced entirely or mostly from the fibers of the hemp plant is called hemp paper and it's a radical response to the problem of deforestation. Hemp paper is mostly used in the production of specialty paper such as cigarette paper or cosmetic tissue paper but there are already a few companies in Europe and North America that are experimenting with producing writing paper from hemp.
Fibers cultivated from hemp plants are considered as one of the strongest plant fibers. According to hempfoundation.net, hemp paper is significantly more durable than paper produced from wood, since it doesn't easily yellow or crack and thus it is a brilliant swap to regular paper.
Does Hemp Paper Have Psychotropic Effects?
THC presence is limited to only 0.3% or less in hemp, which means that it doesn't have any psychotropic effects.
Christmas Cards Made of Coffee Chaff Paper
10. PaperEvolution® Handmade Sheet-Java from Green Field Paper Company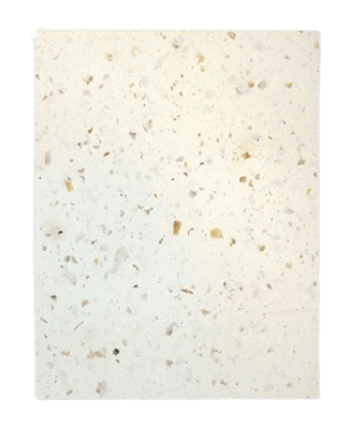 Paper from Green Field Paper Company
Ethics | Tree-free products, PaperEvolution®
Key features | 100% recycled fibers with the chaff of roasted coffee beans from an independent coffee store in San Diego
Type of product | This product is not a Christmas card but an eco-friendly and tree-free paper that you can DIY! It is made of coffee chaff, which is the dried skin on a coffee bean after the roasting process. Just be creative, give it a personal touch by coloring it, write something sweet and send it to the people you love.
Card size | 8.50" x 11.00"
Price | $19.95
Customer reviews | "Great products, great service. Picked out card stock that is manufactured with recycled products embedded with wildflower seeds. The card stock looks great and will make very special invitations." - D. from Yelp
About Green Field Paper Company | Green Field Paper Company, based in San Diego, was created in 1992 to offer fine quality and tree-free paper alternatives. It is now one of the largest handmade paper companies in North America that has made a great commitment to offset carbon emissions, starting from the company-wide electricity. It re-pulps all of the paper cuttings or uses them for packaging materials and donates usable scrap paper to local schools and organizations.
Shop now at Green Field Paper Company
How to Make Your Own DIY Christmas Cards This Year
There are many ways you can turn a single piece of paper into a colorful and very Christmassy card.

34 DIY Holiday Cards For Your Loved Ones, YouTube video
Christmas Cards Made of Banana Paper
11. Banana Paper from Green Banana Paper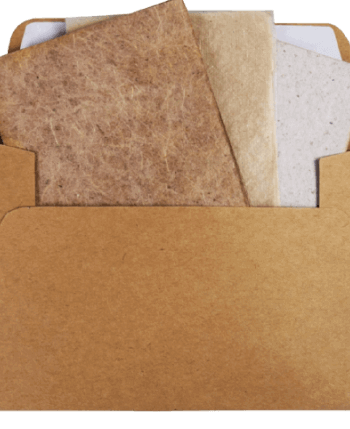 Greeting Card and Envelope from Green Banana Paper
Ethics | Ethical, handmade paper, biodegradable, PETA-approved, vegan
Key features | Banana fibers and mixed recycled banana paper
Type of product | Premium thick and thin paper pack made from pure golden banana fibers sourced directly from local farmers and mixed recycled banana paper. The fibers were extracted by hand and processed without the use of harmful chemicals in ethical working conditions. Let your creativity go wild and transform these plant-based blank papers into holiday greeting cards.
Card size | A1 / A4 / A5 / A7
Price | $30.00
Customer reviews | "I wanted to use some paper to write thank you notes when I sell my merchandise, so it's nice to have something great for the environment to use." - Customer review at Green Banana Paper
About Green Banana Paper | Green Banana Paper is selling products that are ethically manufactured from recycled banana trunks, which grow naturally in Kosrae, Micronesia. Its product range includes wallets, business cards, regular banana paper and other gifts.
Shop now at Green Banana Paper
What Is Banana Paper?
We all know that bananas are delicious but what happens with the rest of the banana tree? Banana trees are cut down after producing fruits, which happens only one time per year. After that the leaves can go for organic composting and the tree trunk can be used to make paper. Natural banana plant fibers create a very durable and water-resistant paper that can be found in different colors and sizes.
Christmas Cards Made of Bamboo Paper
12. Christmas Reindeer Christmas Card from Heart Space Cards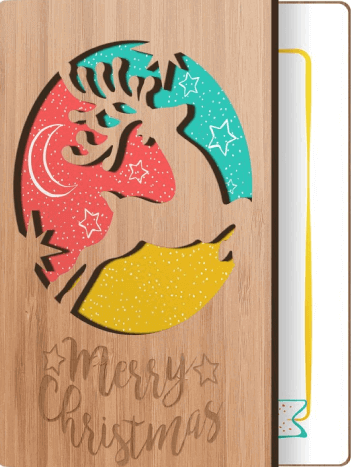 Christmas Card from Heart Space Cards
Ethics | Handmade, bamboo wood
Key features | Bamboo
Type of product | Send your warmest holiday wishes with this Santa's leaping reindeer that is laser cut into real bamboo wood. The text "Merry Christmas" is finely etched into the wood but you can always provide a custom handwritten message.
Card size | 4.50" x 6.00"
Price | $12.99
Customer reviews | "I love how you can automatically tell it's handmade! Real bamboo! It's not as big as expected but the quality is well worth it with the size." - S. from Amazon
About Heart Space Cards | Heart Space Cards was founded in 2017 to design individual art pieces that meant to last for a long time. Its extended collection of greeting cards will give you a wide spectrum of cards to choose from and you can always customize them according to your needs and likings.
Why Is Bamboo Better Than Wood-Based Paper?
Compared with wood, bamboo has a way shorter growth cycle (3 to 5 years), self-reproduction and significantly lower cost in regeneration. At the same time, bamboo fibers are pretty similar to hardwood fibers in several characteristics, which makes it a perfect raw material for papermaking to eliminate the deficiency of wood resources. What's more is that bamboo provides job positions and development in economically depressed countries where unemployment is significantly high.
Christmas Cards Made of Handmade Cotton Paper
13. Bespoke Indigo & Cotton Greeting Card from Paper Anansi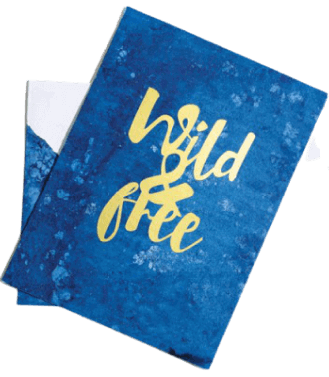 Greeting Card from Paper Anansi
Ethics | Handmade, local business
Key features | Handmade cotton paper, plant-based Indigo dye
Type of product | Greeting card made of cotton paper and dyed with Indigo. Indigo dye is a plant-based all-natural coloring that's found in the family of bean plants known also as Indigofera Tinctoria.
Card size | 5.00" x 7.00"
Price | $25.00
Customer reviews | "Mia's paper goods are individually handcrafted with a painstaking attention to detail. Her designs are bold and stylish and full of whimsy. I have purchased several ready made and custom-order pieces and I am always thrilled with the quality of her work and her charming customer service. - S. from Etsy
About Anansi | From bridal gifts and paper flowers to handmade luxury decor, Anansi has been handcrafting small art pieces since 2008. It's a nice choice if you want to support small, local businesses that are trying to pitch in a more sustainable shopping world.
Christmas Cards Made of Elephant Poo Paper
14. POOPOOPAPER Holiday Card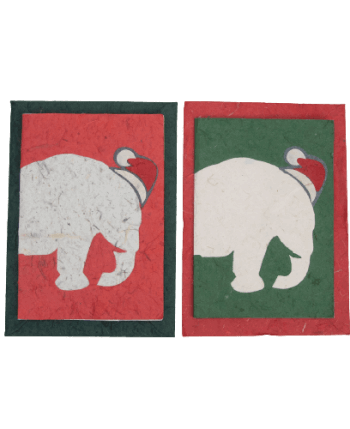 Christmas Card from Poopoo Paper
Ethics | Handcrafted, tree-free, eco-friendly, chemical-free, donations to welfare and conservation of elephants
Key features | Elephant-poop-based paper, 100% tree-free, sustainable and chemical-free
Type of product | This holiday card is crafted from different colored papers, using an intricate handmade die-cut that creates an elephant pattern! Both the card and the envelope are made from poop-based paper.
Card size | 7.00" x 5.00"
Price | $45.00
Customer reviews | "he paper does not have any odor at all. It's completely clean and awesome. The Great Elephant Poo Poo Paper Company is wonderful and their ingenious idea is right on the money. This would definitely be a perfect gift for anyone who is environmentally friendly, into elephants, or just into unique, cool stuff" - Review from Leafygreen
About PooPoo Paper | The PooPoo Paper company was created in 2005 in order to take a material in abundance (elephant poo) and turn it into functional and completely useful paper products and save trees. You can shop for many different sustainable and recycled kinds of paper made of elephant, donkey, cow, or horse poo. What a really interesting concept!
How is PooPoo Paper Made?
While pretty much all papers everywhere are made from a pulp mixture derived from fiber materials, using wood from cut trees, Poopoo Paper goes tree-free! Its paper is made from stool fibers produced by elephants, cows, horses, donkeys, buffalos, along with other animal and plant waste materials. That makes it one of the most sustainable and chemical-free paper options you can choose.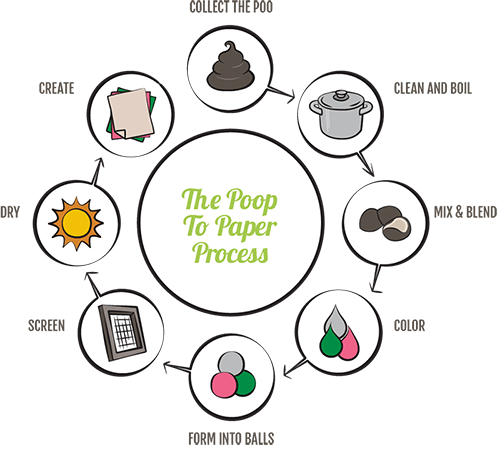 Poopoo Papermaking Process, Poopoo Paper
Christmas Cards Made of Mango Paper
15. Mango Wrapping Paper for Cards and Presents - Bick from Mulberry Paper

Plant-based Paper from Mulberry Paper
Ethics | Family-owned local business, recycled paper
Key features | Kozo and mango leaf-based paper
Type of product | Mango paper is a natural, eco-friendly alternative to ordinary craft paper. It is a recycled paper that helps to prevent excess forest and river pollution and is made from the mango tree together with kozo pulp base.
Card size | 8.50" x 11.00"
Price | $0.75
Customer reviews | No reviews available
About Mulberry Paper | This family-owned company was founded in 2007 to create beautiful and thoughtfully made papers in different appliances, including wedding invitations, stationery, multi-media artwork, framing, note cards and more. Mulberry Paper is inviting us to join the family and explore the most unconventional product ideas for a more sustainable world.
What Is Mango Paper?
Mango paper is another natural and eco-friendly alternative to regular paper. It helps to prevent deforestation and nature pollution by utilizing large amounts of fallen leaves and tree fibers to create beautiful lightweight papers. The natural pigment of mango leaves gives a special color to the final product.
Christmas Cards Made of Stone Paper
16. Stone Paper Wrapping and Tags and Ribbons from Paper Source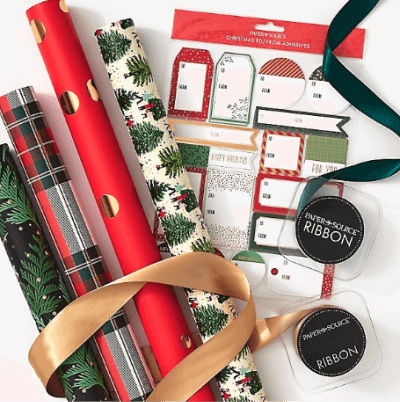 Christmas Wrapping Bundle from Paper Source
Ethics | Artisanal materials used, recycled paper
Key features | Eco-friendly paper produced by certified mills, handmade designs created by artisans
Type of product | Stone paper is a more sustainable alternative to traditional wood pulp paper, is water-resistant and cuts just like butter. While the main advantage of stone paper is that no trees have to be cut down to produce it, the manufacturing process is also a lot cleaner. No toxic chemicals need to be used, and the entire process is fueled by solar energy.
Card size | wrapping paper: 30" x 10' continuous roll, 51 gift labels, 1.5", 10 yds ribbon
Price | $60 for a bundle of wrapping paper, gift labels and ribbons
Customer reviews | "For special occasions, I really like to shop at Paper Source for a witty, quirky greeting card. For PG-13 cards, Paper Source has it. You know what I mean! They also have a ton of stationery items, which you can customize if you fancy, like letterhead or wedding invitations, etc. Staff is happy to help with that process." - J. from Yelp
About Paper Source | This company was founded by Sue Lindstrom out of curiosity and wonder. After traveling the world and discovering various artisanal treasures, Lindstrom decided to study craftsmanship and curate her own collection, which she later brought back to the community of artists and customers who visited her family-owned store. Most of the paper-based products at Paper Source are created domestically, meaning they don't travel the world to get to shoppers. The paper is also produced with certified mills that practice responsible, sustainable forestry.
Digital Christmas Cards
17. Merry and Bright Pink Digital Card from Paperless Post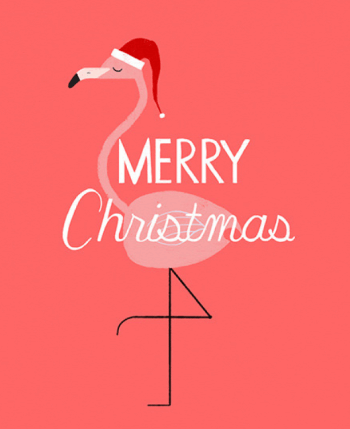 Digital Christmas Card from Paperless Post
Ethics | Using technology to reduce paper waste, CO2 emission-friendly
Key features | Digital cards with customizable templates and immediate delivery
Type of product | You can sign in to customize the card according to your likings by changing the text, style, envelope or backdrop. Then you simply have to add your details, import a recipients' list and send your wishes paperless with just a click.
Card size | Digital format
Price | Starting from $10.00
Customer reviews | "I would suggest Paperless Post for any invites. It's easy for guests to access at all times in their email instead of trying to keep track of a piece of paper. It doesn't end up in the landfill and they are pretty!! Very affordable as well!" - M. from Weddingwire
About Paperless Post | We can now take advantage of technologies and expressive designs to celebrate Christmas without wasting any tree. From illustrated cards to customizable photo albums you can use Paperless Post to send your Christmas greetings.
18. Merry and Bright Pink Digital Card from Paperless Post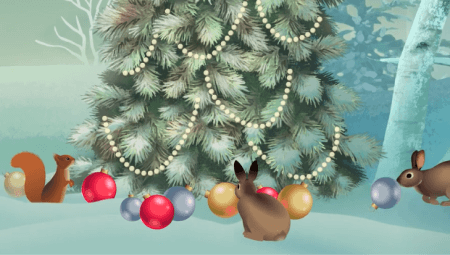 Digital Christmas Card from Jacquie Lawson
Ethics | Each card is 100% paper-free and the result of weeks of work by artists, animators and musicians
Key features | Animated cards that capture the Christmas spirit through sounds and visual elements
Type of product | Choose from a wide variety of themes, such as Christmas, Wedding, Thank You, New Baby, Bon Voyage or New Home cards sign. Shoppers can customize the text and the backdrop or even turn off the sound.
Card size | Digital format
Price | Membership-based only: $30 for 1 year or $45 for 2 years
Customer reviews | "Been using her cards for at least 20 yrs. We love them!" - L. from Facebook
About Jacquie Lawson | Jacquie trained as an illustrator at St. Martin's School of Art and in 2000, she created the first animated Christmas card, The Christmas Cottage, and emailed it to a few friends. A few weeks later, she received hundreds of emails from people all over the world asking for more cards like that. In February 2002, Jacquie Lawson's website was launched and ever since her ecards are living proof that showing your love to all the dear ones doesn't have to cost the earth! Each card is the result of multiple weeks of work by the different members of the creative team, which includes artists, animators, musicians and programmers.
Christmas Cards Handcrafted by Local Artisans
19. Quilled Paper Evergreen Card from Ten Thousand Villages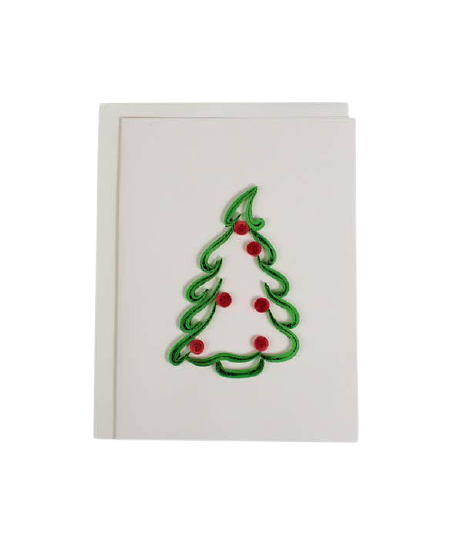 Christmas card from Ten Thousand Villages
Ethics | Handmade, supporting women artisans in Vietnam, Fair Trade, recycled and renewable materials
Key features | Handmade in Vietnam, quilled paper
Type of product | Quilling is a handicraft that uses paper stripes rolled up to form a variety of basic shapes. Some people manage to make absolute masterpieces by using old paper that would have been thrown in the bin otherwise. The card is made by the Mai Vietnamese Handicrafts, a nonprofit organization that provides income generation and marketing services to Vietnamese artisans.
Card size | 5.00" x 6.75"
Price | $9.99
Customer reviews | "I love the idea behind ten thousand villages. The handmade items support local communities, usually from impoverished 3rd world countries, victims of sex trafficking, fair trade, etc" - J. from Yelp
About Ten Thousand Villages | Ten Thousand Villages is a nonprofit fair trade organization that sells handcrafted products made by disadvantaged artisans around the world. The name was inspired by Gandhi's quote because in every village there are people who want to live a meaningful life. That's why it places locally sourced, recycled and renewable materials and ethical production at the core of its values.
Shop now at Ten Thousand Villages
Reusable Christmas Cards
20. Clards Greetings Cards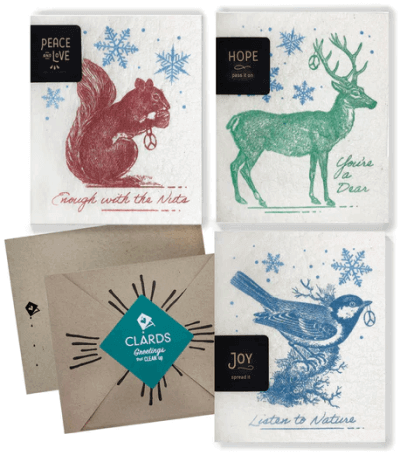 Reusable Christmas Cards set from Clards
Ethics | Handmade cards created using recycled paper and cotton
Key features | Can be used as a cleaning cloth too
Type of product | Why use over 3,000 paper towels when you can only use 1 greeting "clard" instead? These reusable greeting clards are made of recycled paper and double as cleaning cloths once the festive season is over. This way, you help the planet by limiting your carbon footprint, and also keeping the holiday spirit around for longer. To use it as a cleaning wipe, simply add water, rinse and clean up. Please note that this product is compostable.
Card size | folded 4 ¾ x 5 ½
Price | $27 for a set of 2
Customer reviews | "Fantastic idea and a very reasonable price" - Customer review at Soak It Up Shop
About Clards | Each Clards greeting card is made of two cellulose sponge cloths that do the work of 30 rolls of paper. Knowing that, on average, 13 bn pounds of paper towels are used in the US per year Clards cards can be an ingenious way to limit the habitual use of paper. These cards absorb 20x their weight in liquid and can be used to clean up the kitchen, bath, nursery or outdoor spaces.
A Few Words on Christmas Cards
How Did The Christmas Cards Tradition Start?
Did you know that Christmas greetings have been sent since 1843? The tradition of sending Christmas cards, as we know it today, started in the UK in 1843 by a senior civil servant, Sir Henry Cole, who started designing and selling Christmas cards.
Christmas Cards appeared in the U.S. for the first time during the late 1840's, but most people could not afford them until their mass production started, in 1875. Since then, Christmas cards have been mostly associated with Christmas time, as a way to send our greetings and warm wishes to the people we love.
When to Send Christmas Cards?
Whether you're sending regular greeting cards or personalized ones, you always have to estimate the arrival date by bearing in mind any potential delays.
During the holiday season, the typical delivery time is around 2-3 weeks, so make sure you purchase your cards at the end of November and mail them within the first week of December (ideally between the 29th of November and the 5th of December). This will give them plenty of time to arrive by Christmas and you will avoid unnecessary stressful moments.
Keep in mind that digital Christmas cards require a lot less planning, and thus a lot less stress since all you have to do is hit the send button and the card's already reached the receiver. And don't forget! Digital Christmas cards can help you save time, money and also some trees!
Whom to Send Christmas Cards To?
The first thing you need to do is think of all the people you want to send the cards to. Consider family members, close friends, neighbors, clients or colleagues that will definitely be grateful to receive something considerate from you!
What to Write in The Christmas Cards?
The traditional greeting cards include warm wishes, such as "Merry Christmas and a Happy New Year" but there are countless variations you can choose from to express your feelings. No matter how creative a writer you are, just remember to write it from the heart, and keep it short and sweet. There are also plenty of Christmas wish examples and templates to get inspiration from.
What Should I Do With Old Greeting Cards?
In case your old greeting cards are made from recyclable materials, you can recycle them in the paper bin. Alternatively, you can easily repurpose them into tags or cut the card in half and reuse the blank side.
Are Christmas Cards Still Popular?
It seems that Christmas greeting cards remain a pretty popular tradition. A survey conducted in 2021 by Ipsos, a market research and consulting firm, showed that over two in five Americans are willing to use holiday cards to connect with their loved ones. The statistics also indicate an increase from the previous years, as more people are ready to splurge on personalized gifts and greeting cards. One of the main reasons behind this collective trend was attributed to the fact that personalized gifts carry more meaning than a typical present.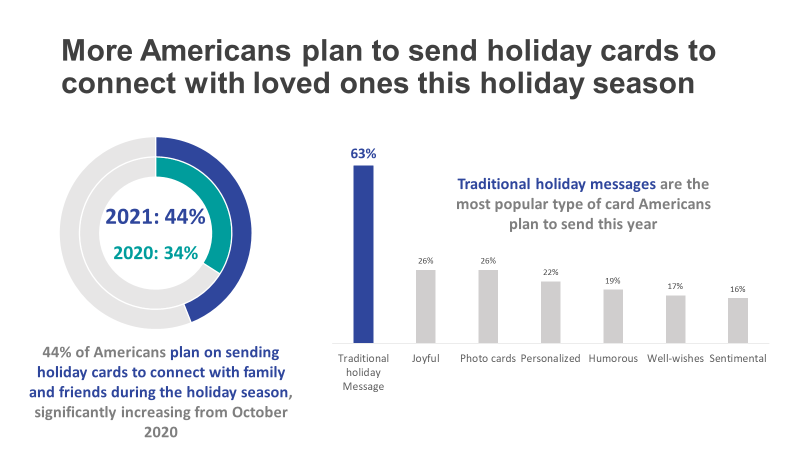 Holiday Cards' Popularity Within the US
Image source: IPSOS
It seems that the idea of gifting a physical object is still appealing to many people from different age groups. The joy of picking out physical cards is less likely to be replaced by their digital versions, which only makes this article even more useful! We'll soon give you eco-friendly alternatives for holiday cards that are equally as fun, but a lot more thoughtful.
Are Christmas Cards Bad for the Environment?
Traditionally, paper fiber comes from wood. That means that billions of cubic feet of trees are deforested every year to produce paper.
When forests are cleared or burned, carbon is released into the atmosphere, mainly as carbon dioxide. In 2021 alone, primary rainforests lost the equivalent of 10 football pitches every minute. Therefore, it is really important to reduce the ecological cost and petrol usage attributed to making and printing paper cards.
The 5 Things to Check When Purchasing a Christmas Card
Tree logos: Make sure your cards are made of recycled paper to support trees' life cycle. Ideally, you can look for cards that are made from 100% post-consumer recycled paper that doesn't require cutting down any trees. And don't forget about the envelopes - they're also mainly made of paper, so better look for recycled options too. And in case you want to go the extra mile, check out if your card is going to be delivered in any extra packaging. Is it really necessary?
Production: Local production, in-studio printing, the use of renewable energy are also important details to check before choosing your greeting cards.
Carbon offsets: It's almost impossible to avoid it if you're planning to mail your cards to another country or even to a distant recipient in the U.S. That's why we strongly recommend you to send cards to destinations that are reachable by train or opt for creative, digital-first Christmas cards.
Low-impact inks: Conventional inks consist of mineral-based oils with pigments containing metals. That means that the oils and pigments are non-biodegradable and can pollute the environment. Replacing those with eco-friendly inks made from natural vegetable oils is not that hard, since eco-conscious ink retailers are a lot easier to find on the market nowadays. For instance, soy-based inks reduce air pollution during production, are easily removable during the recycling process and soy is a renewable source.
Donations: Opt for brands that donate or plant a tree whenever an order is placed.
Moincoins' Take On Christmas Cards
Knowing that Christmastime is just around the corner, it can be easy to lose track of all the unsustainable practices some brands engage in. And that's for a good reason. After all, those shiny decorations, glittery tinsel and jolly figurines are quick to steal the show! And most importantly, they can easily make us forget that most of the time they're 100% plastic-based and are most likely going to be thrown away once the holidays are over.
However, it's good to remember that eco-friendly Christmas gifts and cards no longer equal boring and uncool items. As all the aforementioned brands proved, sustainable Christmas cards can be fun, creative and, quite frankly, revolutionary. Who would've thought that poo-based paper was ever a thing?!
As firm believers that small steps in the right direction pave the way to a more sustainable future, we recommend always going for eco-friendly Christmas cards. They're better for the environment, they're equally as Christmassy and they're sure to stir a positive reaction in the recipient's heart.