Cash back promotions explained. Find easy answers to the most common questions about cash back and start saving on your every online purchase.
Cash back is one of the most popular, yet often misunderstood promo offers that exist. To help you get started saving on your favorite products, we've compiled a list of common questions people have about cash back.
What is cash back?
First thing's first. Cash backs are a way for you to receive money back for qualifying purchases. These promotions are often limited-time offers that over years help you save large amounts of money. Most brands have requirements that one must meet in order to be eligible for the reward. Be it a price threshold or a number of items that must be purchased, you must follow the instructions closely to obtain the cash back rewards. Even though you use the cash back website to receive your money back, your product is sent directly from the store in which you made your purchase.
How do cash back sites work?
Cash back sites are quite simple to understand once you're familiar with how they work. Here are the general steps for earning cash back:
Start with creating an account on a cash back site. They're usually free to join!
Then, browse the cash back site for deals from your favorite stores.
When you find a deal you want to use, click on the link through the cash back website to be redirected to the retailer's website to make your purchase.
Wait to receive your cash back. It usually takes from a few days to a couple of months for stores to approve your order and pass the information back to the cash back site. Once this is done, you can deposit your earnings in either your bank account or PayPal. At moincoins, you've got a rare option to donate your cash back earnings for a good, green purpose.
Don't forget to clear your cookies if you've recently visited the website you plan on purchasing an item from before using the promotion. Cookies are bits of information stored in files on your computer after you visit a website. Since cash backs use affiliate marketing links to identify your purchase and validate it through the cash back website, you will need to clear this information to be sure it recognizes the correct link. You must do this to make sure you receive the cash back, especially for websites you know you've visited.
How do I start earning cash back with moincoins?
Moincoins is an easy-to-use and eco-friendly cash back platform. It works similarly to other cashback websites. Follow these steps to save and receive your first cash back reward already today:
Log in to your moincoins account.
Browse and click on the deal you like.
Make a purchase as usual.
Your cash back is pending until you receive and keep your order.
Once your cash back is approved, withdraw it or donate.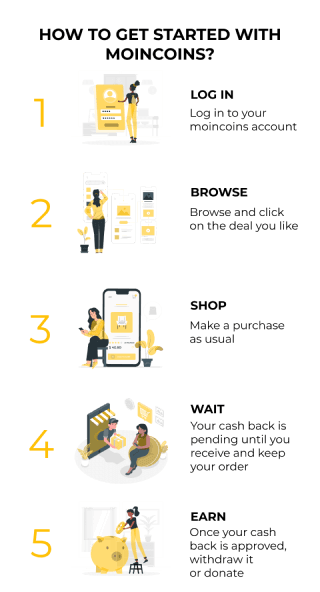 How much money will I get back?
The amount in which you will get back depends largely upon the brand and the promotion it has with the cash back website. Generally, a percentage is taken off the price of your purchase and is given back to you as a sort of commission. Percentages range from as little as 1% to up to 20% back or more. For instance, if you purchase an eligible laptop for $1,000 with a cash back of 3%, you will receive $30 in cash back. Insurance and tech companies often use a set amount of money for their reward programs, such as $25 per package or policy.
Why is cash back a thing?
Like a discount or sale, cash back is a great opportunity for stores to make sales that they otherwise wouldn't have had and for cash back sites to make a commission, while also dishing out a nice bonus for you. It's a simple technology used to create links for tracking your earnings, so in the end, all three parties benefit from cash back.
Is cash back taxable?
Since the earnings you've acquired are considered rebates, they aren't taxable. You may wish to talk with a lawyer concerning your cash back earnings, as Internal Revenue Service (IRS) can be ambiguous about accepting cash back as nontaxable.
Are cash back sites safe to use?
Popular cash back sites in the US are secure and private, but there are things to keep in mind before you dive into saving on your loved items.
Disputes: sometimes, disputes occur either between the shopper and the cash back website, or the cash back website and the store. This happens when something along the way prevents you from receiving your cash back earnings. Resolving a dispute like this can be an unforeseen and timely process.
Withdraw immediately: try to regularly withdraw any earnings on your cash back account in the off chance that the website changes its policies.
Avoid fees: popular cash backs are usually free to join, less-known sites can have hidden registration fees, so be wary of signing up with a new cash back website. Some websites also offer a premium membership for an annual fee, new users usually get automatically signed up for it during the registration process. If you do not plan on regular shopping from this particular cash back provider, make sure you switch to the normal plan on time. By the way, despite moincoins being a new cash back site, there are no hidden fees, sign up today and enjoy earning cash back!
Late or delayed rewards: receiving earnings from cash back sites can take weeks or even fail to reach your account. As mentioned previously, cookies that haven't been cleared can cause this issue. Another reason may be the financial hardships of smaller retailers. If a small brand goes out of business before the cash back site receives the money, you won't get your reward. Errors with the affiliate links that used to send the cash back from the retailer to the cash back sites are also a common reason for delayed cash back. Contact the cash back site immediately if you do not receive your reward after a few weeks have passed.
Which stores do cash back?
Though most well-known cash back websites can have thousands of popular shops from which to choose, some of the most popular and affordable websites include Walmart, eBay Macy's, Nike, Expedia, Amazon and many more. At moincoins in addition to those known-to-everyone stores, you will also find many responsible ones that offer organic and ethically produced items. Check out our eco category to get your favorite green products with a nice cash back reward on top.
What are the best cash back websites?
Speaking of well-known cash back websites, what exactly are the best cash back websites? TopCashback, Rakuten, Swagbucks are a few of the largest cash back sites for US shoppers. There are also many new, smaller cash backs that also offer great cash back rates. At moincoins, for instance, you not only get a good cash back deal but also a great chance to clear your karma whilst you shop. The choice is yours!
What is the difference between cash back and a discount?
Cash back is a promotion that gives you a rebate for your purchases, while discounts are amounts taken off retail value prices. You won't receive money back from a discount, though you might save from purchasing reduced items.
Why choose cash back instead of a discount?
Shops offering cash backs often have high percentages for saving on large purchases, making you save more than you would on regular discounts. Plus, cash back offers can often be combined with coupon codes or other promo offers. Which means you can save even more!
How to make the most of the cash back sites?
To make the most out of cash back sites, make sure you always buy items that you actually want. We don't recommend shopping in a rush or just for the sake of receiving cash back - it's not good for your budget and for nature. In addition, always compare rates on top cash back sites to make sure you've found the best deal. If you're looking to score the best deals on your online purchases, cash back sites are certainly worth exploring.