The pandemic is under control, but that's not the case with worldwide climate change. If you are planning your first vacation trip after being trapped in your hometown for months due to COVID-19, read on! Not only could you save your sanity, but also the planet.
The term ecotourism is, according to the Oxford Dictionary, defined as
Tourism directed towards exotic, often threatened, natural environments, intended to support conservation efforts and observe wildlife.
However, ecotourism is often used as a synonym for sustainable tourism, eco-travel, or green travel, and the meaning has broadened in the public eye. The important thing is though, that all terms stand for a more eco-friendly way to travel. Natural and cultural environments shouldn't be harmed and negative impacts of tourism should be minimized. And that's what this article is all about. We want to show you how you can plan your next vacation trip with the environment in mind!
Why is ecotourism important?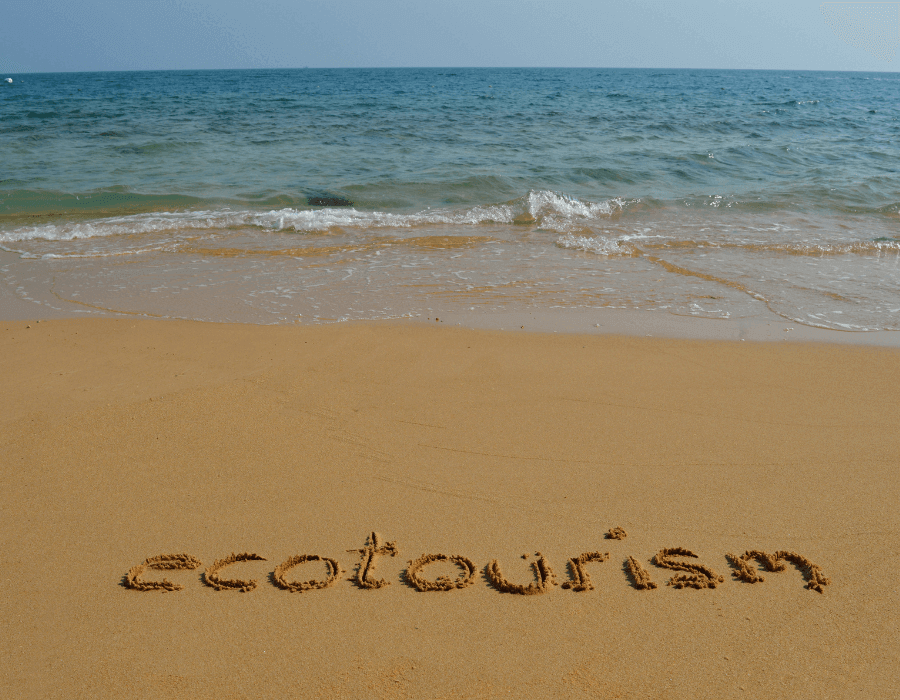 It's pretty simple - if we want our children and grandchildren to still have a planet they can live and travel on, then sustainable traveling is the only way to do it!
Let's be honest, we all want to go on a vacation once in a while, may it be to just relax, explore a different culture, or visit another country. And we don't have to stop doing that. But numbers show that it's up to each and every one of us to make a positive change to reduce our carbon footprint.
A research report from 2019 from the World Tourism Organization (UNWTO) and the International Transport Forum (ITF) shows that transport-related emissions from tourism represented 5% of all man-made emissions in 2016 and will increase to 5.3% by 2030. Tourism-related transport emissions represented 22% of all transport emissions in 2016 and will continue doing so in 2030 (21%).
How can you travel more sustainably and eco-friendly?
It all starts with transportation, ergo the way we get from home to our vacation destination. The most eco-friendly way to travel is by train or bus. That is if the destination is accessible by those. As for the United States, public transport is still a (much-needed) work in progress and it's unlikely that it'll improve fast enough to make a real difference in tourism.
Sometimes, flying is the only option that works. But even then it is possible to do it in a more eco-friendly way. Here are a few tips to consider:
Try to book direct flights without any stops, because the most carbon emissions are produced during take-off and landings.
Pack only what you REALLY need. The lighter your luggage, the better for the environment. Every pound you leave at home reduces the fuel consumption of the plane.
If you book an economy class ticket you also reduce your carbon footprint, because you will have less space there. Therefore, more passengers fit the plane.
You can also check how much emissions would be produced by your flight. Calculate your carbon emissions on Google Flights.
The favorite and most used transportation vehicle is still the automobile. And again, it is unlikely to lose its prime position in the future. So what can you do if you absolutely need to take the car?
Carpool with friends and family.
Rent an electric or hybrid car.
Always use the smallest car that suits your needs.
Avoid driving during peak hours when the roads are full and you're more likely to get stuck in traffic (the stop-and-go will lead to higher fuel consumption and more carbon emissions).
If you decide to go camping, which is one of the most eco-friendly ways to spend your vacation, then pack your bikes! Cycling is one of the best ways to explore the local area, it doesn't produce carbon emissions and it's good for your health. Of course, hiking and just exploring your vacation destination on foot are grand as well.
Where to travel when you want to save the environment?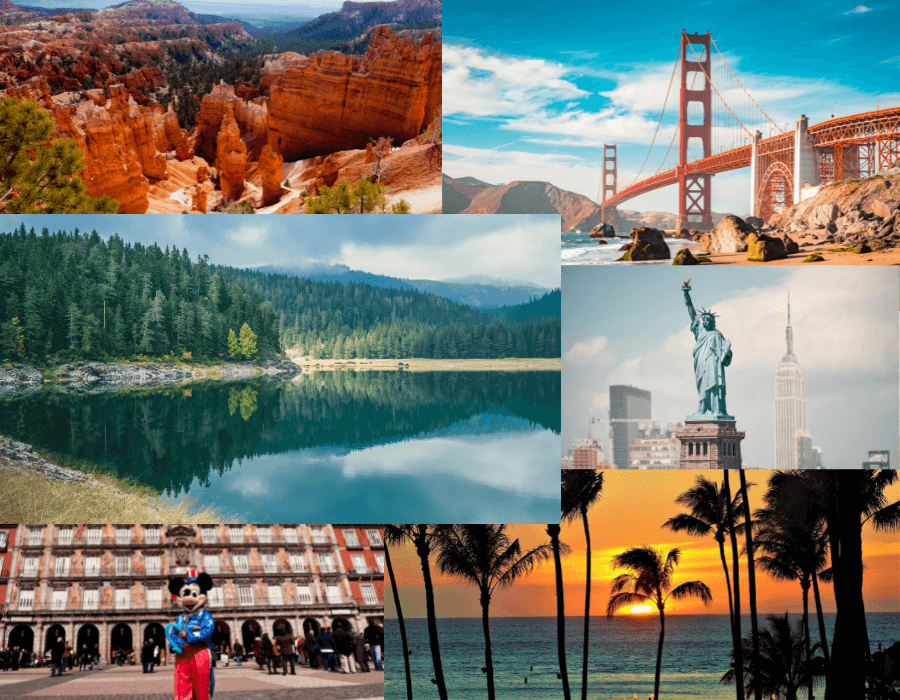 When it comes to your vacation destination, there are always things you can do to make your trip more sustainable. The United States has some of the world's most amazing locations waiting for you to explore. And even for traditional travelers, there are eco-friendly options everywhere. Let's look at the following highly popular vacation types and locations:
1. National Parks
The U.S. can proudly call a whopping 423 national park sites its own, with parks in every state. 63 sites have the "National Park" as part of their proper name and they're all about preserving nature and the environment. That makes them the perfect destination for green travelers. You can go hiking, biking, camping, swimming, book eco-tours and so much more. Ecolodges instead of traditional hotels, often run solely on alternative sources and are owned by locals.
2. Major cities like New York, Los Angeles, San Francisco, Chicago
Some people like to explore the urban jungle and go on a city trip. And it's actually not that difficult to find sustainable alternatives to many things. Staying at an Airbnb or eco-friendly hotel, taking public transit, bringing your own reusable water bottle and coffee mug, eating local cuisine, supporting local artists and artisans by buying their hand-crafted products - there are many small things you can do to have a big impact.
3. Theme Parks
Disney World and other theme parks are hugely popular for family trips. Are they eco-friendly though? Well, not really. Putting up more recycling bins doesn't really do it for saving the planet. But, you can still make your visit to a park more eco-friendly by packing your own food and beverages (or at least bring your own bottle and lunch box). Buy as few merchandise items as possible at the souvenir shop (with kids it's hard, we know!), and book your room at a local B&B or eco-conscious hotel, instead of a big hotel chain.
4. Road Trips
As mentioned earlier, when you absolutely need to use a car, try to team up with travel companions or rent an electric car. Plan your route in advance to avoid unnecessary detours and avoid eating at chain restaurants. Instead, explore the local cuisine and support restaurant owners in the area. The same goes for hotels. You could even make your trip all about visiting eco-conscious businesses and green travel attractions like a national park site or lake.
5. Camping Trips
Camping is the most eco-friendly way to spend your vacation days. When you sleep in a tent and combine it with hiking or biking it doesn't get much greener. There are so many beautiful hiking and biking trails, national park routes and coastal or lake points to explore throughout the different states – you would have a hard time doing all of it in a lifetime. Don't forget to pack light, never litter, respect the environment, bring your camera, and enjoy nature's highlights.
Do you need some inspiration on where to find ecotourism in the U.S.?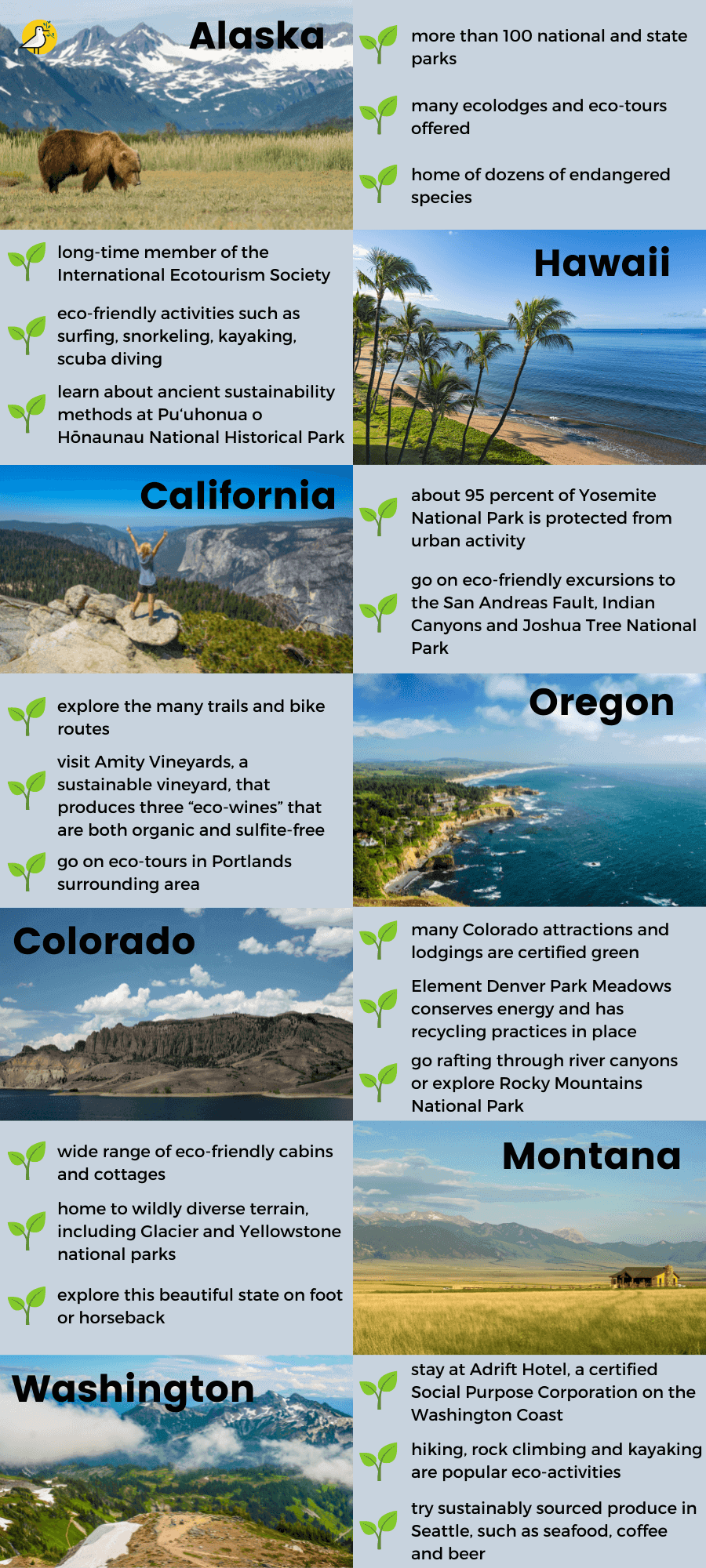 Do you need help with booking your eco-friendly trip?
If you don't like planning the whole trip on your own, or if you would like to explore other countries, then consider booking through a travel agency. We've listed some that are eco-friendly and experienced when it comes to finding the perfect vacation package for a green traveler.
15 eco-friendly travel companies
Responsible Travel
Responsible Travel offers more than 5000 sustainable adventures to destinations around the globe.
AndBeyond
If you're looking to book a luxury sustainable safari tour through a business that truly invests back into the local environment, then AndBeyond is the one.
Kynder
Find eco-friendly, humane and kind bars, restaurants, cafes and hotels in Europe and the USA on this eco-conscious platform.
Ecocompanion
This eco company and booking platform brings you the world's best eco-lodges, tours and conservation projects on every continent.
Undiscovered Mountains
If you've always wanted to explore the French Alps, this sustainable tourism company specializes in experiences there.
Adventure Alternative
This adventure tour operator takes you to exotic places all over the world and also offers volunteering trips through the charity trust Moving Mountains.
Intrepid Travel
As the largest B Corp travel company in the world, this business not only develops over 50 conservation projects, it offers small group tours and special trips where you can explore wildlife and culture across the globe.
Kind Traveler
If you choose this socially conscious hotel booking platform for your next trip to somewhere in the world, it donates $10 of your fee to a local community or charity.
Aracari
Always wanted to explore South America? Then this luxury and sustainable travel operator might be right for you. It helps you to have a one-of-a-kind experience in a South American country while doing environmental and social good.
Rickshaw Travel
Explore a southeast Asian country and book your next adventure with a sustainable tourism company that helps you discover unique cultures and customs.
Earthchangers
If you're looking for something really special, check out this eco-travel booking platform which offers action, adventure and conservation trips that truly have a positive impact on you and the environment.
Steppes Travel
Take a once in a lifetime trip with this sustainable travel company. Sail the Galapagos Islands, trek Gorillas in Rwanda, or go on a polar cruise.
Up Norway
Explore one of the world's most sustainable and eco-friendly countries - Norway! With this eco-conscious travel company, you can either book a journey as is or tailor it to your preference.
Cheesemans' Ecology Safaris
From short day trips in the California Bay area to small group tours to Europe or Asia to longer trips to India, Oceania, or the Antarctic - this family-owned travel operator stands for conservational and responsible tourism.
Bouteco
Juliet Kinsman is a sustainable-luxury expert and journalist. She has curated an independent list of sustainable design-led hotels and boutique eco-hotels that could help you find your next dream vacation destination.
You see, there are always small ways to make every vacation trip more eco-friendly, but if you truly care about the environment and seriously want to reduce your carbon footprint it's best to go big or stay home!