The early 21st Century has been profitable for the apparel industry thanks to lower production costs, simplified operations and increasing consumer demand. It is no surprise that one of the main contributors to our environmental footprint is our wardrobe. The fashion industry is among the top global polluters and has a vast and intricate history of using non-renewable resources in less than considerate ways. According to the latest data, around 10% of the global greenhouse-gas emissions are caused by the fashion industry and almost three-fifths of all clothing goes to landfills within a year of being produced.
To address these matters, numerous fashion brands have already introduced new alternative materials into their collections, such as biodegradable fabrics, organic fibers or vegan leather. All this information is visible on the tags of each garment, alongside the washing and dry cleaning instructions.
For many years, clothing tags have offered information limited to only the country where the item was made, its composition and simplistic care instructions. That makes it challenging enough for consumers to access more in-depth information about the product, let alone understand the carbon footprint of a garment. The tags on a cotton T-shirt do not tell customers the story of where and how the cotton has been grown or if the workers who picked it were paid a minimum living wage. But if there was ever a time for clothing tags to have their moment of fame, then the time is now.
Thanks to new technological advancements, tags can now give customers instructions that go beyond the basic care instructions and the product's country of origin. Digital fashion passports, also known as Digital Product Passports (DPP) resemble QR codes, NFCs or RFIDs and hold detailed information about a particular garment. These passports store all the data on a blockchain and then share it across the entire value chain. This way, digital product passports help consumers understand the environmental impact of their purchases by providing details on the fabrics of their garments, the cost breakdown and even the production process and recyclability.
These upscaled tags are quickly becoming "de rigueur" among sustainable fashion brands and are on their way to revolutionizing the fashion industry one scan at a time. Fashion passports are digital mediums for brands to share their sustainability narrative with the audience by linking the purchaser to the journey of the item.


Eon's Digital Product Passport Carriers
How Do Digital Product Passports Work?
Also dubbed as "Digital Birth Certificates", these digital product passports let users access a wide range of information about a specific item, such as the dyeing process, recycling instructions, as well as a set of interactions during the garment's life cycle. This technology allows products to be "checked in" and certified at a recycling or reselling facility, which streamlines the transfer between owners.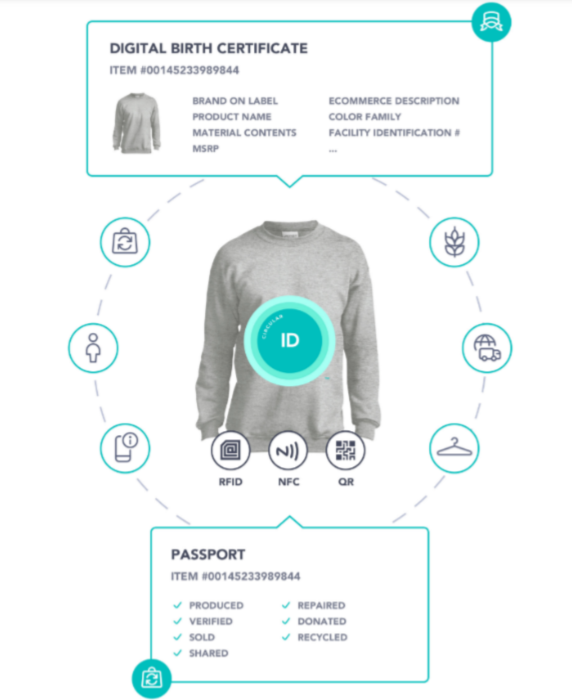 Eon's Products' Digital Birth Certificate
We aim to turn products into assets by communicating the right information to the right people at the right time (...).
Today, when you purchase a product, it usually comes with a HIN tag that might have a little bit of information about the product, but as soon as you buy it that HIN tag is cut off, and all the data behind it is gone, and all the connectivity the seller has to that product is also gone, said Julie Brown, Head of Sustainability at Eon, during the #EUCircularTalks in July 2022.
But all that valuable information can now be retrieved and reused, thanks to the emergence of digital product passports, which are also known as Digital IDs. "I use this term synonymously. If I say one it means the other too, continued Brown.
Nanushka, a Budapest-based womenswear, menswear and accessories brand has been one of the first fashion companies to tap into the new digital product passports technology.
The brand teamed up with Eon, a company aimed at revolutionizing the way we produce, use and reuse physical products. The duo generated digital product passports in the shape of QR codes that have been attached to Nanushka's products. The digital product passports are attached to the brand's "Connected Product" collection and give shoppers backstage access to the products' journeys, materials and production cycle to enable easy repairing, reselling, recycling or renting.

Nanushka & Eon Introducing Connected Products
Can Digital Product Passports Enable a Digital Economy
Circular business models have great potential to become mainstream as they deliver fresh and more profitable growth, especially for the fashion industry.
However, it is crucial to note that a circular business model must not be seen as an additional feature to a fashion company, but as a vital part of the entire business ecosystem. Incentivizing product returns or offering vouchers for new items can fuel even more production and increase the chances of circular business models becoming both environmentally and economically impractical. Therefore, setting up supply networks to track and circulate products between owners is essential to improving the economic growth and environmental effects of the fashion industry in the long run.
Back in 2019, global fashion brands, such as H&M and Target announced that they have partnered up with Microsoft, Waste Management and more than ten other sustainable fashion organizations to build a global standard for sharing data about fashion items. Similar to food nutrition labels, Circular IDs provide a unique digital identity that accompanies physical garments throughout their life cycle.
Digital product passports are particularly effective at enabling and maintaining a circular economy, especially in the context of vintage luxury purchases, where the authenticity of a garment and its original price can be easily verified and trusted.
More recently, the H&M Group of companies has developed a new tool, called The Circulator that helps their designers produce responsibly, right from the design stage. The company assigned a digital product passport to a few garments produced under the Monki, Weekday and H&M brands which facilitated the identification of materials to ensure straightforward sorting and recycling.
What Do Digital Product Passports Have in Store for the Future?
Looking ahead, a growing number of fashion companies will adopt the development of digital product passports across different B2B, B2C and C2C scenarios. While the pressure to ensure supply chain transparency and embrace circular business models will stimulate demand for pilot projects, the expansion of luxury e-commerce and resale markets will boost adoption.
From a commercial standpoint, digital product passports will reignite consumer trust, encourage repurchase and, ultimately, more sustainable and considerate fashion practices. However, accessibility and affordability are key success factors when merging digital product passport ecosystems into a business, and the costs involved in generating these passports are now coming down. The price of RFID tags has lowered by 80% over the last decade, which indicates that more brands are looking into this opportunity and are ready to invest.
Can Digital Product Passports Make a Real Difference in the Fashion Landscape?
Digital product passports have great potential to change the narrative around sustainability within the fashion industry, and they are the closest we have ever gotten to creating a completely transparent supply chain. In practice, however, things might be a bit more complicated. Whereas such initiatives can impact a more affluent audience to whom such details could make the difference between a purchase or not purchase, the same might not be true for other categories of buyers.
For instance, vintage fashion shoppers may benefit from digital product passports in ways that fast fashion shoppers could not because the information provided is a lot more valuable to the former than to the latter. "What was the initial price of this piece? What was the production process like? Who owned it before me?" are questions that could occur to vintage shoppers that digital product passports can easily answer. Could digital product passports impact the way we buy fast fashion and will they slow down the speed at which these garments are made? That is hard to tell at this point in time. However, as with any other initiative aimed at making fashion a better place, we applaud it and look forward to what the future holds.
Other key information you should know about digital product passports
What brands are currently using digital product passports?
Numerous fashion brands have already tapped into this new technology, including the H&M Group, Target, Nanushka, Zalando, Chloé, Pangaia, Mulberry, Net-A-Porter and Armedangels. Each of these brands collaborates with companies like Eon or Circularity.ID that help them set digital product passports in place and make them integral parts of their business operations.
Will brands be legally required to use digital product passports in the US too?
The European Commission proposes to set up an EU Digital Product Passport in the Ecodesign for Sustainable Regulation, which means that EU-based companies may soon be legally required to integrate digital product passports into their operations. Given the new technology's perceived positive impact on production methods and the environment, digital product passports could become standard practice outside the EU too. However, there is little to no information about the United State's plans to incorporate digital product passports at this moment in time.
Can digital product passports be used in industries other than fashion?
Absolutely yes. According to The EU's Circular Economy Action Plan (CEAP), digital product passports must be integrated in at least three key markets by 2024. Those markets include textiles, industrial and electric vehicle batteries and construction. In addition, at least one more key value chain highlighted in the Circular Economy Action Plan needs to be selected too. These include packaging, food or consumer.